It's still awhile before Wisconsin football begins. Until fall camp opens up in early August, fans and writers like to spew things like bold predictions, reasons why, etc. I thought I'd share who I believe will be will be sleepers, MVP's on each side of the ball, and newcomers who could make an impact this season.
Offensive MVP- Braelon Allen
The passing game is getting most of the attention with the addition of offensive coordinator Phil Longo and rightfully so. However, the air raid offense should allow for less defenders in the box. Braelon Allen has had to deal with eight and nine man boxes most of his career due to a lack of a consistent passing game. With two 1,000 yard rushing seasons already and one of the best running backs in the country, don't be surprised if Allen sneaks up to 1,500 yards this season.
Defensive MVP- Maema Njongmeta
Wisconsin LB Maema Njongmeta last season:

♦️ 89.9 PFF Grade
♦️ 25 QB Pressures
♦️ Zero TDs Allowed
♦️ 52.6 Passer Rating Allowed pic.twitter.com/JLG8WNtmsN

— PFF College (@PFF_College) March 20, 2023
We didn't know a lot about Maema Njongmeta before last season. It was a crowded room with other players such as Jordan Turner, Tatum Grass, and Jake Chaney. Over the course of the year, one inside linebacker was consistent the entire time. That was Njongmeta. Coming into this year, he's clearly ILB1 for the Wisconsin and should have an excellent year. Assuming he stays healthy, he should lead the team in tackles as well.
Rookie Of The Year- CJ Williams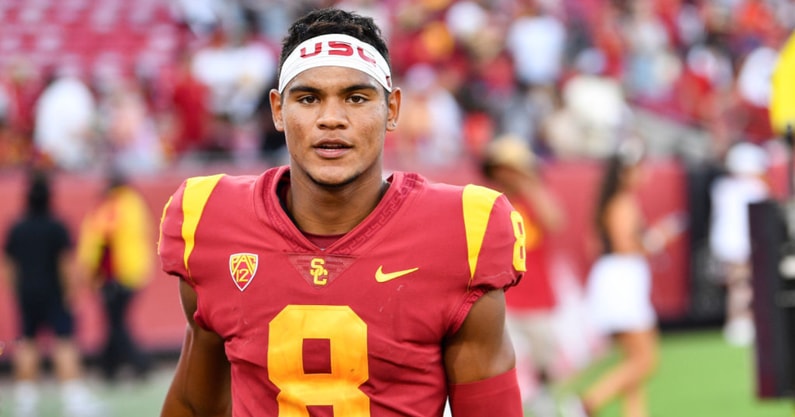 There was a ton of buzz around a lot of transfers this winter for Wisconsin. No one got more hype than USC transfer C.J. Williams. A five star recruit and comparisons to Los Angeles Chargers receiver Keenan Allen, it's clear Williams has the potential to be a great wide out. I don't see Williams as a 1,000 yard receiver this year, but the sky is the limit beginning in 2024. Don't be surprised if he is WR2 this year behind Chimere Dike and WR1 starting next year.
Freshman Of They Year- Jonas Declona
I really like Jonas Declona and I think he could have an immediate impact on this team. He has a really good nose for the ball as a true freshman. It's hard to play in the Big Ten as a freshman and be productive. However, there are opportunities to get on the field early in the secondary on this team. Declona was able to participate in spring ball so he has a leg up already.
Offensive Darkhorse- Will Pauling
Bryson Green missed all of spring ball with an injury. It's unfortunate as the Oklahoma State transfer receiver recorded over 600 yards last season and was seen as one of the top receivers in this room. With him missing time, transfer Will Pauling took advantage of the opportunity and had one of most consistent springs out of anyone. He should be one of the top three receivers when fall camp opens up. If he can hang on to it, he could have a sneaky year and be a productive receiver in his first year in Madison.
Defensive Darkhorse- Jason Maitre
Fans are really gonna like Jason Maitre.

Boston College transfer will stick his face in the fan — even against Braelon Allen.#Badgers @JasonMaitre pic.twitter.com/yNapptjBBH

— Evan Flood (@Evan_Flood) April 20, 2023
Jason Maitre was a great get for the Badgers from Boston College. He will be the starting nickel corner most likely when the season starts. For as good as this Wisconsin defense is and the studs they already have, it could be Maitre that could have one of the better years in a young secondary room. With 19 career starts already under this belt and his good nose for the football, Maitre is a great fit for Mike Tressel's defense.
Follow me on Twitter @DylanBuboltz and follow us @WiSportsHeroics for more great content. To read more of our articles and keep up to date on the latest in Wisconsin sports, click here! Also, check out our merch store for some amazing WSH merchandise!