Following their victory over Indiana, the Badgers head back home for a matchup against the Michigan Wolverines. Wisconsin came from behind once again, defeating the Hoosiers 74-69. The Badgers would go on to close out the game with a 13-4 run led by Johnny Davis.
Davis finished the game with a game high 30 points along with grabbing 12 rebounds. Senior guard Brad Davison also provided 21 points, knocking down three triples and making all ten of his free throw attempts. With the victory the Badgers now sit at 20-5 on the year and 11-4 in conference play. A victory on Sunday would put Wisconsin tied in first place with Purdue and Illinois.
After falling short against Ohio State last Saturday, the Wolverines bounced back on the road defeating Iowa 84-79. Trailing 39-37 at half, Michigan turned on the offense and never looked back. The Wolverines were led by freshman forward Moussa Diabate with a career high 28 points including grabbing eight rebounds. Michigan also had four other double digit scorers in the game. With their latest victory Michigan moves to 14-10 on the year and 8-6 in conference play where the Wolverines currently sit in seventh.
Sunday's matchup is set for a noon tip-off at the Kohl Center. Fans can catch the game on CBS.
Controlling the Pace of Play
In past years, Wisconsin has one of the best teams at playing at their own pace. Their slow and methodical offense isn't just a sore for fans but for opposing teams. Although the pace is sped up a bit more this season, it's still the same old Wisconsin play.
That pace is going to be crucial for the Badgers. Michigan is a team that likes to play fast, swing the ball around, and find an open look early. To reference, the Wolverines average 14.6 assists per game. This stat puts them in top 100 in the country. Part of that reason is how the create their offense. Guards Eli Brooks and Devante' Jones use their size to get inside and challenge defenses. From there, they either dumb it off to sophomore center Hunter Dickinson or find an open man outside.
Controlling the pace also includes shutting off driving lanes. For Michigan, the main part of the offense comes from their ability to finish inside. The Wolverines make over 20 two point baskets a game, which places them top 40 nationally. However that doesn't mean they can't make shots outside. The team averages 34.6% from three point range and is a respectable mark. In the end, it's going to come down to how well the Badgers are able to defend this talented offense. The Wolverines are just 2-8 when they are held to under 70 points. If Wisconsin is able to slow the game down, it could be a crucial step in winning this game.
Winning the Rebound Margin
Even though this has been mentioned in previous pieces, it can't be stressed enough how important winning the rebound margin is. Michigan is one of the better rebounding teams in the country. They not only do a good job grabbing boards on the defensive end but also grab just over 10 offensive rebounds as well. Along with Dickinson, the Wolverines get rebounds from guys like Moussa Diabate and even their guards like Devante' Jones and Caleb Houstan.
Looking back at their matchup against Indiana, this was something had a hard time with. At one stretch in the game, it seemed as though the Hoosiers were grabbing every board possible. With under two and half minutes remaining in the game, Trey Galloway missed a three pointer. His teammate Xavier Johnson grabbed the rebound and finished an easy lay up to give Indiana a 3 point lead. Although Wisconsin held on, it's plays like this that can cost you down the stretch.
If the Badgers are going to win the rebound margin, it starts with the whole group. Steven Crowl and Tyler Wahl are going to have their hands full out muscling Dickinson and Diabate. That means players like Johnny Davis, Brad Davison, and Chucky Hepburn are going to need to provide a lift. Davis is one of the best rebounders on the team so his job will be easier compared to the others. However that doesn't mean he can have a night off. If Wisconsin can do the little things like grab rebounds, it will be an important part in beating the Wolverines.
Finding Offense Against a Tough Michigan Defense
Many times this season Michigan has struggled to find offense from three point range. Although they've found success inside, it's left them in trouble numerous times throughout the year. So if they aren't scoring, how are they winning games?
The answer: stellar defense. Yes, much like the Badgers this year the Wolverines are one of the best defense teams in the Big Ten. They currently are holding teams teams to 43.5% shooting per game and limiting teams to just 30.7% from three point range. Michigan has held teams to under their season opponent average in over half of their games. Pretty impressive for a team who sits in just seventh in the Big Ten.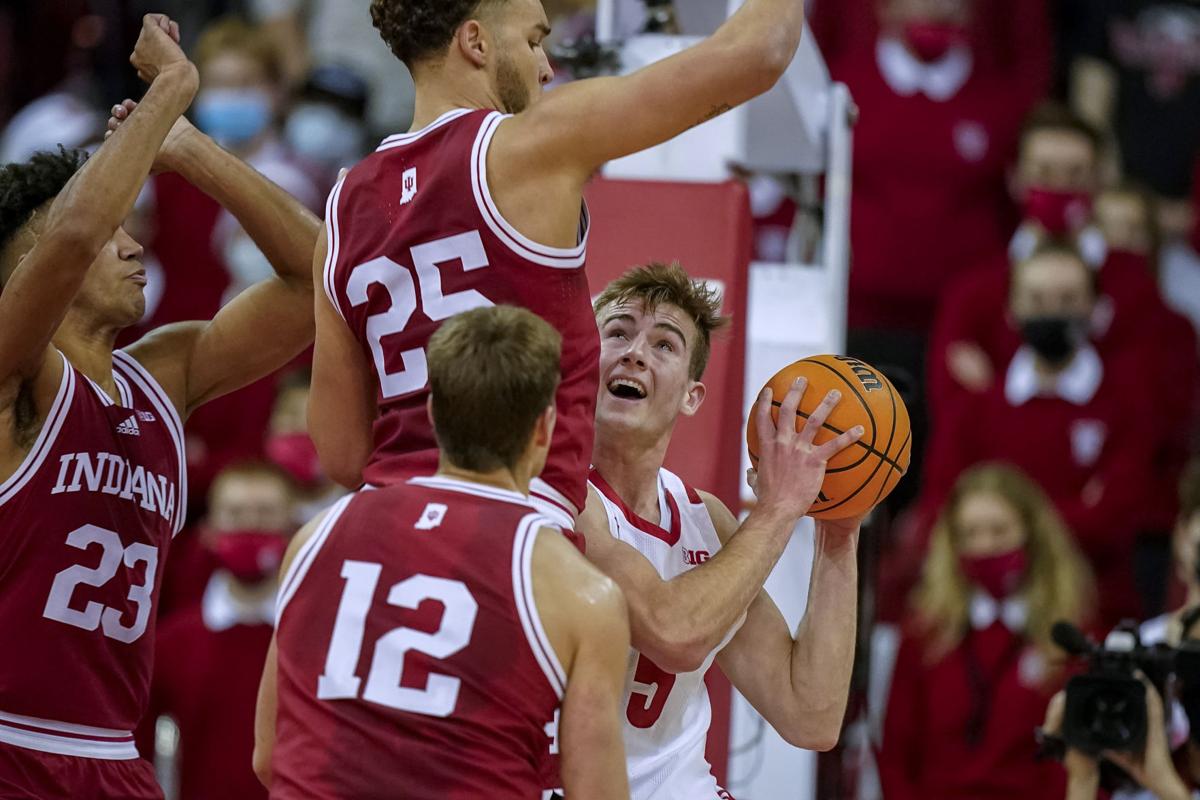 So the answer seems simple right? Wisconsin has to find ways in making three point baskets? Not necessarily. To me, this is a game where the Badgers need to focus their attention down low. If there was a chink in the armor to the tough Michigan defense, they tend to struggle inside. The Wolverines average giving up over 50% of two point basket to opponents. I'm not saying the Badgers shouldn't attempt three point baskets but they need to be cautious in going over board.
Many times this year when Wisconsin has struggled offensively, they tend to try outshooting the slump, usually from three point range. For this game, success is going to come in the form of one vs one matchups in the post. I'd look for Tyler Wahl to be an effective player in Sunday's matchup. His ability to finish inside has really grown this season. Although he's struggled in his last few games, this game could finally break the trend moving forward.
Prediction:
Although Michigan struggled in the first half of the season, this team is far better than just a few months ago. Winning seven of their last ten, the Wolverines have climbed out from the bottom of the conference to the middle part of the pack. For the Badgers, this is going to be a tough challenge to get a victory.
One stat to keep an eye for both teams is the free throw numbers. Wisconsin is a tad better at getting to the line but the Wolverines do a good job overall making their free throws. Part of Michigan's big run has been because of the number of attempts at the line. Even though Wisconsin is good at limiting teams from the foul line, it could be the difference maker in game.
To me, this is a game that is going to go down to the wire. I think Michigan can give Wisconsin a lot of problems, especially if Dickinson is a problem like other Big Ten bigs have been against the Badgers. However if Wisconsin can limit the damage, this seems to be a game where a low scoring affair favors them. Low scoring, defense based game where the Badgers like to close these type of games out. And because of this, I'm going with them on Sunday.
Final Score: Wisconsin 68, Michigan 65
For More Great Wisconsin Sports Content
Follow me on Twitter at @bennyboy615 and follow us @WiSportsHeroics for more great content. To read more of our articles and keep up to date on the latest in Wisconsin sports, click here!