The Green Bay Packers are 12-3 for the 2020 NFL season.  They clinched the NFC North division back on December 13th against the Detroit Lions. A good portion of their success came from Aaron Rodgers playing at a MVP caliber level. However, Aaron Jones has been the force for their rush offense. Whether he stays in Green Bay or is released this offseason, he's a vital weapon this season as the Packers make a run for the playoffs. On the other hand, Chicago Bears' running back David Montgomery has really climbed into the conversation as one of the better backs in the game these past few weeks. The two look to clash this coming Sunday to determine the final NFC playoff picture. Which running back ultimately had the better season heading into week 17? Let's further examine their 2020 seasons as they may look closer than it seems.
Breaking Down Aaron Jones' Season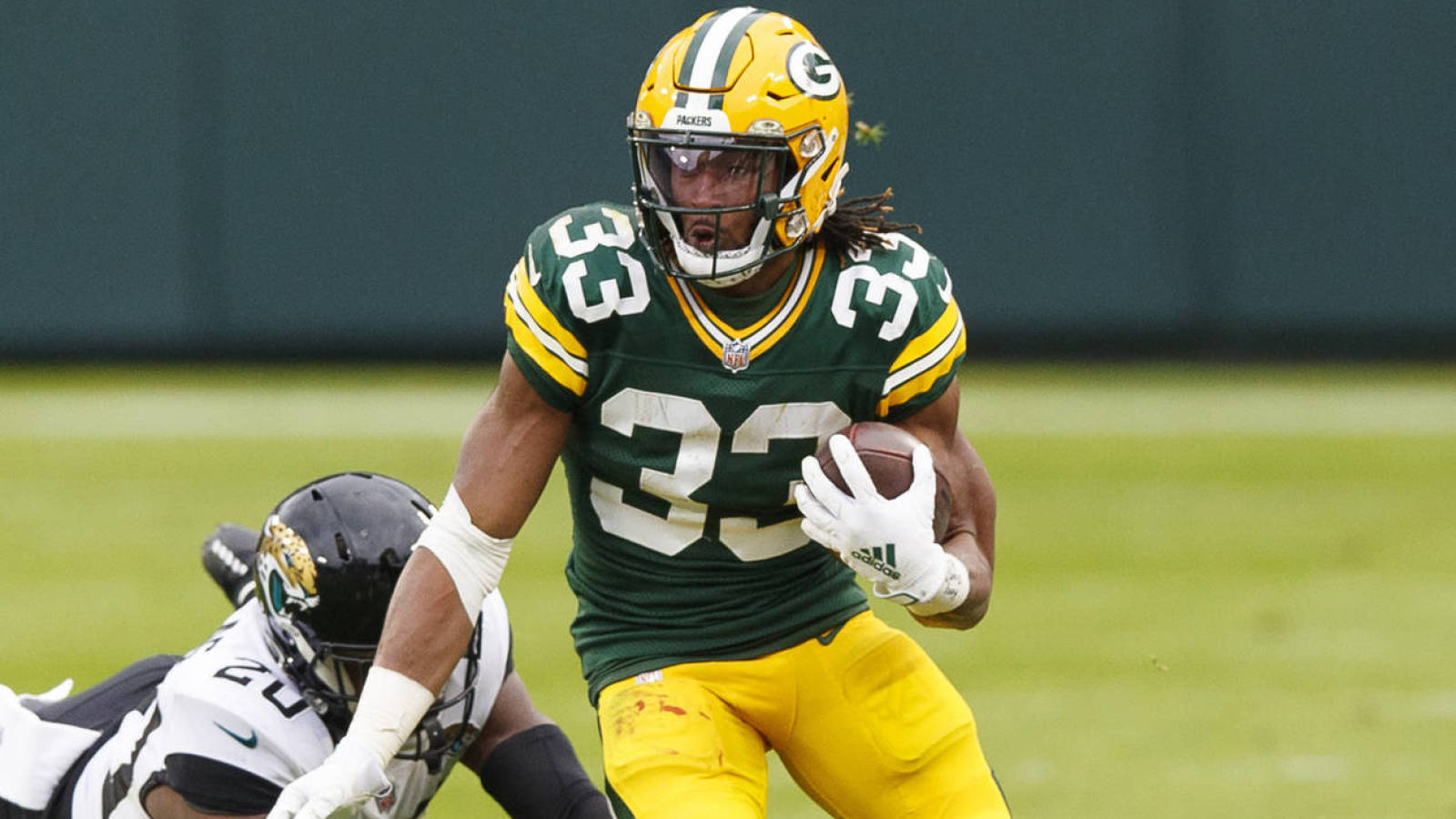 Coming off his historic season back in 2019 where he scored 19 total touchdowns, Aaron Jones continued his momentum into this season. After 15 games he's already totaled 1,374 yards from scrimmage, and scored a combined 10 touchdowns. In addition, he's made some huge plays.  These include a breakaway 75 yard touchdown run against the Lions in week two. In the receiving game, he's caught 74% (72% in 2019) of his targets for 312 receiving yards. One big improvement from last season is his 5.59 yards per rush. In  2019, he averaged 4.59 yards per rush.
Part of his big rushing success is because of the Packers' offensive line. Green Bay's line is currently ranked as one of the top offensive lines in the NFL this season. Although he missed a couple games this year with a calf injury, he's put together a strong performance to help the Packers get to a 12-3 record. With Aaron Rodgers playing at a MVP Caliber level, more lanes open for Aaron Jones.  He brings that balance for this high powered offense. Click here to learn why the Packers should consider resigning Aaron Jones.
Breaking Down David Montgomery's Season
Drafted as the 79th overall pick in 2019, Montgomery had a promising rookie season.  He totaled 1,074 yards from scrimmage with seven total touchdowns. He had a 3.67 rushing yards per attempt, and a catch percentage of 71%. Montgomery did have two fumbles last season, but ended the season strong.
Coming into this season, he had to face a few challenges with the Bears offense. There was the quarterback battle between Mitch Trubisky and Nick Foles, along with having to share the backfield with Tarik Cohen. Montgomery really jumpstarted his 2020 campaign when Tarik Cohen tore his ACL in week three against the Falcons where he was more involved in the passing game. After 15 games, he has 45 receptions for 375 receiving yards for 2 touchdowns.
His rushing yards per attempt this season (4.44) is a big improvement from 2019 (3.67). He has totaled 1,001 rushing yards heading into this week's matchup against Green Bay. In the last four weeks, he's averaged 106 rushing yards and 1.5 touchdowns per game. Montgomery has helped turn this Bears offense around and are one win away from making the playoffs.
Comparing Both Backs Together
The picture above shows the season totals for both running backs through 15 games, with Aaron Jones listed on top. Strangely, both Jones and Montgomery are having identical seasons. They have a similar amount of targets and receptions, with Montgomery (76%) having a higher catch percentage than Aaron Jones (74%). After 15 games, Montgomery (1,376) leads Aaron Jones in scrimmage yards by only two. With their respective amount of opportunities, Aaron Jones has the slight edge averaging 5.89 yards per touch, while Montgomery is averaging 5.73 yards per touch.
As mentioned earlier, Montgomery has been on fire these last four weeks, rushing for more than 100 yards in three of those four games. However, for the season Aaron Jones is averaging 5.59 yards per rush, whereas David Montgomery is only averaging 4.44 yards per rush. Altogether, besides Aaron Jones averaging more rushing yards per attempt and yards per touch, both backs are having almost identical seasons. Montgomery may have had the most improved season, after averaging a whole yard per touch more than last year (4.02). In addition, he practically doubled his reception total (25) and receiving yards (185) from last season.
This week 17 matchup will determine which running back had the overall more productive season, as Aaron Jones is playing for an extension, while David Montgomery is trying to give the Chicago Bears a playoff berth since 2018.
Follow me on Twitter @PackerEddyFF and follow us @WiscoHeroics1 for more great content! To read more of our articles and keep up to date with the latest in Wisconsin Sports click here.