It was a gut-check game for the Wisconsin Badgers. Coming in losing five of their last six games, the Badgers returned home against Illinois Fighting Illini Basketball. After a terrible first-half shooting, Wisconsin took the lead in the second half. However, the defense fell apart late again, and the offense was really bad again. At the end, Wisconsin fell to Illini Basketball 61-51. Here are some three takeaways from today's game.
Max Klesmit Was Really Good vs. Illini Basketball
Max Klesmit returned vs. Illini Basketball after missing the last two games after a facial injury against Penn State. He came out of the tip and was aggressive on both sides of the ball. He look confident from the field and was a spark Wisconsin looked like they were missing. Klesmit ended up leading the Badgers with 12 points
However, the Wisconsin offense was poor again. They only scored 16 points and shot 18% from the field in the first half. Tyler Wahl picked up two early fouls and had to sit. Greg Gard decided not to put him back in at the end of the half. I thought that was a mistake as Illinois scored the last seven points and took a 20-16 lead at half.
Both Sides Of The Ball Fell Apart Late Again vs. Illini Basketball
Despite an ugly first half from both teams, the second half began with some fire. Both teams were knocking clutch shots down. Wisconsin ended up with a 35-34 lead after Chucky Hepburn went on a hot streak. The Kohl Center was loud and full of energy. After a 37-37 tie, the Wisconsin offense went cold again and only scored 14 points the rest of the way. Wisconsin ended the game only shooting 32%. On your home court, that is unacceptable.
The defense wasn't any better in the second half. The defense has been suspect at best in second halves in the last three games. Today was no different. Once the game was tied at 37, Illini Basketball went on a 22-4 run. Wisconsin doesn't have the consistent offense to pick up their defense.
Connor Essegian had a tough afternoon. He was the primary defender on Matthew Mayer, and Mayer torched him. He ended with a career-high 26 points. Gard didn't do much to help Essegian, especially since it was a five-inch difference in height. It was a tough ask for Essegian, but he didn't get much help from his coaches either.
It's Time To Go On A Run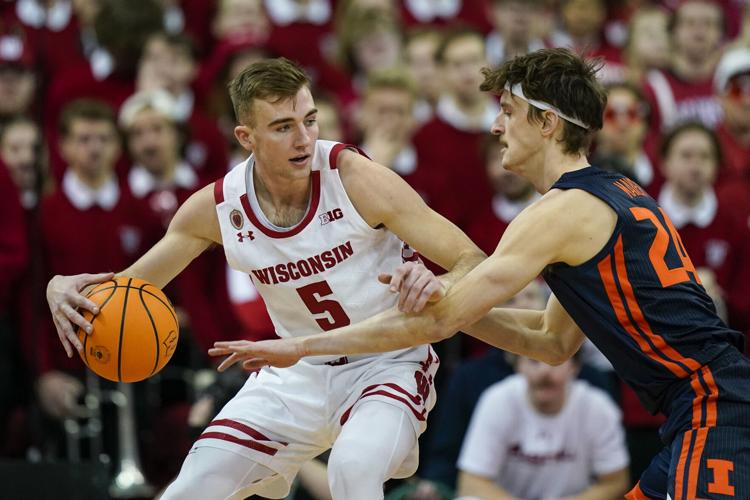 Wisconsin was looked at by most bracketologists as a "Last Four In". Right now, this is not an NCAA Tournament team. With 10 regular season games left, the Badgers will probably need to go at least 7-3 to solidify their spot. If not, their fate will most likely come down to the Big Ten Tournament, where they could see the likes of the Illini Basketball team again.
Is it time for Wisconsin to hit the reset button? I'm not sure. The good part is they have four days of rest until they have to hit the road again for a date with Ohio State Thursday. Both teams will be desperate for a win.
There isn't a whole lot Wisconsin does well right now. They can't shoot consistently, their defense has fallen apart late in the last three games, and they are really bad at the free-throw line. This team doesn't have much of a spark right now, and they need it badly.
Follow me on Twitter @DylanBuboltz and follow us @WiSportsHeroics for more great content. To read more of our articles and keep up to date on the latest in Wisconsin sports, click here! Also, check out our merch store for some amazing WSH merchandise!