The Green Bay Packers defeated the Chicago Bears 27-10 on Sunday night. The win was not pretty, but the offense looked a great deal more smooth than it did against Minnesota. As Matt LaFleur promised, Aaron Jones and AJ Dillon played bigger roles in the offense. This led to a massive improvement in production on the field.
Three Studs
Aaron Rodgers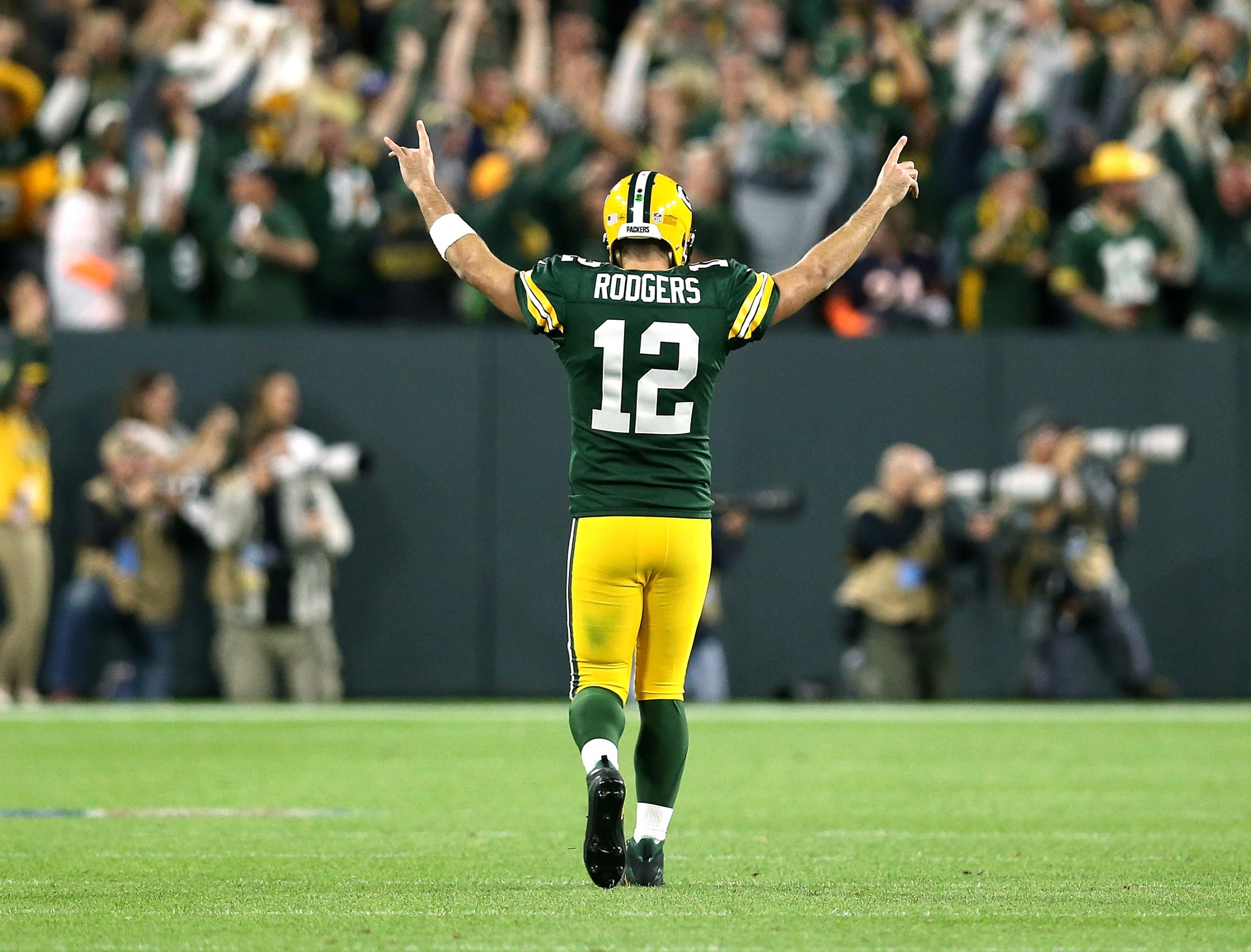 The owner of the Chicago Bears showed, once again, why he has earned that self-given title. Rodgers finished the night with 234 passing yards while completing 19 of 25 passes. He also added two touchdown passes. Rodgers' record against the Bears improved to 24-5.
Related: Aaron Rodgers' Top 10 Games Against the Chicago Bears
Aaron Jones
The Packers starting running back had himself a night! Aaron Jones was a terror in both the running and passing games. He had 15 carries for 132 yards and a touchdown. In the passing game, Jones added three receptions for 38 yards and another touchdown.
The Edge Rushers (Preston Smith and Rashan Gary)
The defense did not have a banner day when it came to stopping the run, but Rashan Gary and Preston Smith made a difference as pass rushers. Each of them recorded at least one sack. Smith also flushed out a Justin Fields sneak that led to a Jaire Alexander tackle for loss. Smith's second sack was one for a huge loss that was later erased by a 20+ yard run by David Montgomery.
Honorable Mentions
Sammy Watkins and Allen Lazard each had huge games for the Packers. Watkins finished with three receptions for 93 yards. Lazard finished the game with two receptions for 13 yards and a touchdown. While he did not fill up the stat sheet, his presence was felt in his blocking downfield in the run game.
On the defensive side, Jaire Alexander had his first interception of the season. He also added three tackles, including that one for loss mentioned above.
Three Duds
Yosh Nijman
There is a reason that many of the running plays were to the right side. Nijman struggled mightily against the Bears' pass rush, allowing two sacks. David Bakhtiari missed the game again tonight as he works his way back from his third knee surgery. Hopefully he is back soon because Nijman simply is not the answer at left tackle.
AJ Dillon
As good as Aaron Jones was on this night, AJ Dillon was rather mediocre. Yes, he had some nice runs. However, he botched a handoff with Aaron Rodgers that killed a drive in the third quarter. The Bears turned it into three points, so it wasn't the worst case scenario. That being said, turnovers like that simply cannot happen. He knows that, and he will be better going forward.
The Run Defense
Fortunately for the defense, the Bears forgot that feeding David Montgomery is what helped them to score on their opening drive. They were also fortunate that the offense scored 24 points in the first half, causing the Bears to resort to more passes. When Montgomery got the ball, the Packers struggled to contain him. This is the second week in a row that the run defense has looked shaky. They will certainly need to figure something out before heading down to Tampa Bay next week.
For More Great Wisconsin Sports Content
Follow me on Twitter at @theotherRobin19 and follow us @WiSportsHeroics for more great content. To read more of our articles and keep up to date on the latest in Wisconsin sports, click here!