Even though Aaron Rodgers has inked a three-year extension worth $150 million with the Green Bay Packers, there is a chance that he retires after this season. This would be especially true if he leads the Packers to a Super Bowl victory. With the Packers 0-1 and gearing up to take on their oldest rival, the Chicago Bears, it behooves fans to think back on Rodgers' best performances against them. Even if he plays beyond this season, Rodgers does not have many games left against the Bears in his career. With that being said, let's take a look back at his 10 best games against the team that he has owned for his whole life.
10. Aaron Rodgers Faced the Bears for the First Time on November 16, 2008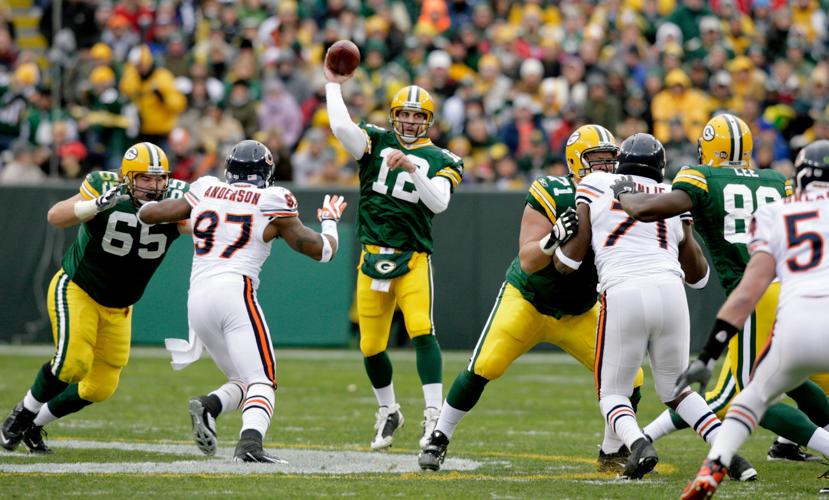 The Green Bay Packers finished the 2008 season 6-10. The first year of the Aaron Rodgers era had plenty of valleys, but their Week 11 matchup against the Chicago Bears provided them with a rare highlight. Ryan Grant was the real star of the game, rushing for 145 yards and a touchdown on 25 carries.
Aaron Rodgers, though, started his dominance of the Bears in this game. He finished 23/30 with 227 passing yards, two touchdowns and an interception. His play was good for a 105.3 passer rating. Greg Jennings and Donald Lee each caught touchdowns while Donald Drive had 60 yards receiving.
Most importantly, the Packers blew out the Bears 37-3.
9. The Game That Showed How Dominant Jermichael Finley Was Occurred on September 25, 2011
One of the greatest "what-ifs" of the Aaron Rodgers era in Packers history is how good the offense could have been if Jermichael Finley had never gotten hurt. The connection between Rodgers and Finley was certainly special, and this particular matchup proved that they could have been one of the best quarterback-tight end tandems in history had things gone differently.
Aaron Rodgers finished the game 28/38 for 297 yards, three touchdowns, and an interception. He had a passer rating of 111.4. Notably, the recipient of every single one of the three touchdown passes was Jermichael Finley. The tight end had seven receptions for 85 yards and the three touchdowns.
Fun fact: Defensive end Jarius Wynn had 2.0 of his 4.5 sacks as a Packers player in this game. Jarrett Bush also had 1.0 of his 1.5 career sacks in the contest.
The Packers defeated the Bears 27-17.
8. Aaron Rodgers Threw the Second Most Passing Attempts in His Career vs the Bears on October 20, 2016
The most passes Aaron Rodgers has ever attempted in a game was 61 against the Detroit Lions on November 15, 2015. Nearly a year after that, the Packers rode Rodgers' right arm to victory over the Chicago Bears as he attempted 56 passes.
Why did Rodgers have to throw so much? Well, the Packers two leading rushers in this game were Ty Montgomery (nine attempts for 60 yards) and Randall Cobb (four attempts for 21 yards). Green Bay led 13-10 going into the fourth quarter, but scored 13 points in the final frame to put the game away.
Rodgers ended the game having completed 39 of those 56 passes for 326 yards and three touchdowns. He had a passer rating of 102.2. Three Packers wide receivers had 10 or more receptions in this game: Davante Adams (13 for 132 yards and two touchdowns), Cobb (11 for 95 yards and a touchdown), and Montgomery (10 for 66 yards).
The Packers won 26-10.
7. Aaron Rodgers and James Jones Went Off on the Bears on December 16, 2012
The 2012 NFL season was the year that Green Bay Packers wide receiver James Jones led the league in touchdown receptions (14). While he torched just about every team he faced that season, the Bears had a particularly difficult time containing him.
For his part, Aaron Rodgers was his usual brilliant self, completing 23 of 36 passes for 291 yards and three touchdowns. He had a passer rating of 116.8. The recipient of his three touchdown passes was none other than James Jones. Jones finished the game with five catches for 60 yards and those three touchdowns. Randall Cobb led all Packers receivers with six receptions for 115 yards.
Most importantly, the Packers won 21-13.
6. Aaron Rodgers Reminds Bears Fans  "I Still Own You" on October 17, 2021
The sixth-best game Aaron Rodgers played against the Chicago Bears produced perhaps a top-three moment in the Packers/Bears rivalry.
"I STILL OWN YOU!"

Aaron Rodgers to Bears fans 🍿

(via @NFL)pic.twitter.com/PacXCtnqaC

— SportsCenter (@SportsCenter) October 17, 2021
With the Packers leading 17-14 in the fourth quarter, Aaron Rodgers scrambled from the six yard line for a touchdown to ice the game. He was pushed down, but as he rose he screamed to fans, "I still own you!" in reaction to many Bears fans flipping him off.
For the game, Rodgers finished 17 for 23 with 195 passing yards and two touchdowns. His passer rating was 128.0. Allen Lazard and Aaron Jones each caught a touchdown pass in the Packers' victory.
Green Bay won 24-14.
5. The Packers Hang a 40-Burger on the Bears During the Pandemic on November 29, 2020
The 2020 season was played, for the most part, without fans in the stands due to the COVID-19 pandemic. While Rodgers has made plenty of headlines since then for his vaccine status and comments, he also made headlines for his continued dominance of the Bears, even without fans in the stands.
In this contest, Rodgers finished 21 of 29 with 211 passing yards and four touchdown passes. His touchdowns were spread out to four different receivers: Davante Adams, Robert Tonyan, Allen Lazard, and Marcedes Lewis. Rodgers had a passer rating of 132.3.
One of the best moments in this game, though, came when Preston Smith recovered a fumble and returned it for his second career touchdown.
Za'Darius Smith forces Mitchell Trubisky to fumble & Preston Smith recovers it and runs it in for the TOUCHDOWN!!! #GoPackGo pic.twitter.com/QT61rwIOrs

— Cream City Central (@CreamCityCtral) November 30, 2020
Most importantly, of course, the Packers won 41-25.
4. The Packers Hang a 40-Burger on the Bears in Front of Fans on December 12, 2021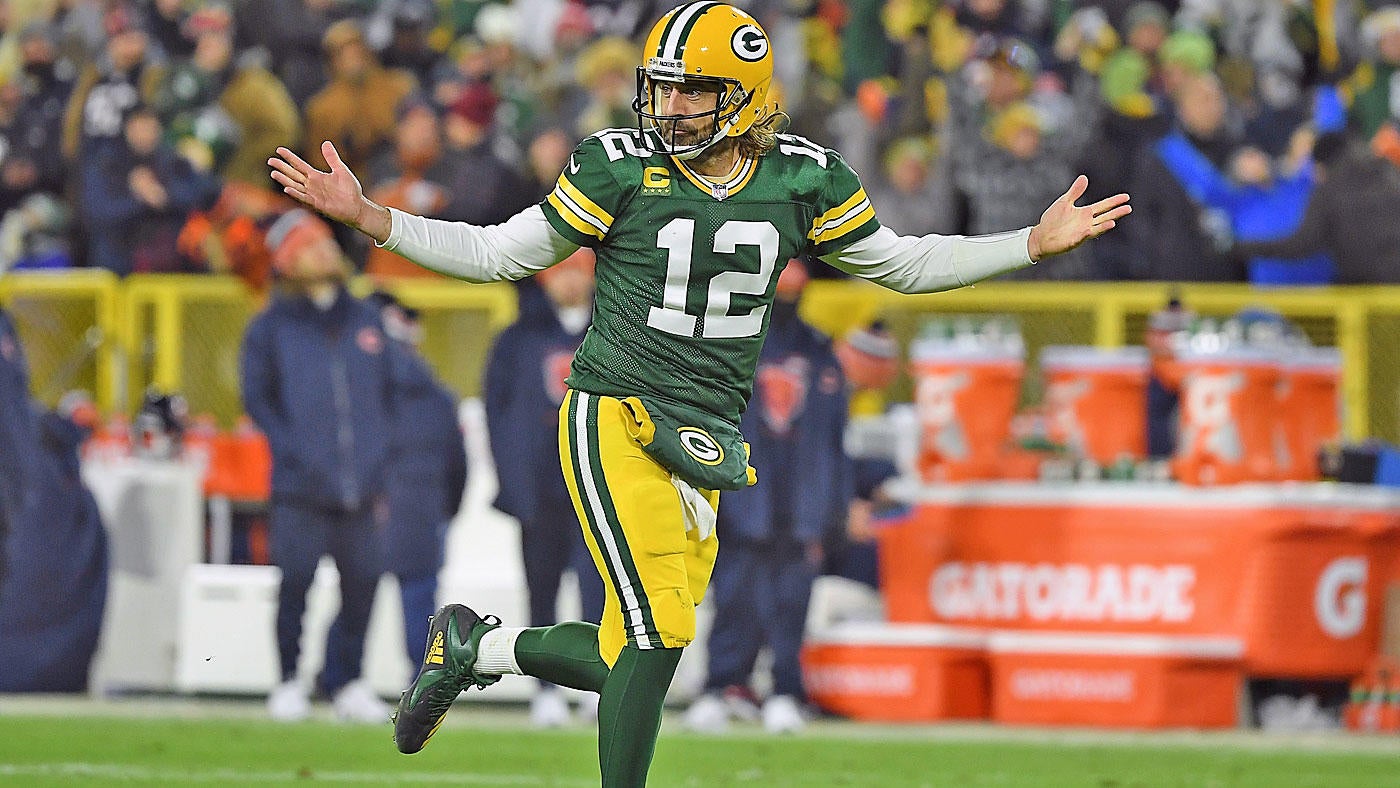 Since fans did not get to witness the last home game the Packers had against the Chicago Bears, it only seemed right that they score another 40+ points in front of the fans a year later. Two months after Rodgers reminded the Bears that he owns them, he put up a monster performance against Chicago.
Aaron Rodgers led the Packers to their 10th win of the 2021 season by completing 29 of 37 passes for 341 yards and four touchdowns. He threw two touchdown passes to Davante Adams, one to Allen Lazard, and one to Aaron Jones.
For some fans, this game is also known as the Kurt Benkert Game. Jordan Love was not available due to COVID-19, so Kurt Benkert was elevated to the roster from the practice squad. With the game out of hand, Matt LaFleur was ready to send Rodgers back out to kneel down. Rodgers, though, insisted that Benkert go out and take the kneel down snaps. It was the first NFL game action for the former Packers' quarterback.
It was Aaron Rodgers who suggested to Matt LaFleur that Kurt Benkert take the victory formation, kneel down snaps.

"He's been in the league for four years and it's his first time dressing," LaFleur said. https://t.co/LWsiX0vTJj

— Rob Demovsky (@RobDemovsky) December 13, 2021
The Packers defeated the Bears 45-30.
3. A Comeback Victory on a Broken Leg Opens the Season on September 9, 2018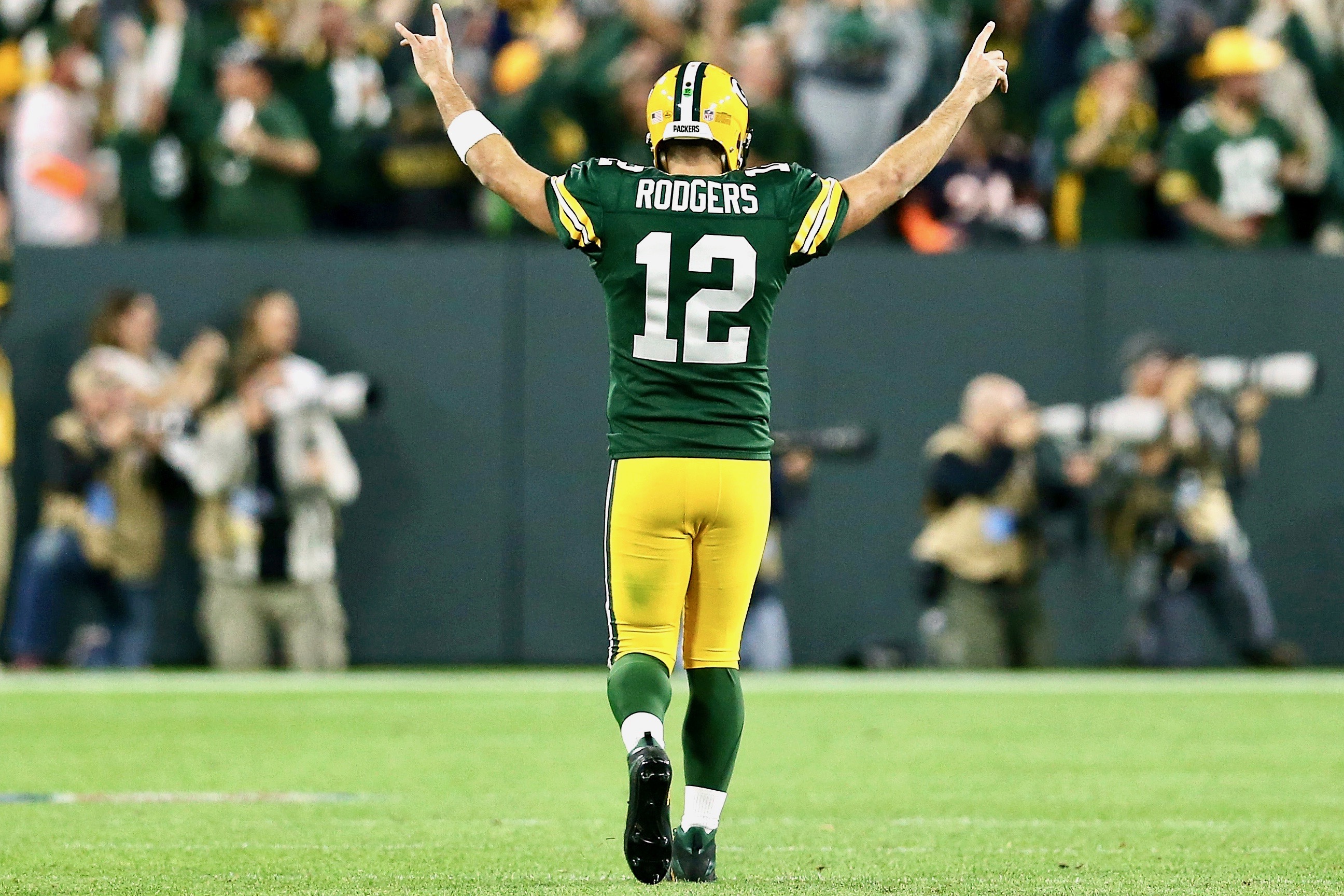 We all know the story, but that doesn't make it any less amazing. Aaron Rodgers was forced out of the game early with a leg injury. DeShone Kizer was pitiful in relief, completing four of seven passes for 55 yards and an interception. At halftime, the Packers trailed the Bears 20-3.
Aaron Rodgers returned in the second half, though. And he would not be stopped. Three second half touchdown passes gave the Packers one of just six wins on the season. Later, Mike McCarthy would be fired and the team finished just 6-9-1. However, on this night, Rodgers added to his legend.
The Packers won 24-23 and we got this viral video:
Well, you knew this was coming…

"IT'S RANDALL COBB AGAIN!"pic.twitter.com/jw0Ojhpd9e

— Eli Berkovits (@BookOfEli_NFL) September 15, 2022
I hope that kid is doing okay.
2. Aaron Rodgers Goes "Bruce Willis in Die Hard" on the Bears on Christmas Day in 2011
We've all seen the Christmas class Die Hard, where Bruce Willis' character shoots his way out of a domestic terrorist situation. On Christmas Day in 2011, Aaron Rodgers left the Chicago Bears hoping for a Christmas miracle that was not to occur for them.
In this contest, Rodgers completed 21 of 29 passes for 291 yards and five (FIVE!) touchdown passes. His passer rating was 142.7. Jordy Nelson and James Jones each caught two of Rodgers' touchdown passes. Jermichael Finley caught the fifth one. Nelson led Packers receivers with six receptions for 115 yards.
The Packers won 35-21.
1. Aaron Rodgers Throws Six Touchdown Passes in One Half on November 9, 2014
In what really could be considered the most lopsided Packers win against the Bears during the Aaron Rodgers era, the future Hall of Famer led Green Bay to a 42-0 halftime lead with six touchdown passes. Shortly after the beginning of the third quarter, Rodgers was replaced by Matt Flynn. At the time, Green Bay led 45-7.
Without playing the full game, Rodgers finished 18 for 27 for 315 yards and those six touchdown passes. His passer rating was 145.8. Recipients of his touchdown throws were Jordy Nelson (two), Randall Cobb, Eddie Lacy, Brandon Bostick, and Andrew Quarless.
Packers defensive back Casey Hayward also had a 82-yard pick-six in this game.
The Packers defeated the Bears 55-14.
For More Great Wisconsin Sports Content
Follow me on Twitter at @theotherRobin19 and follow us @WiSportsHeroics for more great content. To read more of our articles and keep up to date on the latest in Wisconsin sports, click here!