The Milwaukee Bucks fell short of their ultimate goal of repeating as NBA Champions this past season. Fortunately, the team has Giannis Antetokounmpo, Khris Middleton, and Jrue Holiday to form the base for another championship run next year. However, in order for that to happen, the team needs to improve its roster in other areas. While there is a great deal of rumors surrounding who the Bucks may target in the draft or via trade, perhaps the team would do well to look back at some of their former players who are now in the NBA free agency pool.
Related: Thanasis Antetokounmpo makes his decision for the 2022-23 season
NBA Free Agency Target #1- DeMarcus Cousins
When the Milwaukee Bucks picked up DeMarcus Cousins and Wes Matthews on short-term deals last winter, it was Cousins who was the immediate fan favorite. In 17 games with the Bucks (five starts), Cousins averaged 9.1 points and 5.8 rebounds in just under 17 minutes per game.
Wesley Mathews with an absolute dime to Boogie 💪 !

DeMarcus Cousins dropped 13 points in the 3rd for the @Bucks on NBA League Pass!

Watch Here: https://t.co/wVIrg3a7TL pic.twitter.com/xUSQDrPQ7f

— NBA (@NBA) December 31, 2021
On December 22, 2021, DeMarcus Cousins started a game with Giannis Antetokounmpo and Bobby Portis out. He scored 22 points and pulled down 12 rebounds in 28 minutes.
Unfortunately, the Bucks waived Cousins instead of guaranteeing his contract. The move allowed them to sign Jevon Carter later in the season, but was a widely unpopular move when it happened.
The Milwaukee Bucks plan to waive center DeMarcus Cousins, sources tell @TheAthletic @Stadium. Bucks are opting for roster flexibility ahead of league-wide contract guarantee date Friday. There's expected to be interest in Cousins as a free agent.

— Shams Charania (@ShamsCharania) January 6, 2022
The fact of the matter is that DeMarcus Cousins played extremely well for the Bucks when they needed him. He also enjoyed his time in Milwaukee and was quite upset that the team decided to waive him. If Milwaukee has not burned that bridge, they should sign Cousins in NBA free agency for the whole 2022-23 season.
No one is expecting DeMarcus Cousins to be the All-Star player that he was in Sacramento and New Orleans. However, the Bucks need guys who can create shots and rebound off of the bench. Cousins did both of those things well last season and would be a perfect fit (again).
NBA Free Agency Target #2- Tony Snell
Tony Snell played for the Milwaukee Bucks from 2017-2019. During those three seasons, Snell averaged 7.2 points and 2.4 rebounds per game while shooting 45/40/82 from the field. While those numbers are not terrible, he is mostly remembered for the Tony Snell Stat Line, which has become a social media sensation: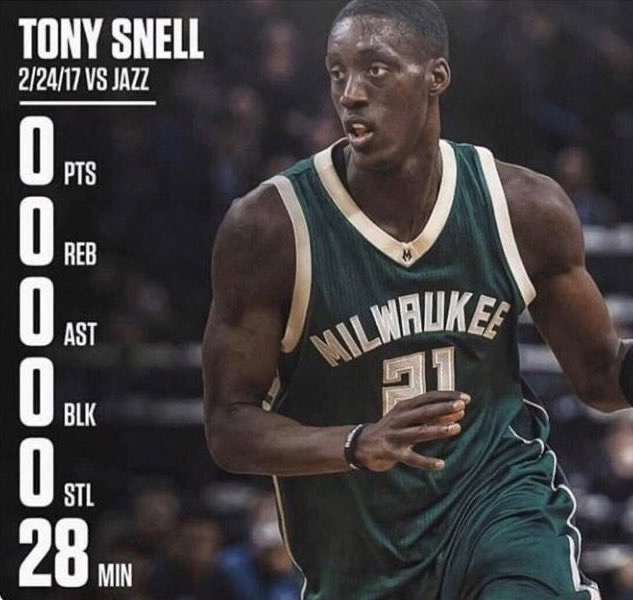 The Chicago Bulls originally drafted Tony Snell in the first round (20th overall) in 2013. In 2016, the Bulls trade Snell to the Milwaukee Bucks in exchange for Michael Carter-Williams. After three seasons in Milwaukee, the Bucks traded Snell and Kevin Porter Jr. to the Detroit Pistons for Jon Leuer.
Exactly 18 months later, the Piston traded Snell to the Atlanta Hawks. After finishing the 2020-21 season with the Hawks, Snell signed with the Portland Trailblazers. His days of being dealt were not over, though. In February of this season, the Blazers packaged Snell with CJ McCollum and Larry Nance Jr. in a massive seven-player trade with the New Orleans Pelicans. He now finds himself able to test NBA free agency.
Since leaving Milwaukee, Tony Snell is averaging 5.7 points per game. While this is not an eye-popping number, what makes him an attractive target for the books is the fact that he is shooting 42.7% from three since leaving the Bucks. One of the reasons the Bucks lost in the playoffs was their inability to knock down shots. Adding Snell would improve this aspect of their bench offense immensely.
NBA Free Agency Target #3- Greg Monroe
Like DeMarcus Cousins, the Milwaukee Bucks brought in Greg Monroe for a short stint during the 2021-22 season via NBA free agency. In five games with the Bucks, Monroe averaged 5.4 points and 4.0 rebounds in 14.0 minutes per game. Overall, Monroe played for four teams in 2021-22. He averaged 5.4 points and 4.2 rebounds per game in 13.9 minutes per contest.
Of course, this was not Greg Monroe's first go-around in Milwaukee. Monroe previously played for the Bucks from 2015-2017. In his first season with Milwaukee. Monroe was a starter and averaged 15.3 points and 8.8 rebounds per game. The Bucks moved Monroe to the bench in 2016, but he remained a productive player. That season, he averaged 11.7 points and 6.6 rebounds per game. The next season, the Bucks traded Monroe to the Phoenix Suns in exchange for Eric Bledsoe. At the time of the trade, Monroe was averaging 10.3 points and 6.9 rebounds per game as a reserve.
The knock against Greg Monroe in today's NBA is that he cannot shoot from the outside. Indeed, this is what would limit him in the current Bucks' offense. However, he is still an adequate defender and can provide depth at the center position.
For More Great Wisconsin Sports Content
Follow me on Twitter at @theotherRobin19 and follow us @WiSportsHeroics for more great content. To read more of our articles and keep up to date on the latest in Wisconsin sports, click here! Also, check out our merch store for some amazing WSH merchandise!