The Green Bay Packers will open Lambeau Field with their first Monday Night Football game of the season. As they face the Lions, the Packers are looking to bounce back from a humiliating Week One loss to the New Orleans Saints in Jacksonville. In their 38-3 loss, there was not much to be happy about. However, Aaron Rodgers has a history of bouncing back in big ways following two interception performances, and the Packers may have gotten a much needed wake-up call. That being said, here are three bold predictions for the Packers' hopeful victory over the Lions.
Bold Prediction #1- Aaron Rodgers Will Have 300+ Passing Yards and 3+ Touchdowns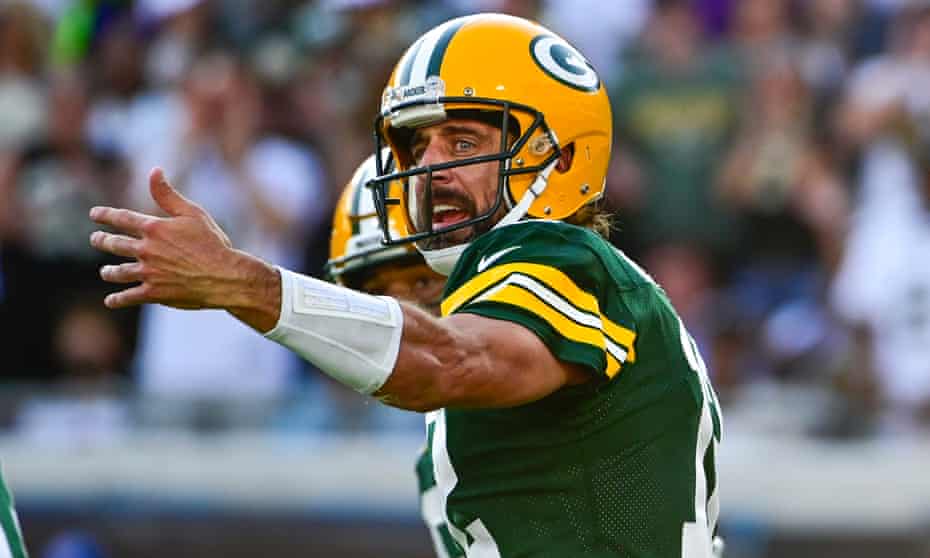 Last week was one of the worst games of Aaron Rodgers' entire career. It was certainly his worst season opening game. The New Orleans Saints copied the Tampa Bay Buccaneers' strategy against the Packers in their regular season matchup last year. This meant that they used a lot of cover-two reads, which did not allow the wide receivers to be open downfield. Additionally, Matt LaFleur abandoned the run game and the entire offense fell apart.
This is not going to happen again, at least not against the Detroit Lions. Aaron Rodgers always is at his best when he has a chip on his shoulder, and the one he is carrying into Lambeau on Monday night is the size of a redwood. The Packers lost three regular season games last year, and here is how Rodgers responded after each one:
Aaron Rodgers stats following a loss LAST SEASON👀

• 4 TD, 0 INT, 283 yards, 132.4 rating
• 4 TD, 0 INT, 305 yards, 147.2 rating
• 4 TD, 0 INT, 211 yards, 132.3 rating pic.twitter.com/mwAeEJ8xOL

— IKE Packers Podcast (@IKE_Packers) September 16, 2021
Add in the fact that the Detroit Lions secondary is already banged up, and the recipe is primed for an Aaron Rodgers vintage performance.
[pickup_prop id="11803″]
Bold Prediction #2- Rashan Gary Will Have 2.5+ Sacks
Unfortunately for the Packers, edge rusher Za'Darius Smith is going to be out for a few weeks with a back injury. On the bright side, this means that Rashan Gary should finally get his opportunity to showcase his talents on a much larger scale.
Last week, Gary led the team in quarterback pressures with four. What is astounding about this is that he only was given the chance to rush the passer 16 times. This means that 25% of the time he rushed, he put pressure on Jameis Winston. Without Za'Darius Smith, Gary will (theoretically) get more opportunities.
Rashan Gary led the Packers with 4 pressures, including 2 QB hits. Only rushed 16 times.

— Zach Kruse (@zachkruse2) September 13, 2021
The Detroit offensive line is not nearly as good as the Saints'. With the energy of the first full home crowd since 2019 feeding him, this could be a massive breakout performance for Rashan Gary.
Bold Prediction #3- Eric Stokes Will Have an Interception
After Kevin King's awful performance in Week One, it is clear (once again), that he simply is not good enough to be the second starting cornerback for the Green Bay Packers. Eric Stokes, the Packers' first round draft pick, should be slated into the starting role. If not, he should at the very least get more snaps this week than last. Against the Saints, Stokes had a much higher PFF grade than King (73.8 to 40.2), thanks in large part to plays like this:
1st round pick, Eric Stokes.

— GBP Daily – Rob Westerman lll (@GBPdaily) September 12, 2021
Granted, King was on the field a lot more than Stokes, so the sample size is not as great.
When asked about Stokes and if he would get playing time over Kevin King, Matt LaFleur said:
.@rachelhopmayer asked Matt LaFleur if rookie CB Eric Stokes would be a bigger part of the rotation this week.

With a smirk he said, "Do you want me to give you the game plan?"

— Peter Bukowski (@Peter_Bukowski) September 18, 2021
Cryptic as this answer may be, without a doubt it means that Stokes will be on the field more this week. With the increased playing time, it is entirely possible that we see Stokes get his first NFL interception. Despite what Marques Valdez-Scantling may say, Stokes is the fastest player on the team. This speed will allow him to jump routes quickly, and could lead to some big-time plays.
[pickup_prop id="11803″]
For More Great Wisconsin Sports Content
Follow me on Twitter at @theotherAdams14 and follow us @WiscoHeroics1 for more great content. To read more of our articles and keep up to date on the latest in Wisconsin sports, click here!