When Rashan Gary was drafted with the 12th overall pick in the 2019 NFL Draft, many Packers' fans were incensed.  If the Packers were going to draft a pass rusher, they wanted Brian Burns.  Burns was eventually drafted 16th overall by the Carolina Panthers.  As 2019 went on, it was clear the Rashan Gary had a high ceiling, but had work to do.  Now, as we enter the week before the NFC Championship, it is clear that Gary is closer than ever to that ceiling, and Packers' fans should be very excited about that.
An Up-and-Down Rookie Season
One of the reasons many fans disliked the Gary pick was his injury history.  At Michigan, Gary struggled with injuries.  When healthy, he was a force to be reckoned with.  However, many wondered whether those injury woes would follow him to the pros.
In addition, Rashan Gary was picked to replace fan-favorite pass rusher Clay Matthews.  The Packers even gave him Clay's number 52.  Matthews added fuel to the fire with the following Tweet:
😑😑😑 The body's not even cold yet lol

— Clay Matthews III (@ClayMatthews52) April 29, 2019
Needless to say, Gary came to Green Bay fighting an uphill battle to be accepted by one of the most passionate fanbases in all of sports.
On the field, Gary had limited success.  One pleasant surprise, though, was that he played in all 16 games, assuaging the injury woe concerns.  However, he only had two sacks all season and just two hurries.  Clearly, there was work to be done.
[pickup_prop id="4102″]
The 2020 Offseason
No one knew that Rashan Gary needed to improve more than Rashan Gary himself.  Even before the season started, Gary posted workout videos on social media, showing Packers' fans that he would be much improved in 2020.
The plan is the was, is and will always be to play and win the last game of the season. Only those that put that work on the field can make it happen. NO ONE else. 🎯😤#PutCheeseOnEverything🧀🍽#GoPackGo

We don't own copyrights to this music. pic.twitter.com/IkqN9DnZUE

— Rashan Gary ® (@RashanAGary) April 25, 2020
Due to the COVID-19 pandemic, these videos were also the only visuals that Packers' coaches were getting on their second-year pass rusher.  They liked what they saw, and Mike Pettine announced Gary would see an increased role in the defense going forward.
Gary's Breakout Season
Rashan Gary became an integral part of the Packers' defense in 2020.  While not a consistent starter, he saw his snap counts increase from 24% in 2019 to 44% in 2020.  Most notably, his missed tackling percentage went down from 12.5% in 2019 to 2.8% in 2020.  He had 35 total tackles this season, meaning that he missed just one tackle all year.
Gary also started getting into the backfield on a more consistent basis in 2020.  He recorded five sacks this season, more than doubling his total of two from last year.  Sacks, though, do not tell the whole story.  Gary also recorded eight hurries this year, up from just two last season.  In addition, he had five quarterback knockdowns (just one last year) and 19 pressures (just five last year).
Wrecking the Rams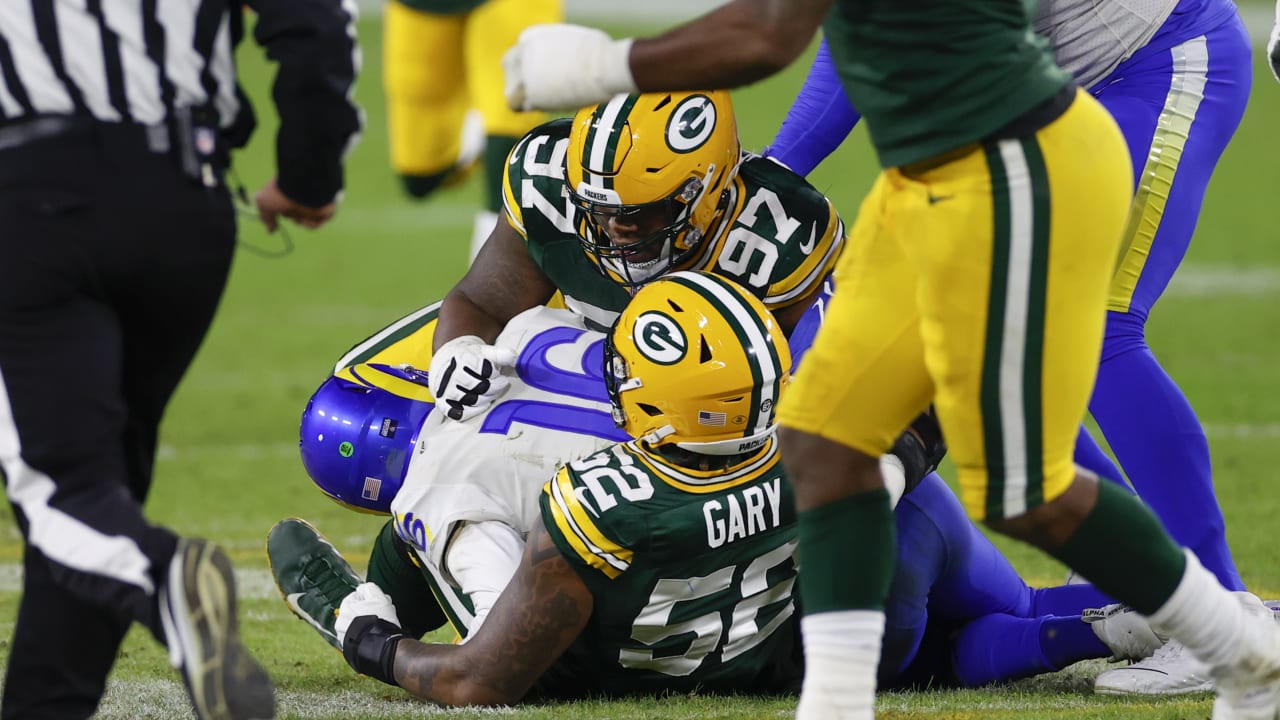 Rashan Gary saw an even bigger role in the defense in the Packers' first playoff game against the Rams.  Gary was on the field for 62% of the defense's snaps, up 18% from the regular season.  In key moments of the game, Gary was able to get to Jared Goff recording 1.5 sacks.  In addition, he record three quarterback hits, showing that he was constantly making life difficult for the Rams' quarterback.  His three quarterback hits were a career-high.
Going Forward
The Packers, like all other NFL teams, are facing some tough financial decisions after the season is over.  Even though Preston and Za'Darius Smith are both under contract for next season, it may be that one or both of them may not be back.  That will mean that Gary's role in the defense will increase even more.  Given his work ethic and production in 2020, the Packers and their fans can be sure he will be ready.
Oh, and about Brian Burns:
Stats you cannot argue

Career playoff sacks

Rashan Gary: 2

Brian Burns:0

(Half sacks are stupid) @JacobMorley

— Jacob Westendorf (@JacobWestendorf) January 17, 2021
For More Great Wisconsin Sports Content
Follow me on Twitter at @theotherAdams14 and follow us @WiscoHeroics1for more great content. To read more of our articles and keep up to date on the latest in Wisconsin sports, click here!