Randall Cobb brings a lot of invaluable traits and tools to any NFL team. This is even more true of the Green Bay Packers. You see, Cobb is entering his 10th season playing with four-time MVP Aaron Rodgers. The Packers have many new wide receivers this year, three of them draft picks. So, while Aaron Rodgers is not at the voluntary organized team activities, it is Randall Cobb who is teaching the new guys some "Aaron Rodgers 101."
What Is "Aaron Rodgers 101?"
As Aaron Rodgers says, there are two steps to learning the Packers playbook. The first part is in the classroom, memorizing the plays, the routes, the assignments. The second part is on the field with Rodgers himself. With the star quarterback skipping voluntary team activities, Cobb is communicating to the young rookies what Rodgers expects of them on every play. He is teaching them how to communicate on the field with the future Hall of Famer, and how to know what he is thinking during a play.
Related: Randall Cobb has high praise for Packers rookie wideout
For his part, Aaron Rodgers has said that a reason he is skipping voluntary OTA's is so that the young wide receivers get a good grasp on the playbook. Rodgers is famous for his high expectations of his receivers. Throwing them on the field with Rodgers with no prior preparations would be doing them a disservice.
That is where Randall Cobb comes in. As Rodgers stated:
"We've got my closest buddy on the team with those guys every single day, Randall Cobb. And he's been here the entire time, just about. So he's passing along everything they need to know about playing with me, and the expectations and the signals and the unspoken communication and non-verbal stuff. And they just have to feel me once we get back for training camp and it gets real."
Related: Christian Watson impressive in first day with Aaron Rodgers
Matt LaFleur Has High Praise for Randall Cobb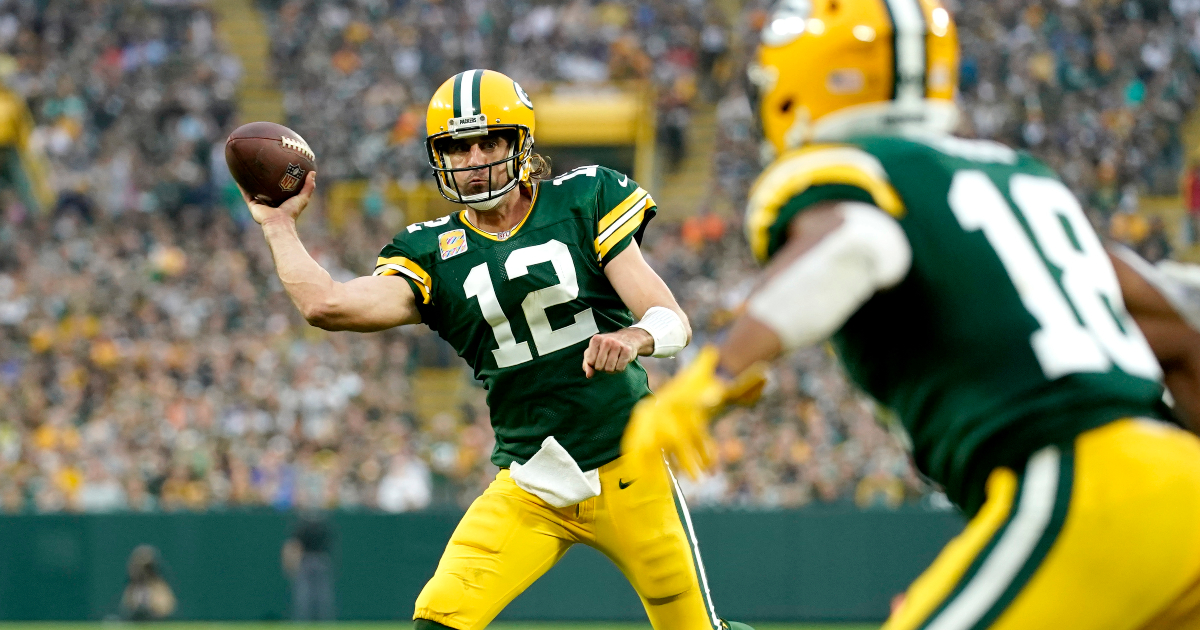 When addressing the media, head coach Matt LaFleur had nothing but praise for the job that Randall Cobb is doing mentoring Christian Watson, Romeo Doubs, and Samari Toure. Without Davante Adams, Marquez Valdes-Scantling, or Allen Lazard (who has not signed his tender), there is really no wide receiver at camp who has played with Aaron Rodgers for more than a year. This is something that LaFleur highlighted:
"A guy that has played a lot of ball, that's been around this system for the last year, but been around Aaron for his entire career, for the most part. So he can teach those guys when certain things come up. That's so important for us to go out there and get reps. It's impossible to sit there and talk about everything you want a guy to know in the classroom. Some things just come up organically on the field based on whatever is presented to you. To have a veteran like that, to show those young guys exactly how to do whatever it is we want them to do, it's such a great luxury."
Last week, Randall Cobb stated that he was at voluntary activities to help set a standard for younger Packers players. It sounds like he is doing much more than that.
For More Great Wisconsin Sports Content
Follow me on Twitter at @theotherRobin19 and follow us @WiSportsHeroics for more great content. To read more of our articles and keep up to date on the latest in Wisconsin sports, click here! Also, check out our merch store for some amazing WSH merchandise!