The Packers are relying on a bunch of rookies this season. It isn't just on one side of the ball either. Both the offense and the defense are relying heavily on rookies right away. On Sunday, one Packers rookie had a great game which earned him some honors. Packers receiver Romeo Doubs was named NFL Rookie of the Week.
Romeo Doubs Rookie of the Week
#Packers WR @RomeoDoubs has been named @NFL Rookie of Week 3!

🏆: https://t.co/9x2xbjVBn9#GoPackGo pic.twitter.com/WGmfnMaK5S

— Green Bay Packers (@packers) September 29, 2022
Romeo Doubs was a key contributor to the Packers win over the Bucs. He caught 8 passes for 73 yards and hauled in his first career touchdown on the opening drive of the game. The 8 catches were the most by a Packers rookie since 1988. Through three games, Doubs is the Packers leading receiver and is on pace for an 80 catch season. It seems that quarterback Aaron Rodgers is starting to feel comfortable with his rookie receiver and looking his way more. The fact that a 4th round pick is winning Rookie of the Week so early in the season shows how good Doubs is.
Expect More Accolades For Doubs
Doubs is clearly getting more looks in the Packers offense. With a breakout performance like this, expect more of this from Doubs. The Bucs have the top ranked defense in the league and largely handled the Packers offense outside of the first two drives. The Packers will face some much easier defenses especially in the coming weeks. If Doubs continues to see this volume of targets, more accolades could be coming his way. Could Doubs be in the mix for Offensive Rookie of the Year? If he keeps this up, I would say that is a resounding yes.
Another Great Pick By Brain Gutekunst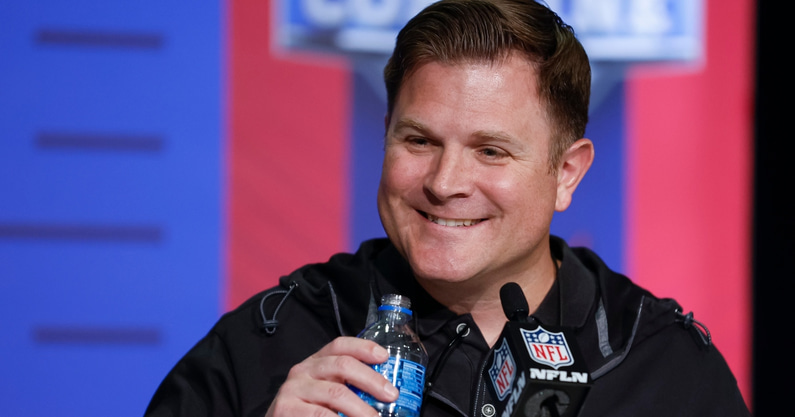 Doubs is making GM Brian Gutekunst look really good. Many teams, like the Saints and the Lions, traded significant draft capital to get a wide receiver in the first round. Many wanted the Packers to be more aggressive and trade up. They did not. Gutekunst and his staff sat back and waited. While they did pick Christian Watson in the second round, they found value in the fourth round. If Doubs grows into a top target, the Packers would be ecstatic.
For all the panic about the Packers wide receivers, the room is starting to look solid. Allen Lazard and Romeo Doubs are clearly WR1 and WR2. Randall Cobb is making the most of his snaps in the slot. Christian Watson is a little more of a project but has the raw talent. It is awesome to see a late round draft pick flourish in this way. Look for Romeo Doubs to win more Rookie of the Week awards.
Follow me on Twitter at @sorcerermatt, follow us @WiSportsHeroics. To read more of our articles and keep up to date on the latest in ALL of Wisconsin sports, click here!