The Green Bay Packers and their fans are not strangers to Adam Schefter's type of reporting. He infamously misrepresented the Aaron Rodgers situation last year. Today, with the untimely passing of Pittsburgh Steelers quarterback Dwayne Haskins, Schefter tweeted (and deleted) this: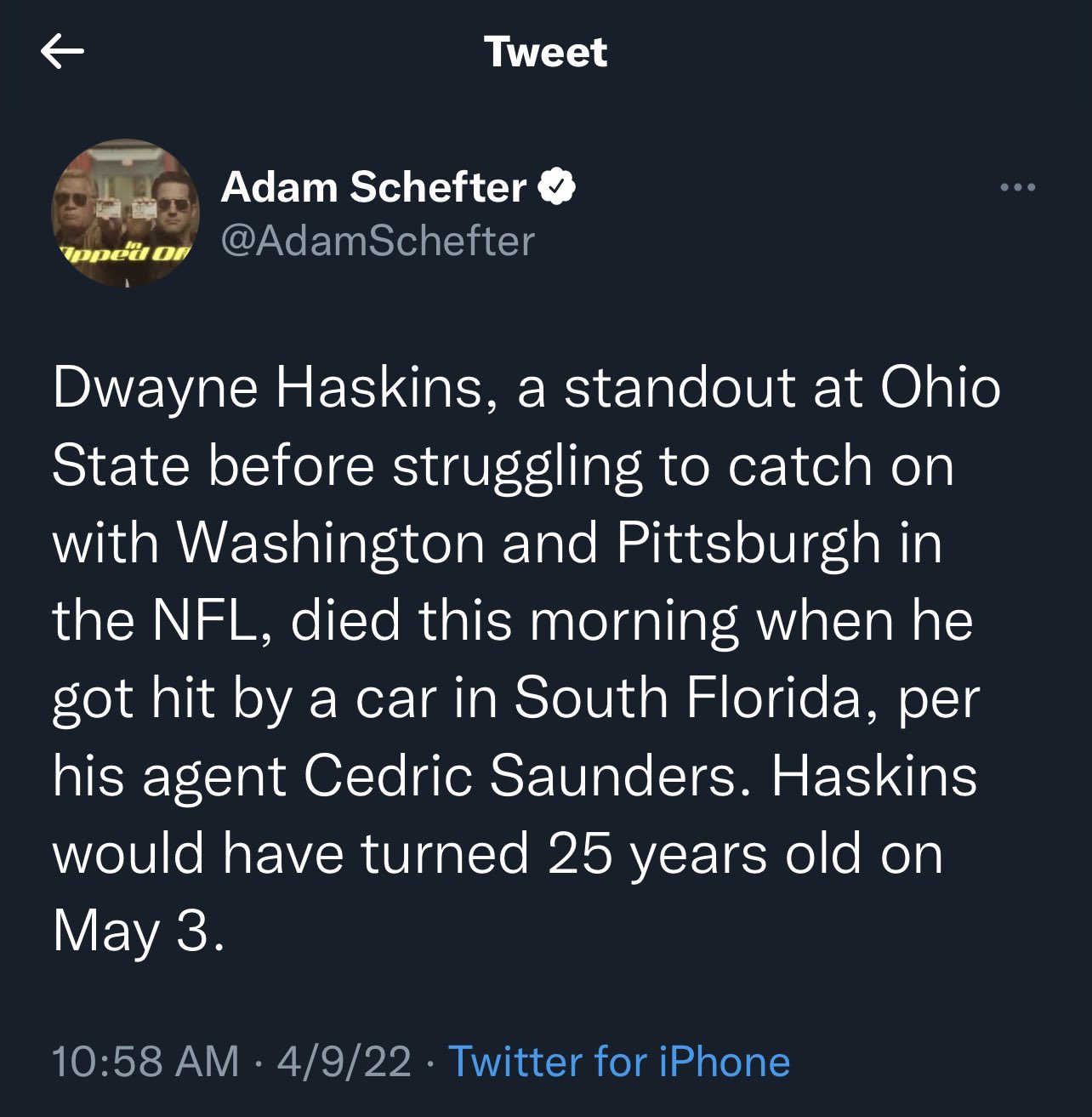 As mentioned previously, Schefter deleted the tweet. He replaced it with this:
Dwayne Haskins, a standout at Ohio State before becoming Washington's first-round pick and playing in Pittsburgh, died this morning when he got hit by a car in South Florida, per his agent Cedric Saunders. Haskins would have turned 25 years old on May 3.

— Adam Schefter (@AdamSchefter) April 9, 2022
However, thousands of people saw the original and took issue with his slander of Haskins' NFL career. This led to many athletes, including numerous Packers players, to voice their opinions about Adam Schefter.
Packers Players' Reactions
One of the most vocal critics of Adam Schefter on Twitter was Packers safety Adrian Amos.
Yes he corrected it and no we are not all perfect but it but it's definitely a reminder of how alot of the reporters see us https://t.co/rGJ0Rcd8et

— Adrian Amos (@_SmashAmos31) April 9, 2022
Amos also drew attention to an absolutely horrid interview given by NFL Hall of Famer Gil Brandt. In the interview, Brandt stated that Haskins "was a guy living to be dead."
Ayo what? https://t.co/khVP6BbpJD

— Adrian Amos (@_SmashAmos31) April 9, 2022
Kurt Benkert, who is not one to back down for awful reporters on Twitter, also had this to say:
People make mistakes, slip ups happen, saying something the wrong way happens.

But doing it over and over again isn't a mistake. It's how someone is wired and how they naturally spin a narrative. Media preying on athletes' shortcomings for clicks is as low as it gets.

— Kurt Benkert (@KurtBenkert) April 9, 2022
Other Athletes Respond to Adam Schefter
One of the most powerful voices on social media regarding Adam Schefter was former Cowboys wide receiver Dez Bryant.
Athletes for the record.. the shit @AdamSchefter wrote that's how a lot of people view us.. we ain't shit but entertainment!.. if you let 1 treat you with disrespect the rest will follow…

— Dez Bryant (@DezBryant) April 9, 2022
Former Ohio State quarterback Cardale Jones also had some strong words for Schefter:
How about " Dwayne Haskins, son, husband, buckeye brother, friend, beloved teammate has passed away" TF his career ups and downs have to do with him unfortunately losing his life🤦🏾‍♂️ STFU! Let his family & friends grieve instead of throwing shade. Praying for the Haskins family!! pic.twitter.com/gb1D9KcgCQ

— Cardale Jones (@CJ1two) April 9, 2022
Baltimore Ravens quarterback Lamar Jackson:
@AdamSchefter you lame asf all around grown ass man and can look in the mirror and smile at yourself

— Lamar Jackson (@Lj_era8) April 9, 2022
The saddest part about all of this, though, has nothing to do with Adam Schefter. Dwayne Haskins had a family and a future. It is so tragic that his life was cut short.
For More Great Wisconsin Sports Content
Follow me on Twitter at @theotherRobin19 and follow us @WiSportsHeroics for more great content. To read more of our articles and keep up to date on the latest in Wisconsin sports, click here! Also, check out our merch store for some amazing WSH merchandise!