The Green Bay Packers are preparing for their biggest match-up of the season on Sunday.  The Detroit Lions come to Lambeau and if the Packers win, they are in the playoffs.  Sitting at 8-8 and on the brink of the playoffs, this team has done a complete turnaround from when they were sitting at 4-8 with less than a one percent chance to make the playoffs.  At the end of every season the Packers hand out a number of awards.  This year Kenny Clark and Rasul Douglas were honored with the Tom Mulhern Stand-Up Guy Award.
Packers' Douglas and Clark Honored With End Of Season Award
Per the Green Bay Packers: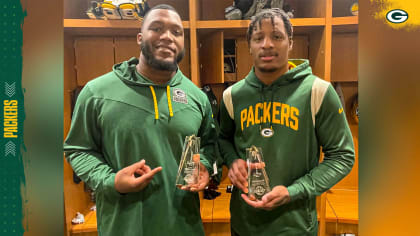 Packers defensive lineman Kenny Clark and cornerback Rasul Douglas have been selected as the 2022 Tom Mulhern Stand-Up Guy Award recipients, as voted on by the Green Bay chapter of the Professional Football Writers of America.
The annual award is presented to the Packers players who have best helped reporters covering the team do their jobs effectively. Other current Packers to have won the award include quarterback Aaron Rodgers, kicker Mason Crosby and left tackle David Bakhtiari.
Clark, who was previously honored with the award in 2018, is one of three Packers to be recognized on multiple occasions, joining cornerback Tramon Williams (twice) and receiver Davante Adams (three).
"Anytime you're in the same realm as those guys, it's great," Clark said. "I'm super appreciative for the award. I respect everybody's work. Anytime I got a chance to talk, and you guys have a question, I'm going to answer it."
A naturally outgoing individual, Douglas said he felt even more comfortable speaking with the Green Bay media based on positive conversations with veterans on the team shortly after his arrival.
"It's just been natural since I've been here with you guys," said Douglas, who has 137 tackles, 26 passes defensed and nine interceptions in 28 regular-season games with the Packers.
Davante Adams won this award three times during his time in Green Bay.  Kenny Clark is now quickly becoming a media favorite