Milwaukee Bucks superstar Giannis Antetokounmpo is not unfamiliar with the occasional trolling. On Monday, the former back-to-back MVP turned his attention to Los Angeles Lakers big man Christian Wood, whom Giannis faced off against on Sunday during a preseason contest.
Wood, who had a very brief tenure with the Bucks several years ago, has now clapped back.
Giannis Trolls Former Milwaukee Bucks Teammate
It all started with Giannis posting a photo from Sunday's win. It wasn't just any picture, though, as the Bucks talisman shared a snap of himself ruthlessly blocking away Wood's shot attempt. The icing on top of the cake was Antetokounmpo shamelessly tagging Wood in his post.
Giannis really posted a pic blocking Christian Wood and tagged him 😂 pic.twitter.com/uXjKJlOWvL

— Bleacher Report (@BleacherReport) October 16, 2023
There wasn't any smack talk or anything from Giannis, but the photo and the tag were more than enough savagery for one day.
Christian Wood Claps Back at Giannis
Given the fact that Giannis tagged him on the photo, there was just no way Christian Wood was not going to notice the gesture. True enough, the Lakers big man clapped back at Antetokounmpo with his own playful jab (h/t Ishaan Bhattacharya of Fadeaway World):
"I love it I'll see him during the regular season just circled the game on my calendar," Wood responded.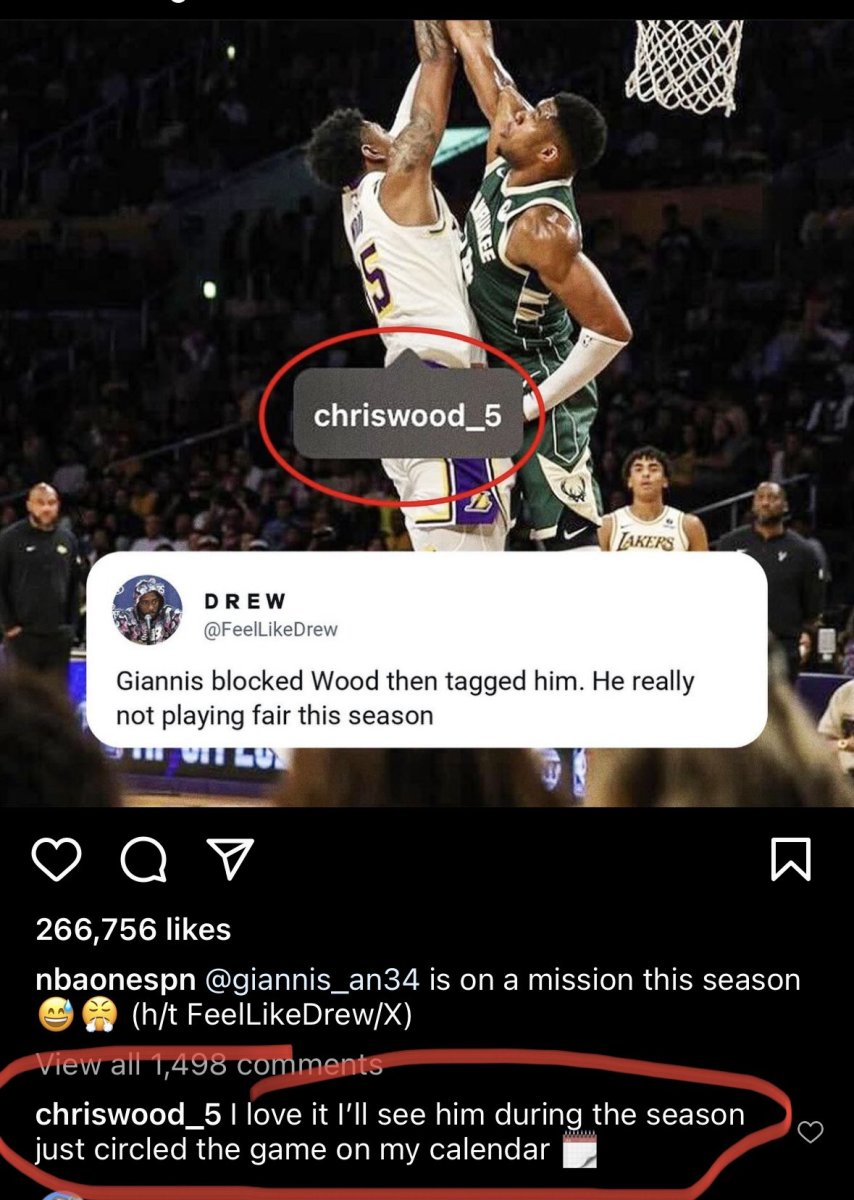 In case you were wondering, the Bucks and the Lakers face off twice this coming season. That's on March 8 in LA, and again on March 27 at the Fiserv Forum in Milwaukee. As he said, Wood is already very much looking forward to that matchup.
You can be sure that Giannis feels the exact same way.
For More Wisconsin Sports:
Follow me on Twitter at @PaoloSongcoNBA, and follow us @WiSportsHeroics. Also, check out our Merchandise Here! Get 20% off with the code "WSH." You can also reach out to Paolo Songco via email at pao.songco@gmail.com. To read more of our articles and keep up to date on the latest in ALL of Wisconsin sports, click here! Green Bay Packers, Milwaukee Brewers, Milwaukee Bucks, Wisconsin Badgers.