Before the Milwaukee Brewers look to take the series (and season series) against the Pittsburgh Pirates this afternoon, they made some roster moves:
RHP Thyago Vieira selected from Triple-A Nashville.

LHP Clayton Andrews optioned to Triple-A Nashville. pic.twitter.com/RpMvbZZluu

— Milwaukee Brewers (@Brewers) September 6, 2023
LHP Clayton Andrews optioned to Triple-A Nashville
After receiving his third call-up with the team last friday, LHP Clayton Andrews has been sent back down to Nashville. He appeared in Tuesday night's 7-3 victory over the Pittsburgh Pirates, where he allowed three runs on three hits and didn't record a single out.
In his three appearances in the big leagues, Andrews allowed eight runs in just 1 2/3 innings of work, totaling up to an ERA of 43.20. Andrews appeared in 42 games with the Sounds this year, allowing 14 earned runs across 49 innings of work with 64 strikeouts.
Milwaukee Brewers Call Up Thyago Vieira from Nashville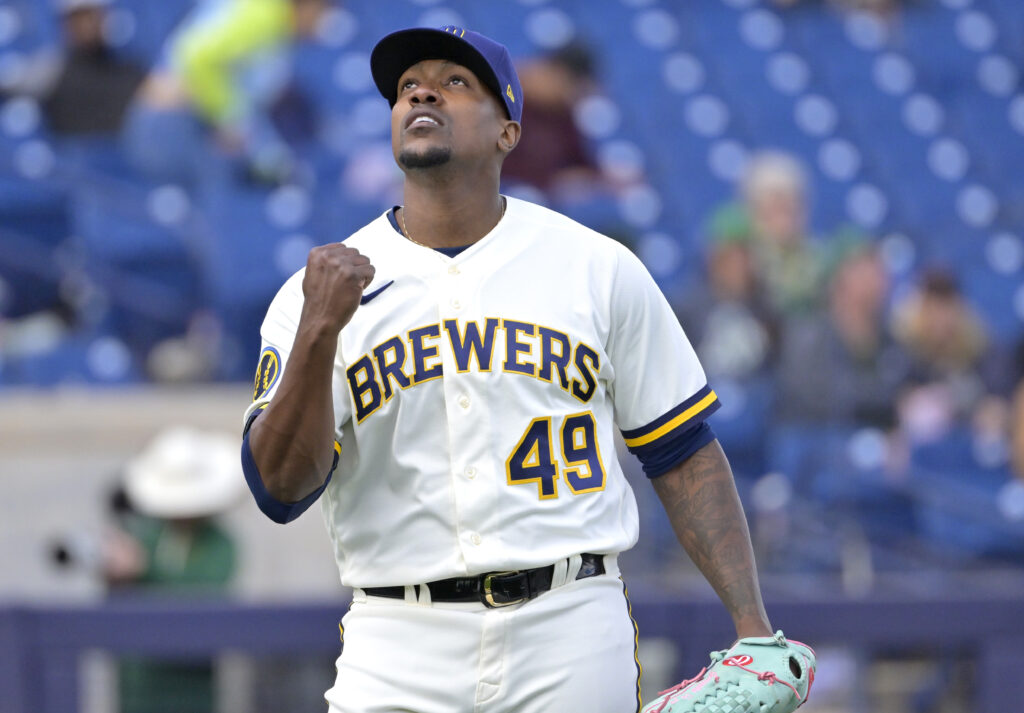 The Brewers are on a pennant chase and if they want to keep their first place spot, they're going to need all the power they can get; And that's exactly what Thyago Vieira provides for Milwaukee's bullpen.
Milwaukee signed Vieira back in January of this year to a minor league contract with an invite to Spring Training. He has spent the entire 2023 season with the Nashville Sounds, where he posted a 3.35 ERA, 51 strikeouts, and a WHIP of 1.22.
This isn't Vieira's first rodeo in the big leagues, however. The right-hander has previously played for the Seattle Mariners, Chicago White Sox, and even spent some time in Nippon Professional Baseball for the Yomiuri Giants.
In his two-year stint with the Yomiuri Giants, he split time between the Japan Central League and Japan Eastern League.
2020: 43 G, 2.70 ERA, 0-1 record, 40.0 IP, 37 H, 12 R, 3 HR, 19 BB, 46 K

2021: 59 G, 2.78 ERA, 0-3 record, 58.1 IP, 40 H, 18 R, 3 HR, 27 BB, 68 K
2022: 29 G, 3.62 ERA, 0-2 record, 27.1 IP, 21 H, 11 R, 4 HR, 15 BB, 36 K
He saw his best success when he was in the Yomiuri's farm system where he pitched 20 games, only allowing two runs and struck out 28.
The last time he saw big league action was in 2019 with the White Sox where he had a 1-0 record in six games, only pitching a total of seven innings and held an ERA of 9.00.
His velocity and speed with the ball was remarkable, though; Averaging 97.5 mph with the four-seamer, the highest recorded Vieira saw with that pitch was 102 mph. Vieira allegedly continued to throw near triple-digits when he was in Japan, and he compliments the fastball with an upper 80s slider. His K% has rose a bit since the last time he was playing for MLB, climbing from 21.6% in 2019 to 31.7% in 2023, and he saw a decrease in his BB% from 13.5% to 9.3%.
Bullpen help for the Milwaukee Brewers
Adding Vieira's velocity to the bullpen is just what the Brewers need as they chase for the postseason and NL Central pennant. With players such as Abner Uribe, who hasn't allowed an earned run in 18 of his 21 appearances, Reliever of the Year candidate Devin Williams, who's tied for first in wins in the National League at eight, and Bryse Wilson, who hasn't allowed an earned run in seven straight appearances, the bullpen is looking pretty good as we head into the last 25 games of the season.
Follow me on Twitter at @sarahspooon and follow us at @WiSportsHeroics. For all things Wisconsin sports, click here! We cover the Milwaukee Brewers, Milwaukee Bucks, Green Bay Packers, Wisconsin Badgers, and even Wisconsin High School sports. Additionally, we cover national news across MLB, the NBA and the NFL.