Where will Lamar Jackson be playing in 2023? It's a question that is being asked more frequently now that the Baltimore Ravens season is over. 
Jackson was dealing with a knee injury towards the end of the 2022 season, missing the Ravens' final six games, including the playoff loss to the Cincinnati Bengals. Baltimore went 2-4 in those games.
Jackson might have already played his final game as a member of the Ravens, and oddsmakers did their best to predict where the 2019 NFL MVP will end up if he doesn't return to Baltimore.
Lamar Jackson 2023 Team Odds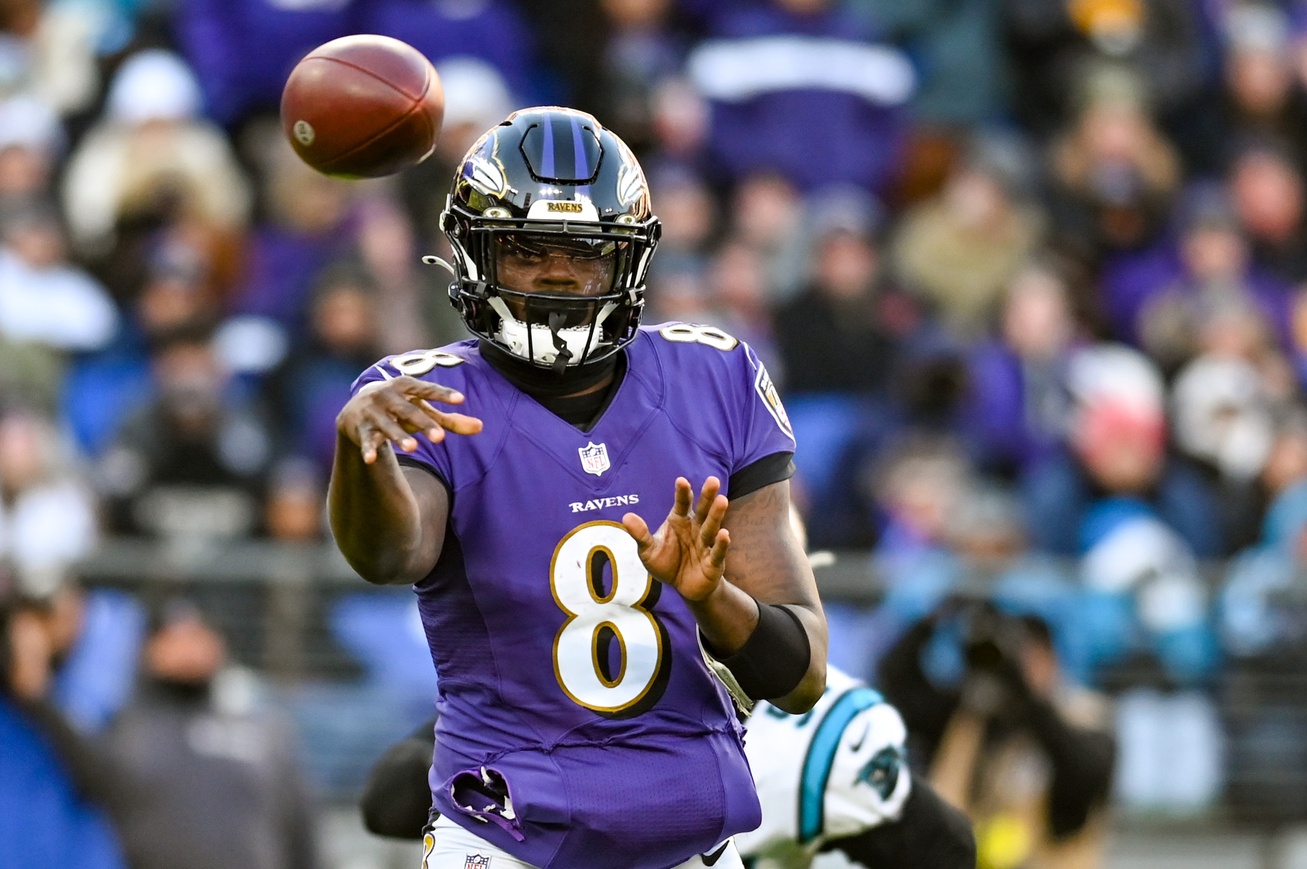 If Lamar Jackson and the Ravens can't reach an agreement, where might he end up? Here are the seven most likely teams to land the former MVP, according to DraftKings Sportsbook.
New York Jets
The Jets appear to be at the top of every list when it comes to potential landing spots for quarterbacks in 2023. New York was in the playoff hunt for most of 2022 while dealing with a chaotic QB situation. Mike White, Zach Wilson, and Joe Flacco don't appear to be the answer. Would the Jets be a Super Bowl contender with a legitimate superstar under center? 
Atlanta Falcons
The Falcons fan base would welcome another dual-threat quarterback, especially one of Jackson's caliber. Michael Vick was electric in his time with Atlanta, but never led his team to the promise land. Would Jackson be able to bring a Lombardi Trophy to Atlanta for the first time in franchise history?
Las Vegas Raiders
Derek Carr is not returning to the Raiders in 2023. Jarrett Stidham probably isn't the solution. Las Vegas would have plenty of weapons for Lamar Jackson to work with. However, the Raiders may be considering taking a quarterback in the draft instead.
Carolina Panthers
The Panthers won seven games while rotating through Baker Mayfield, Sam Darnold, and P.J. Walker. Late in the season, Carolina still had a chance to win the NFC South. If Tom Brady leaves the Buccaneers in the offseason, the division would be even more wide open. The Panthers have never won a Super Bowl, but acquiring Lamar Jackson would be a great first step to turn their fortunes around.
New England Patriots
After around 20 years of domination, it seems weird to say that the Patriots aren't that great of a team. Sure, they were close to making the playoffs this season, but their offense is pretty average, scoring 21.4 ppg for 17th in the league. Jackson would provide an instant boost to the Patriots offense, but is New England still committed to developing Mac Jones?
Washington Commanders
At 8-8-1, Washington was the only NFC East team to miss out on the playoffs. The Commanders have a solid receiving corps, including Terry McLaurin who was 10th in the league in receiving yards, despite an unstable quarterback situation. Would Lamar Jackson be the missing piece that makes Washington a contender in the NFC?
Miami Dolphins
Dolphins general manager Chris Grier announced that Miami will continue with Tua Tagovailoa as the starter for the 2023 season, so this doesn't appear to be a likely destination for Jackson. Plus, Tua was putting up MVP numbers before his season was derailed by concussions. 
For More Wisconsin Sports News:
Follow me on Twitter at @alex_ratliff and follow us @WiSportsHeroics for more great content. To read more of our articles and keep up to date on the latest in Wisconsin sports, click here!