The NBA announced their selections for the first-team and second-team all-defense on Monday night. Two of Milwaukee's best defensive players, Jrue Holiday and Giannis Antetokounmpo, were given a first team-selection. Both Holiday and Giannis have been stellar defensively all season long. Once again, the NBA has recognized both players for their incredible defensive ability.
Familiar Territory for Two of Milwaukee's Stars
Jrue Holiday and Giannis Antetokounmpo have been continually recognized for their defensive prowess. Antetokounmpo was given a Defensive Player of the Year award last season. Additionally, Giannis has earned three first-team all-defense selections. Furthermore, Giannis has earned one second-team all-defense selection. Altogether, Giannis' three first-team selections are the second-most in Milwaukee Bucks history. Sidney Moncrief, a legend in Milwaukee, earned first-team all-defensive honors four times in his career. Antetokounmpo may be able to reach Moncrief's milestone sooner rather than later. Antetokounmpo has the ability to earn many more all-defensive selections with his defensive dominance.
This is Jrue Holiday's second time receiving first-team all-defensive honors. Additionally, Holiday has earned a second-team all-defensive selection in his career. Holiday finished this season with an average of 1.6 steals per game. Those numbers were good for a top-five ranking in the NBA's steals leaderboard. Additionally, Jrue Holiday earned multiple steals in 32 games this season. Holiday earned the second-most games with multiple steals this season. Holiday has been recognized as one of the best two-way guards in the league by fellow NBA players. Once again, Holiday has been recognized by the NBA for his incredible defensive ability.
Full All-Defensive Teams
First-Team:
G: Jrue Holiday (Milwaukee Bucks)
G: Ben Simmons (Philadelphia 76ers)
F: Draymond Green (Golden State Warriors)
F: Giannis Antetokounmpo (Milwaukee Bucks)
C: Rudy Gobert (Utah Jazz)
Second-Team:
G: Matisse Thybulle (Philadelphia 76ers)
G: Jimmy Butler (Miami Heat)
F: Kawhi Leonard (Los Angeles Clippers)
F: Bam Adebayo (Miami Heat)
C: Joel Embiid (Philadelphia 76ers)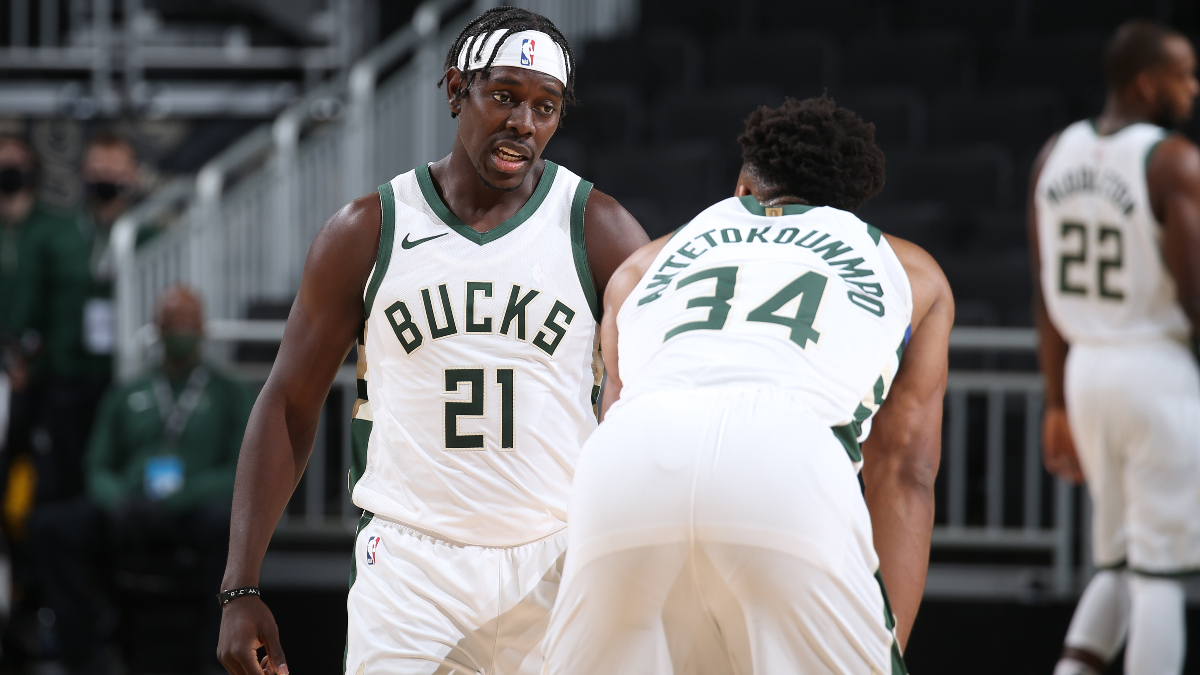 Defense a Bright Spot in the Playoffs
Generally speaking, Milwaukee has done a fantastic job defensively in the playoffs. Against Brooklyn, the Bucks starting five have held the Nets to just 86 points per 100 possessions. Furthermore, Milwaukee has held Brooklyn to an Effective FG Percentage of only 45.6%. In short, Milwaukee has been living up to its defensive expectations. Jrue Holiday has been the primary defender on Kyrie Irving throughout the series against Brooklyn. With Irving's unfortunate injury, Holiday will have a much easier defensive load. Jrue may become more of a help defender with Kyrie Irving's injury. Be sure to keep an eye on Holiday for the rest of the series. Also, be sure to watch for Giannis on both ends. Brooklyn has shown they do not have an answer for him on offense. All things considered, they may not have the answers for working around Giannis on the defensive end as well.
Final Thoughts
Antetokounmpo and Holiday have deserved these awards. Overall, Jrue and Giannis have been dominant on the defensive end all season. Despite Holiday's size, he is able to match up with any player from point guard to power forward. Giannis is well known for his presence in the paint. Giannis is also known for challenging the best big men in the league. All in all, their defense has been critical in bringing the current playoff series back to a 2-2 tie. Congratulations to Jrue Holiday and Giannis Antetokounmpo for another incredible achievement!
[pickup_prop id="8284″]
Follow for more great content!
Follow me on Twitter at @JakeJMaier and follow us @WiSportsHeroics for more Wisconsin sports content. Check out our merch page. Use promo code WISCO at checkout for $1 off! To read more of our articles and keep up to date on the latest in Wisconsin sports, click here!