The Green Bay Packers have reached the mid-point of their 2020 season.  At 6-2, they are atop the NFC North division and are in position to compete for the coveted number one playoff seed.  There have been many great contributors to the team's overall success, but there have also been players that have disappointed.  This is especially true on the offensive side of the ball, where the wide receiver position has been spot-lighted ever since no receivers were taken in the NFL draft.  Read on to find our mid-season grades for the offense.
Quarterback- Grade: A
Aaron Rodgers has been having one of the best seasons of his career in 2020.  The two-time MVP is in the conversation for this year's award as well.  Thus far, he has completed 67.5% of his passes, has 2,253 passing yards, 24 touchdowns, and two interceptions.  He also has 117.5 passer rating and leads the NFL with a 87.6 QBR.
What is noteworthy about Rodgers' touchdown total is that he is close to surpassing his touchdown totals in each of the past two seasons.  In 2018, Rodgers had 25 touchdown throws; in 2019, he had 26.  Additionally, many of the offense's best weapons have missed time with injuries.  Despite this, Rodgers is leading an offense that could very well finish the season as the NFL's best.
All of this success comes in a season that could have been tumultuous and controversial for the Packers' quarterback.  Jordon Love was drafted in the first round.  The only noteworthy addition to the receiving core, Devin Funchess, opted out of the season. Rodgers, though, has upped his game and has returned to the level of production Packers' fans have always hoped (and knew) he would have.
Wide Receiver- Grade: B-
When the Packers defeated the Vikings in Week One of the 2020 season, it looked like the receiving core was as good as the front office had advertised.  Davante Adams had 14 receptions for 156 yards and two touchdowns.  Marquez Valdes-Scantling had four receptions for 96 yards and a touchdown.  Finally, Allen Lazard had four receptions for 63 yards and a touchdown.
That success, though, proved to be hard to replicate across the board.  Davante Adams, who may just be the best receiver in the NFL, missed time with an injury.  Following a breakout game against the Saints in which he had six receptions for 146 yards and score, Allen Lazard landed on the injured list with a core injury that required surgery.  Despite catching two touchdowns against the 49ers, MVS has been plagued with drops and inconsistent play.
In addition to MVS's struggles, Equanimeous St. Brown has been very ineffective, dropping two key passes in the Packers' loss to the Vikings.  Both Darrius Shepherd and Malik Taylor have been non-factors, even in games in which both Adams and Lazard were out.
Despite the frustrations, we would be remiss if we did not note the monster season that Davante Adams is having.  In six games (he missed two with injury), Adams has 53 receptions and 675 receiving yards.  In addition, his eight touchdown receptions lead the NFL.  Remember, he missed two games.  Adams has three games in which he recorded over 10 receptions and 100 yards receiving already this year.  The last player to do that through the first six games he played in a season was Randy Moss.
Specific Grades
Davante Adams- A
Allen Lazard- B+*
MVS- D
EQ St. Brown- F
Darrius Shepherd- I**
Malik Taylor- I**
*Only has played in three games, and was not a big factor against Detroit
**These two players have not done enough, good or bad, to warrant an accurate grade.
Tight End- Grade: A-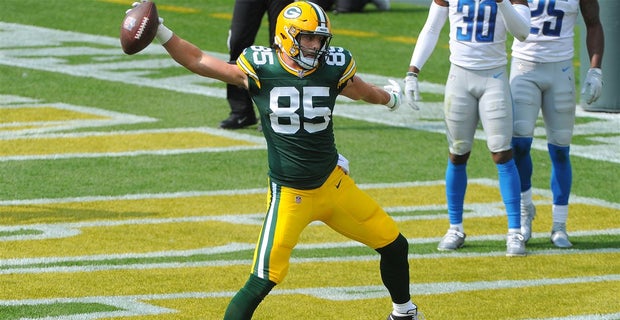 As noted previously, the Packers' wide receivers have been underwhelming so far this season (aside from Davante Adams, of course).  With so many receivers missing time for injury and/or underperforming, it has been the tight ends who have picked up the slack in the receiving game, especially in the red zone.
Most noteworthy has been the play of Robert "Big Bob" Tonyan who had 14 receptions for 177 yards and two touchdowns entering the season.  In 2020, Tonyan has 24 receptions for 314 yards and five touchdowns.  Only Travis Kelce and Jonnu Smith have more touchdown catches as tight ends.
Mercedes Lewis remains a rock on the offense, providing above-average blocking and occasional touchdown receptions (he has two so far this year).  Jace Sternberger, who the Packers have highly touted, has yet to have that breakout game the team believes he is capable of having.  He has just eight receptions for 86 yards this season.  However, it has been the play of Tonyan that has limited Sternberger's snaps and targets.  He does have a touchdown reception on the season and remains a solid target Rodgers looks for when he needs a first down (five of his receptions have been for a first down).
Specific Grades
Robert Tonyan- A
Mercedes Lewis- A-
Jace Sternberger- C+ (waiting on that breakout game)
Running Back- Grade: A
The Green Bay Packers have an embarrassment of riches at the running back position.  Aaron Jones, coming off of a 19-touchdown season, is on pace for another high-scoring season despite missing two games with an injury.  In six games this year, Jones has 629 total yards and seven touchdowns.  This is a big season for Jones, whose contract is up at the end of the year.  Whether or not the Packers will be able to afford to keep him remains to be seen.
In addition to Jones, Jamaal Williams is also having a solid season as the second-string running back.  As head coach Matt LaFleur has said on multiple occasions, Williams is a starting running back on most other football teams.  Also in a contract year, Williams currently has 477 total yards and a touchdown in seven games.  His bruising style of running is a perfect compliment to Jones' slashing style, which keeps opposing defenses off balance.
Finally, AJ Dillon, the Packers' second-round draft pick in this past year's draft, has not seen very much action.  Presumably, the Packers are saving him and his bruising style of running for when the weather gets cold and he can punish opposing defenses in the bitter temperatures of Lambeau Field.  In any case, he has not seen the field much, and his true value remains to be seen.
Specific Grades
Aaron Jones- A
Jamaal Williams- A
AJ Dillon- I*
*While he has dressed for most games this season, he has not been used in situations that
Offensive Line- A
It is hard to really spotlight specific highs and lows on this offensive line.  Why?  Because they have been historically fantastic as a unit.  David Bakhtiari and Corey Linsley, both in contract years, are two of the three highest graded offensive linemen according to PFF.  As players missed time with injuries, backups have stepped in, starters have switched positions, and the o-line has held.  Aaron Rodgers, who in years past has been sacked often, has only been sacked nine times in eight games this year.  Comparatively, Carson Wentz has been sacked 32 times, Russell Wilson 24 times, and Patrick Maholmes 11 times.  Without a doubt, this line is a huge reason why Aaron Rodgers is able to put up the numbers he has so far this year.
Specific Grades
David Bakhtiari- A
Corey Linsley- A
Elgton Jenkins- A
Billy Turner- A
Rick Wagner- A
John Runyan- A
Lucas Patrick- A
For More Great Wisconsin Sports Content
Follow me on Twitter at @theotherAdams14 and follow us @WiscoHeroics1for more great content. To read more of our articles and keep up to date on the latest in Wisconsin sports, click here!