The NFL regular season has come to an end. All of the focus now goes to the playoffs, which starts next week. Overall the Packers did very well in the regular season. They finished with the best record in the NFL at 13-4. In addition, they won the NFC North for the third year in a row. Also, they hold the number seed in the NFC conference. The Packers certainly did well this season and look to carry that over to the playoffs. Overall, here are the final regular-season grades.
Quarterbacks A+: Aaron Rodgers Has Played at a High Level and Saw Flashes From Jordan Love
Aaron Rodgers simply put has played at a very high level this year. The first half of the season he was playing decent, but not putting up many big numbers. However, in the second half of the season, he was arguably the best quarterback in the NFL. He led all quarterbacks in touchdown interception ratio and had the highest passer rating in the NFL. Also, since week eleven Aaron Rodgers has thrown zero interceptions and twenty touchdowns. He is indeed the front runner for NFL MVP this year. He most likely will win MVP, however, hopefully Rodgers can win his second Super Bowl along with it.
Jordan Love has played in a couple of games this year. Has played against the New Orleans Saints in a blowout loss. He played against the Kansas City Chiefs with Aaron Rodgers out due to COVID-19. He has also played in games against the Minnesota Vikings and Detroit Lions in the second half. In all those games Jordan Love has been a mixed bag. Has shown flashes but still needs more developing. Over the next couple of years time will tell if Jordan Love will be a good player in the NFL.
Running Backs A+: Packers Have Had a Dominant Duo at Running Back This Year
The Packers have had great run game this year. That is thanks to the duo of Aaron Jones and AJ Dillon. Both have been a key piece to the Packers' offense this year. Each of them have over one thousand yards from scrimmage this year and have taken a lot of pressure off of Aaron Rodgers. Jones and Dillon have created a thunder and lighting attack at running back. Also Aaron Jones has been playing through an injury this season and with a first round bye he should be back to full health. AJ Dillon will wear defenses out in the fourth quarter especially playing in the cold at Lambeau Field. Look for the Packers to unleash the rushing attack in the playoffs.
Offensive Line A- : The Packers' Offensive Line has Played Well Despite the Injuries
The Packers' offensive line has been very good this year. Despite all of the injuries and missing almost all of their starters they have played extremely well. In every pass blocking statistic the Packers' offensive line ranks in the top ten. Also have only allowed 30 sacks, ranking 20th most in the NFL. Adam Stenavich definitely deserves praise. The depth on the offensive line has been very good. An example is Yosh Nijman, who according to Pro Football Focus, is the 30th ranked offensive tackle in the NFL. That is indeed impressive as Yosh was the third string left tackle behind David Bahktiari and Elgton Jenkins. Also Royce Newman, Jon Runyan Jr., and Lucas Patrick have stepped up when the starters went down on the offensive line. The Packers should be getting healthy on the offensive line in the playoffs but have done well overcoming injuries.
Wide Receivers B+: Packers Wide Recievers Have Played Their Roles Well in the Offense
The Packers do not have many big names at wide receiver. Davante Adams without a doubt is the best player from the wide receiving group. Also the numbers outside of him are not all great. However everyone has played their roles in the Packers offense. Allen Lazard is a big receiver who can win the 50/50 balls and is very good in run blocking and has seven touchdowns on the year. Marques Valdes-Scantling, despite what the stats say, scares defenses with his speed. Randall Cobb has made plays in crunch time and was heating up before his groin injury he suffered against the LA Rams. Malik Taylor, Equanimeous St. Brown, and Juwann Winfree have also showed flashes. The receiving core outside of Davante Adams have not put up big numbers but have played their roles well and should be effective when everyone is healthy.
Tight Ends B-: The Tight End Group Has Been Productive This Season
The Packers' tight end group has been solid this season. Due to injuries on the offensive line they have been asked to help in pass protection limiting them in passing game. Josiah Deguara has started to come along down the stretch as he looks fully recovered from his torn ACL he suffered his rookie year last season. He as shown he can be a weapon in the passing game and his run blocking has been good. Mercedes Lewis, the veteran leader of the group, is arguably the best run blocking tight end in the NFL and has shown at his age he can still get behind defenses. Dominque Dafney is a versatile piece in the offense. Also Tyler Davis is showing flashes of handling Robert Tonyan's role before his ACL injury. This group should be more involved in the passing game with the offensive line healthy.
Defensive Line B-: Kenny Clark Has Had a lot of Help This Year on the Packers Defensive Line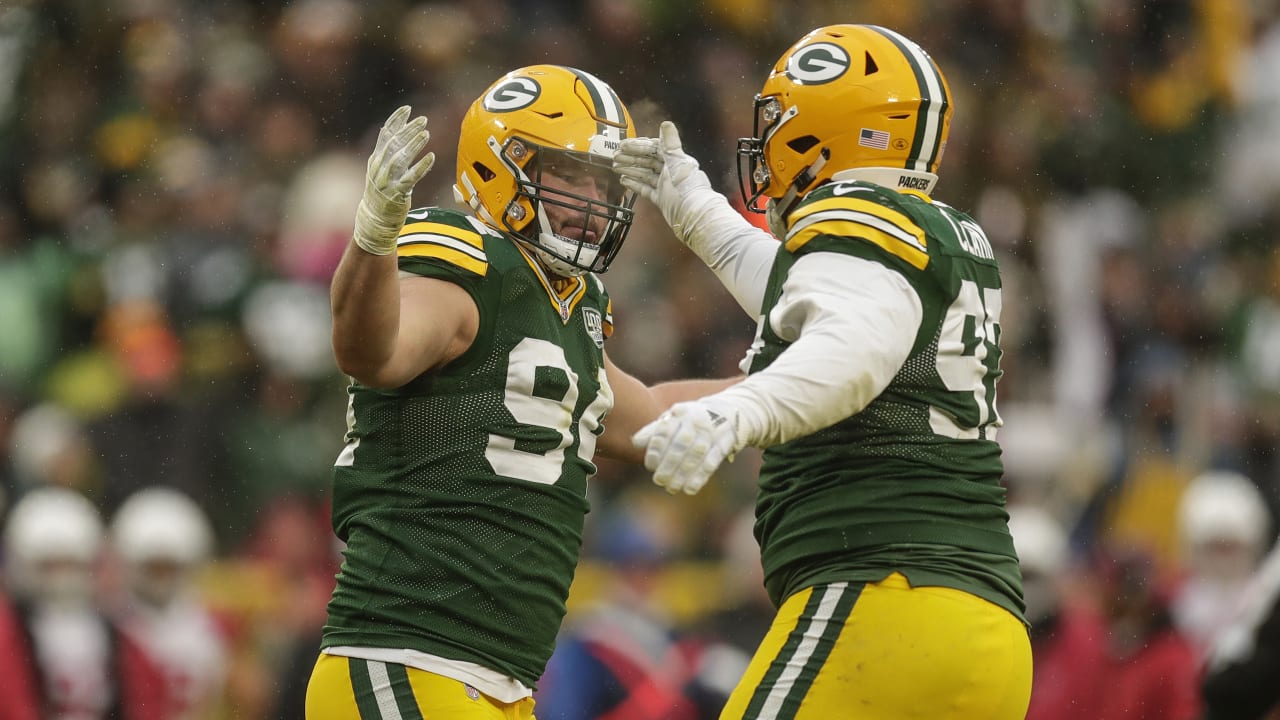 The Packers' defensive line has been a big improvement this year. Kenny Clark has indeed been a dominant force this year. He also has had help this year. Dean Lowry has played his best football this year and has taken advantage of the attention Kenny Clark receives and has been at times dominant. Kingsley Keke has been a force inside getting that interior pressure and at times attracting double teams. TJ Slaton has shown flashes as a rookie that he can be a dominant defensive lineman in the NFL. Tyler Lancaster has been good when he has been on limited snaps. Overall, this defensive line as a whole has taken a big step forward and will look to take another step forward in the playoffs.
Inside Linebackers A: Best Inside Linebacker Play the Packers Have Had in Years
This is probably the best inside linebacker play the Packers have had in awhile. Since Nick Barnett the Packers have not had that true man in the middle for years. That was until they signed De'Vondre Campbell who is the steal of NFL free agency. He has been the man of the middle for the Packers on defense. Campbell has played every game for the Packers this year and has had a pro bowl caliber season. He's been really stout against the run and his pass coverage as a inside linebacker is something the Packers have not had in a long time. De'Vondre Campbell is indeed a key piece to the Packers defense and will be key player for them as they enter the playoffs.
Krys Barnes was an undrafted free agent from UCLA last year as a rookie. This year he has showed some inconsistency but overall has picked up right where he left off from his rookie year. He goes sideline to sideline and delivers hard hits to opposing ball carriers. Also, you can even say Barnes has performed better then Kenneth Murray and Patrick Queen both who were first round picks. If Barnes can show more consistency he can certainly be the future for the Packers at inside linebacker.
Outside Linebacker/Edge A+: Even Without Za'Darius Smith the Packers Edge rushing group Has Been Good
The Packers have not had Za'Darius Smith for the whole regular season this year. However both Rashan Gary and Preston Smith have stepped up this year. Rashan Gary has had a breakout season registering 9.5 sacks. Also Gary does a lot more then just get sacks as he is a force against the run and is top five in quarterback pressures this year. He has really stepped up in his third year with the Packers. In addition, Preston Smith has had a bounce back year from last season registering 9.0 sacks. He looked like the Preston Smith from 2019 as he was a force this season off the edge. Also players like Johnathan Garvin, Tipa Galeai, and LaDarius Hamilton have stepped up as well. With Za'Darius Smith coming back in the playoffs this edge group will be dangerous.
Cornerbacks- A: The Cornerback Group Has Been Great This Season
The Packers haven't had Jaire Alexander for most of the regular season. He is a huge loss as he is a probowl corner. However, Rasul Douglas who was picked up from the Arizona Cardinals' practice squad has been phenomenal. He came out of no where and has been Green Bay's best corner when Jaire went down. He has made key interceptions that have sealed victories for the Packers. Eric Stokes is one of the best rookie corners in the NFL and has come on down the stretch. Kevin King has not played much but at one point was Pro Football Focus's highest graded corner. Chandon Sullivan has been decent enough and made his share plays. Once Jaire Alexander comes back this could be a scary cornerback group in the playoffs.
Safeties C+: This Group Has Been Decent But Major Concerns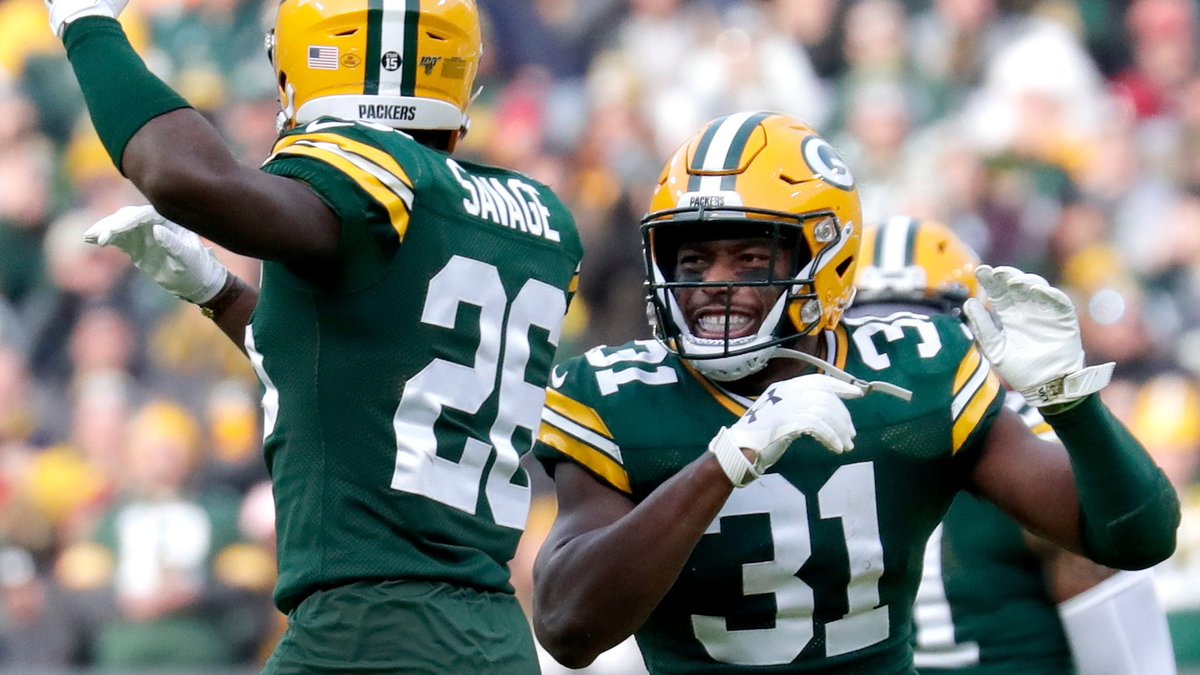 This Packers safety group has been decent this year. Adrian Amos has been very underrated for the Packers. He does not get enough recognition as he does everything for the Packers defense. Amos has been good against the run and solid in pass coverage. Amos has been a huge steal for the Packers when they signed him in 2019 NFL free agency. Darnell Savage, however, has not taken that next step this year. He is not a bad player but he has struggled a lot this year especially in the second half of the season. He makes too many mental errors and has been struggling in coverage. Savage has to to be better as the Packers enter the playoffs. Henry Black has been up and down but has played well enough when he is on limited snaps. This safety group is not bad overall but have concerns as the Packers enter the playoffs.
For More…
Follow me on Twitter at  @CarlosS29143608 and follow us at @WiSportsHeroics for more content. To keep up on all of your favorite sports in Wisconsin, click here!