It wasn't the start to the new year that many wanted from the Milwaukee Bucks. However, they were without Jrue Holiday (non-COVID illness), Khris Middleton (knee soreness), and Giannis Antetokounmpo (knee soreness) as they took on the Washington Wizards at Fiserv Forum on Sunday night.
Milwaukee fell to the Wizards 118-95, allowing Washington to win their fifth straight; The Bucks have lost their last five of six. I say we move past this game, pretend it never happened, but let's look at some takeaways from Sunday's game.
Lack of Defense Hurt the Bucks
Even though they were shorthanded against the Timberwolves and came out with the win, fans were hoping things would've been the same on Sunday against the Wizards. However, the Wizards took advantage of the holes in Milwaukee's bench and attacked the defense and attacked hard.
Right off the bat, Washington's starting center Daniel Gafford attacked the rim, scoring 12 points in the first period; He finished the game with 17 points total. The Wizards outscored the Bucks 72-26 inside the paint, which is something that the Bucks couldn't seem to bounce back from.
Gafford, along with Kristaps Porzingis, Rui Hachimura, and Deni Avdija finished the night with double figures scoring in the paint. Even though the Bucks had some key players out of the lineup, the fact that they were outscored in the paint by 46 came as a surprise to some as Milwaukee is known for protecting that area and making it their specialty.
A lack of Giannis on the court definitely showed as the Wizards were able to rack up as much as a 26-point lead in the second quarter. The team was able to sort of make a little dent in Washington's lead, but as they headed into halftime, the Bucks were trailing 68-50.
The third quarter didn't bring as much high-fire shooting from Washington compared to the first half, but they still were able to keep the lead. Both teams only scored 20 in the third, but Milwaukee just couldn't seem to figure out the sorcery the Wizards were using.
Joe Ingles Showing Promise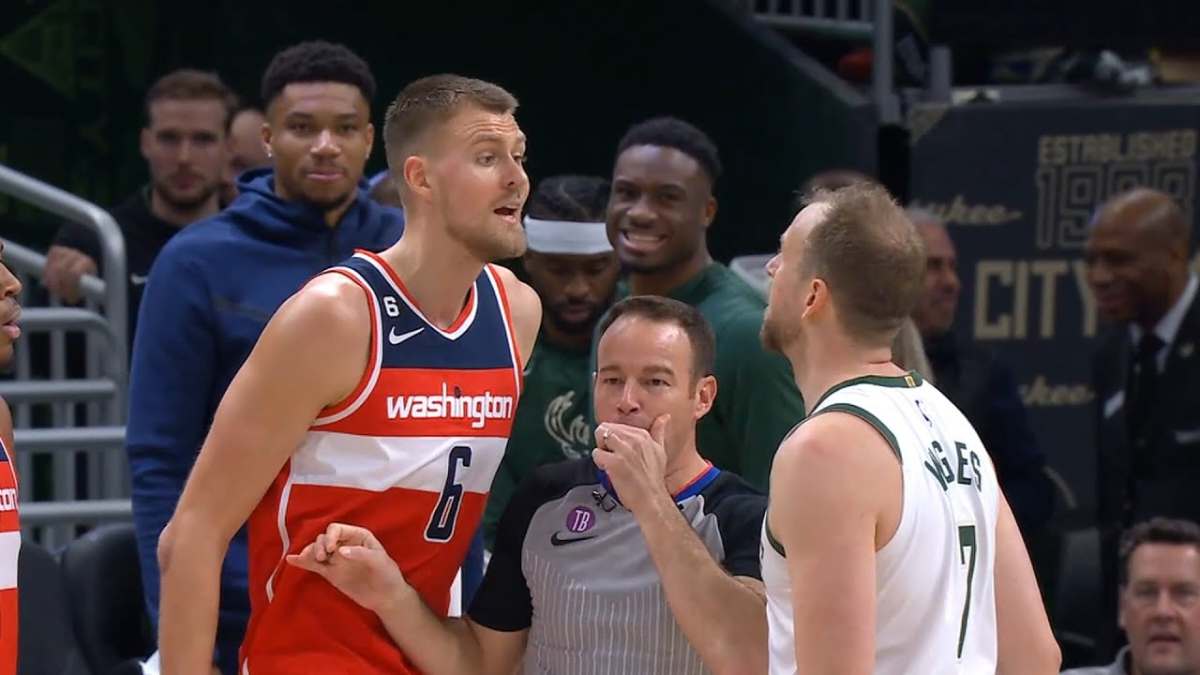 Even though he's only appeared in seven games, Joe Ingles has shown some signs of promise. His best game was arguably against the Timberwolves, where he scored 14 points, had five rebounds and 10 assists in that victory. Heading into Sunday's game, fans were hoping Ingles could do that again, if not even better. His performance on Sunday wasn't nearly as impressive as his previous, but it was promising for the future.
Without players like Giannis, Holiday, Middleton, etc., Ingles finished Sunday's performance with six assists and two turnovers. In the last two games, he has 16 assists. Offensively, however was not a good night for Ingles as he didn't get anything. He missed all four of his shot attempts, all being three-pointers. It looks like he's still working on that long-range shooting.
In just these last two games, Ingles has shown that he is able to work together with a team like the Bucks that offers a veteran group and competition. With Utah, Ingles was super reliable off the bench, and has lots to offer when it comes to outside shooting, which is something Milwaukee likes to capitalize on. If Joe Ingles can continue to be healthy? He's going to be a huge contributor in the Bucks' run to another NBA title.
Overall
In their loss on Sunday, the Bucks were led by Bobby Portis with 19 points and 10 rebounds. Jevon Carter added 14, Grayson Allen with 13, and Pat Connaughton tacked on 10 to Milwaukee's 95 points. Sunday's contest marked the fifth time this season that the Bucks did not score at least 100 points. This also was Portis's 21st double-double on the season, respectively.
Even though the Wizards were only down one of their key players, Milwaukee being down three of theirs really hurt them. However, just because three of their key players are down for the count, doesn't mean the lineup that is slated should perform how they did. We're only one game into 2023, and there still is a lot of hope for this Milwaukee team.
The Milwaukee Bucks will face the Wizards once again on Tuesday at Fiserv Forum.
Follow me on Twitter at @sarahspooon and follow us at @WiSportsHeroics! For all things Wisconsin sports, click here!