The Wisconsin Badgers have yet again put out some incredibly talented players on the football field.  2022 may not have ended the way Badgers fans wanted, but it was still successful in many regards.  Finishing 6-6 and earning a trip to the Guaranteed Rate Bowl in Phoenix is not the pinnacle of Badger football.  However, several quality players contributed to this team in 2022.  Four were recognized by the Big Ten.  Two were first team and two were second team.  Here are their names.

All-Big Ten First Team Wisconsin Badgers: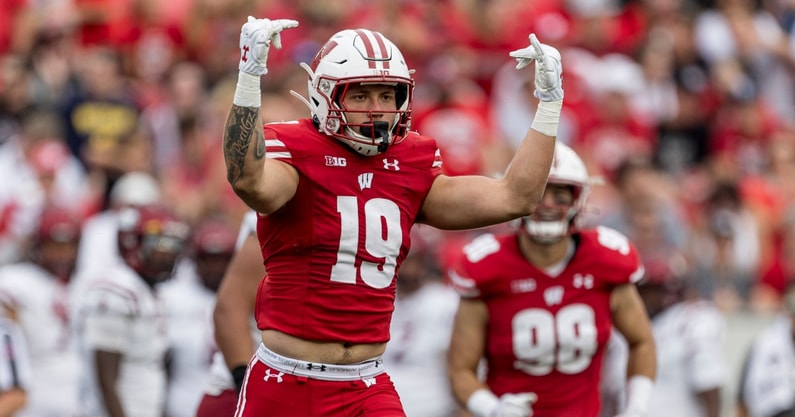 Outside linebacker Nick Herbig and Safety John Torchio qualified for the All-Big Ten First Team.  2022 was Herbig's third season as a full-time starter for the Badgers.  Herbig put together a great season in 2022. Herbig led the Big Ten in sacks this year with 11.  That ended up being 3 1/2 more than the next highest in the conference. He also added 47 tackles and 15.5 tackles for loss.  All season he showcased his abilities to create havoc in the backfield consistently while playing in 11 games. Herbig was a consensus First-Team All-Big Ten selection by the league as well and recently made the national Walter Camp Foundation All-American Team as a second-team pick.  There has been no word yet on if Herbig will be declaring for the 2023 NFL Draft.  If he stays in Wisconsin one more year it will be a huge win for Luke Fickell and the coaching staff.
Keeanu Benton, the nose tackle for the Wisconsin Badgers, had one of the best seasons of his career.  He finished with 35 tackles, 10 tackles for loss, and 4.5 sacks.  He accomplished all of this while regularly dealing with double teams in the interior of the defensive line. Benton was one of the team captains for the Badgers in 2022 and played a key role in Wisconsin's defense.  Benton declared for the NFL draft and he will likely have a strong NFL career. A season ago Benton was a Second-Team All-Big Ten pick, and his play this past season only further strengthens his legacy at Wisconsin. From Janesville (Wis.), Benton decided to come back to UW after receiving NFL interest a year ago.  Benton is set to participate in the 2023 Reese's Senior Bowl in January before heading to the NFL this season.