Over the past few decades, the Wisconsin Badgers have become one of college football's premier destinations for running back talent. Often known as "RBU," Wisconsin has consistently had one of the best rushing attacks in the Nation.  So that begs the question, who are the best of the best?  Here are our top five running backs in Wisconsin's history.
Top Five Running Backs To Ever Play For The University Of Wisconsin
Number Five: Monte Ball (2009-2012):
Monte Ball was used relatively sparingly in his freshman year.  Even into his sophomore season in 2010, he didn't see many opportunities. However, he would end his sophomore year with five consecutive 100-yard rushing performances.  He finished that season with 996 rushing yards.  He took over as the full-time starter following in 2011.  Ball took the opportunity and ran with it (literally).  In 2011 he rushed for 1,923 yards and set a program record with 33 rushing touchdowns. His 39 total touchdowns that season tied an FBS record held by Barry Sanders. The Missouri native returned to the Badgers in 2012 where he ran for 1,830 yards and 22 more scores.  In 2021 he won the Doak Walker Award which began a stretch of Badgers taking home that honor four times in eight years. Scoring 55 touchdowns in his final two seasons in Madison, Ball graduated as Wisconsin's all-time rushing touchdown leader with 77.  He left college with an NCAA record 83 total scores. His 5,140 career rushing yards rank third all-time in Wisconsin history.
Number Four: Melvin Gordon (2011-2014)
Melvin Gordon would likely be at the top of the list for many schools in the Nation.  Gordon is a product of Kenosha Bradford High School.  That is the same high school that Wisconsin legend Ameche went to.  Gordon's Wisconsin career began with a redshirt season and a 2012 campaign that saw him rack up just 354 yards during the Badgers' regular season schedule. However, in the team's Big Ten Championship throttling of Nebraska that year, Gordon broke out with 216 rushing yards.  He flashed glimpses in that game of his elite talent. Following Monte Ball's departure from Wisconsin, Gordon became the featured back in 2013 and never looked back.  In his first full season, he recorded 1,609 yards and 16 touchdowns. However, there isn't a single season in Badgers history that compares to what he did in 2014.  2014 was a magical year as Gordon recorded an incredible 2,587 rushing yards and 2,740 total yards from scrimmage.  He also scored 32 times.  Averaging 7.5 yards per carry, Gordon put up some truly impressive performances.  The most memorable was when he set a then-FBS record with 408 rushing yards in a game against Nebraska at snowy Camp Randall Stadium. Gordon was named the Big Ten Offensive Player of the Year, the Doak Walker Award winner, a consensus All-American and the Heisman Trophy runner-up in 2014. He finished his college career fourth all-time in Badgers history with 4,915 rushing yards and had 49 total career touchdowns while averaging a ridiculous 7.8 yards per carry.
Number Three: Alan Ameche (1951-1954)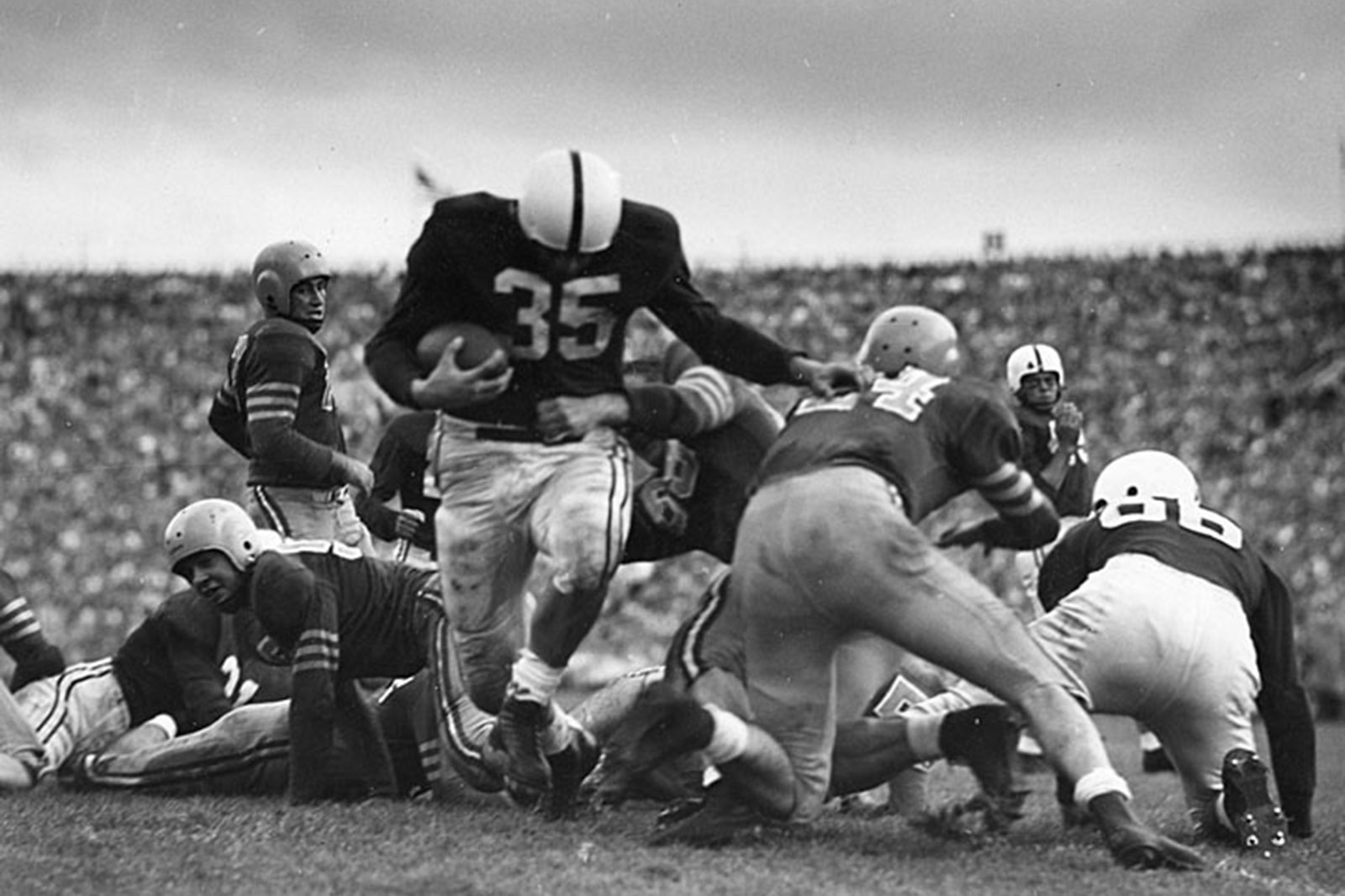 Every once in a while you have someone come along and make an impact on a program that can never be forgotten.  Alan Ameche's was that for the Wisconsin Badgers.  Ameche was born and raised in Kenosha, Wisconsin just south of Milwaukee.  He went to Madison to play college football and became the best in program history at the time. "The Iron Horse" became a three-time first-team Big Ten player and three-time first-team All-American at Wisconsin.  He rushed for 3,345 yards in his career which was an NCAA record at the time. He led the Big Ten in rushing in both 1951 and 1952.  1952 was the first 1,000-yard rushing season in Wisconsin history. He also led the Badgers to their first-ever bowl game that season.  He showed out in that game putting up a 100-yard performance in a Rose Bowl loss. In 1954, Ameche became the first Badger to win the Heisman Trophy and remains one of just two to ever accomplish the feat. Ameche was selected second overall in the 1955 NFL Draft by the Baltimore Colts, the highest draft selection for a Wisconsin player. Despite just six years in the league, he won NFL Rookie of the Year and was a multi-time Pro Bowl selection.
Number Two: Johnathan Taylor (2017-2019)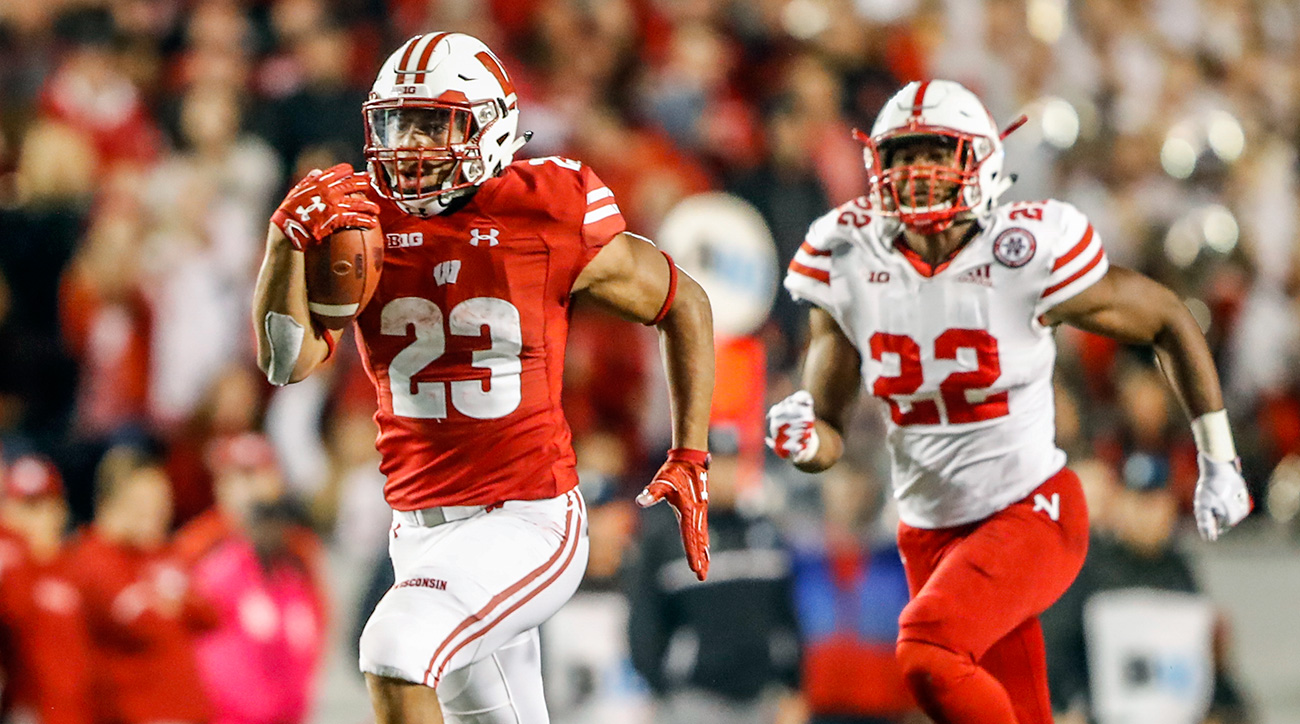 Johnathan Taylor is one that most Badgers fans today know very well.  Originally from New Jersey just like Wisconsin legend Ron Dayne, Taylor made his presence felt right away as a freshman for the Badgers.  He rushed for 1,977 yards and 13 touchdowns on a team that went 13-1.  Taylor would have his best statistical season as a sophomore.  He led the nation with 2,194 rushing yards and 16 touchdowns.  He averaged over seven yards per carry that season. He would again rush for over 2,000 (2,003 to be exact) yards and score 26 total touchdowns as he helped lead Wisconsin to the Rose Bowl in 2019.  He earned his second consecutive Doak Walker Award that season. Taylor ranks second all-time in Badgers history with 6,174 career rushing yards and did so in just three years. Each of his three years in Madison rank in the top six of single-season rushing performances at Wisconsin, while his 50 career rushing touchdowns are also the third most in program history.
Number One: Ron Dayne (1996-1999)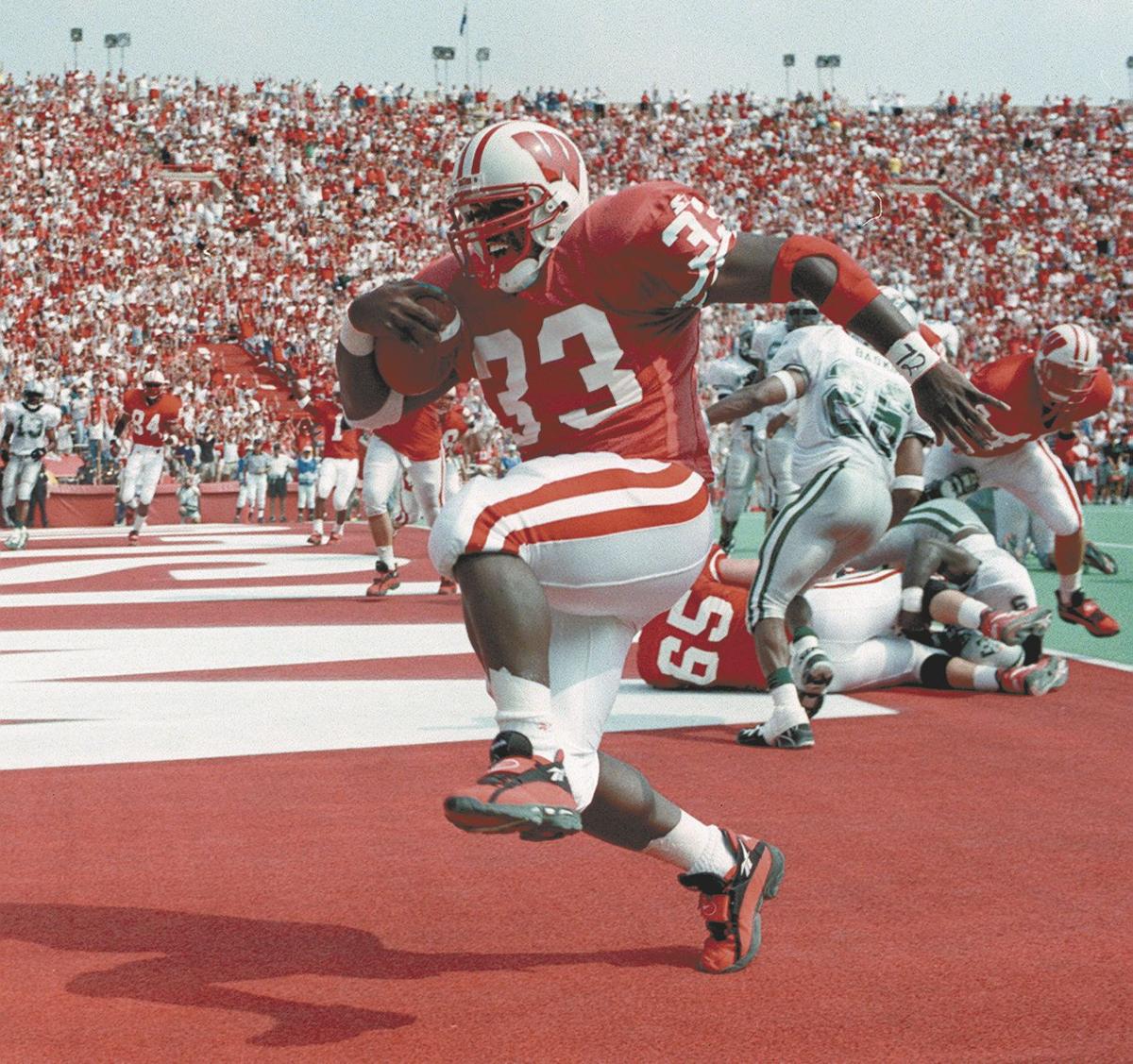 Was there any question?  Ron Dayne is still the greatest running back to ever don a Wisconsin Uniform.  Dayne stepped right into the Badgers' lineup as just a freshman and delivered 2,109 rushing yards and 21 touchdowns.  He ran for over 1,400 yards in both his sophomore and junior seasons. He totaled 30 touchdowns in 1997 and 1998.  As a senior in 1999, Dayne had arguably his best season with 2,034 yards and 20 touchdowns.  That year he won nearly every major college football award including the Heisman Trophy as he broke the NCAA all-time rushing record.  In his Badgers career, Dayne ran for 71 touchdowns and a program-best 7,125 yards.   A mark that likely won't be touched anytime soon. The Badgers standout ran the ball 1,220 times in his Wisconsin career and averaged an impressive 5.8 yards per carry as well as an astounding 169.5 yards per game.  The three-time first-team All-American helped lead Wisconsin to two Big Ten titles and back-to-back Rose Bowl victories in 1999 and 2000 at the height of the Barry Alvarez era. Dayne rushed for an impressive 446 yards and five touchdowns in those games, taking home MVP honors in both.
For More Wisconsin Sports:
Follow me on Twitter at @mcquadewarnold, follow us @WiSportsHeroics, and listen to our Podcast, The Cheese Dads NOW with Legendary DT Gilbert Brown! You can also reach out to McQuade Arnold via email at mcquadewarnold@gmail.com. To read more of our articles and keep up to date on the latest in ALL of Wisconsin sports, click here!