It wasn't pretty in the second half, but the Wisconsin Badgers were able to hold on for a road win against the Ohio State Buckeyes. After having a 43-27 lead at half, Wisconsin held on for a 65-60 win. The Badgers end their three game losing streak as well. Connor Essegian led the Badgers with 17 points. Here are three takeaways from this game.
A Tale Of Two Halves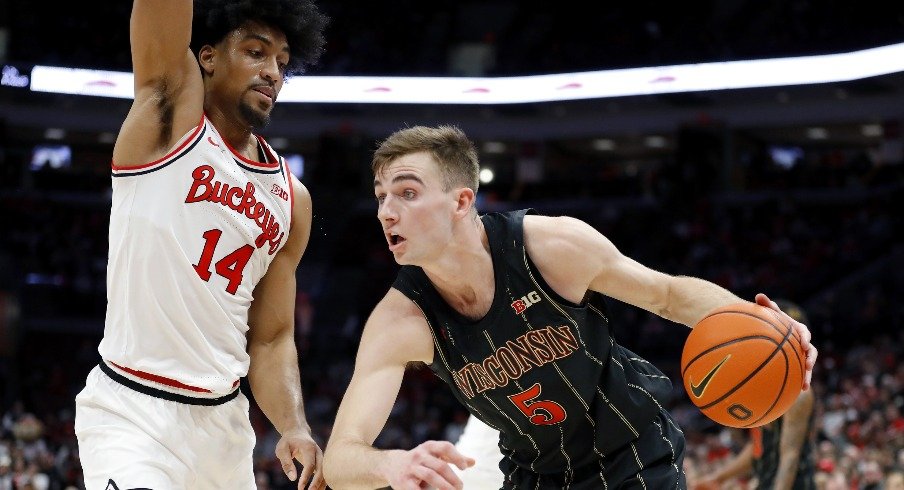 The first half was probably Wisconsin's best half of basketball since the second half against Penn State. They made it a priority to get touches in the paint and it led to open looks. Wisconsin shot 51% from the field in the first half and only turned the ball over twice. They also forced Ohio State to commit 10 turnovers in the first half while they only commit 11 a game on average. Buckeyes head coach Chris Holtmann was also ejected in the last minute of the first half arguing a charge call Tyler Wahl took.
The second half was a different story. Wisconsin went ice cold from the field again and they got away from getting the ball in the paint. They also let Ohio State get easy looks in the paint. Wisconsin was also bad from the free throw line again, finishing the game shooting 13-22 from the line as well. Ohio State ended up making this a two point game in the final minute, but Chucky Hepburn was able to hit three free throws late to seal the game. All in all, it didn't have to be a close game in the end, but Wisconsin's late game execution was poor again.
Hepburn and Crowl Bounced Back
I have been pretty hard on Chucky Hepburn and Steven Crowl the last week or so. The Badgers rely heavily on these two players and they haven't been performing as well as they should lately. However, both players were really good tonight.
Steven Crowl had 14 points and started 5-5 from the field. He took advantage of the height advantage on Ohio State's Zed Key and got his buckets relatively easily. He needed to see the ball go in the basket. Hopefully this is a game he can build on.
Chucky Hepburn also had a nice game too. He finished with 15 points including the last three points from the line. He was more aggressive in the lane and looked like an all-conference point guard.
Going forward, the offensive production from Tyler Wahl is really concerning. I doubt the ankle is 100% and might not be the rest of the season, but he struggled from the field again. He was 2-10 from the field. However, he was able to to stay on the court as foul trouble has been an issue as well. When he's on the court, the Badgers are a better team regardless how he's shooting.
Using This Win Moving Forward
This was a really important win for the Badgers tonight. Wisconsin now returns home Sunday to take on Northwestern. This is a winnable game and a game they should win. Road games at Penn State and Nebraska next week will be tough, but then the Badgers have home games against Michigan, Rutgers, and Iowa after.
A win like this can get Wisconsin back on track. If you're the Badgers, you are believing you are back in the NCAA Tournament field again. This team was looking for any sort of momentum to build on and they got it. It's up to them how they use it.
Up Next
Wisconsin returns home Sunday to take on Northwestern. Tip time is 5:30 on BTN.
Follow me on Twitter @DylanBuboltz and follow us @WiSportsHeroics for more great content. To read more of our articles and keep up to date on the latest in Wisconsin sports, click here! Also, check out our merch store for some amazing WSH merchandise!