We have officially reached the middle of May and the Green Bay Packers have yet to add any veteran wide receivers to their roster (outside of Watkins).  At this point most of the big name wide receivers that figured to be on the market have made amends or been traded… except for one.  AJ Brown was traded to Philadelphia.  Deebo Samuel has seemed to make amends with the 49ers.  DK Metcalf said himself that he thinks a deal will get done with Seattle.  Terry McLaurin…. contract talks have gone no where.
Terry McLaurin to Green Bay: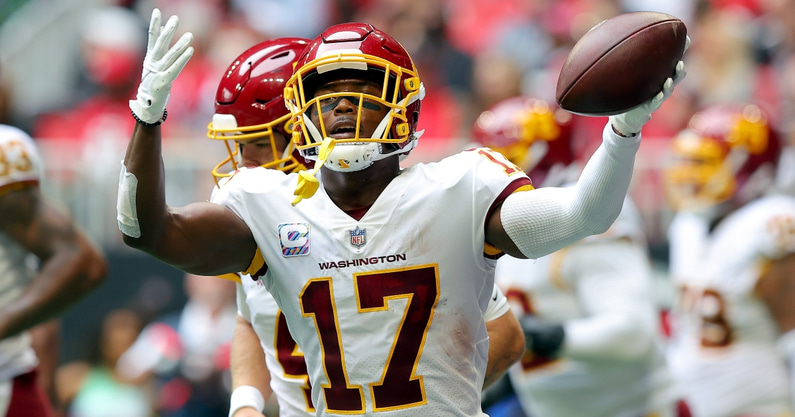 Terry McLaurin is entering the final year of his rookie contract.  He will be the next wide receiver to get a huge pay day.  It will likely cost over 20 million per year to lock him up for the long term.  Ben Standig of the Athletic reported that "sources on both sides anticipate intensified extensions talks for McLaurin starting around or after the NFL draft."  The NFL draft has came and went with nothing to show for it.
The Commanders' running backs are Antonio Gibson and JD McKissic.  Neither one are close to the type of running back Aaron Jones is.  Aaron Jones, while great, will require a 20 million dollar cap hit next season (2023).  That is something Green Bay will have a hard time paying.  That coupled with the fact that AJ Dillon has become an absolute monster?  If no trade happens, 2022 could be the last year of Aaron Jones in Green Bay.  Why don't the Packers trade him and get something in return of value while they still can?
Proposed Trade:
Packers receive:
Commanders receive:
This type of Packers trade may involve draft pick, but if it did, it would be minimal.  Jones and McLaurin both have the similar value in the league… which is massive.  Green Bay may not be willing to pay a running back 20M+ per year, but they sure made it clear they would pay Davante Adams that much.  McLaurin is 26 years old and just entering his prime.  Having this type of threat with Aaron Rodgers for the next 2-3 years would be huge.
For More Wisconsin Sports News…
Follow me on Twitter at @mcquadewarnold and follow us @WiSportsHeroics for more great content. To read more of our articles and keep up to date on the latest in Wisconsin sports, click here!