From 2001-2011, the Milwaukee Brewers had three primary first baseman.  Richie Sexson manned the bag from 2001-2003, mashing 133 home runs and driving in 398 runs.  His replacement, Lyle Overbay, manned first for two years.  Overbay, in his first stint with the Brewers, hit .288 with 35 home runs and 159 RBI.  From 2006-2011, Prince Fielder was the perennial starter.  One of the best players to don a Brewers uniform, Fielder hit .282/.390/.540 with 230 home runs and 656 RBI in six full seasons with the team before departing in free agency.
Since then, there has been a different first baseman to play the majority of games at the position in every single year.  Here, we're going to take a look at the revolving door of first basemen and how each faired at the position the year they played.
2012- Right Fielder/First Baseman: Corey Hart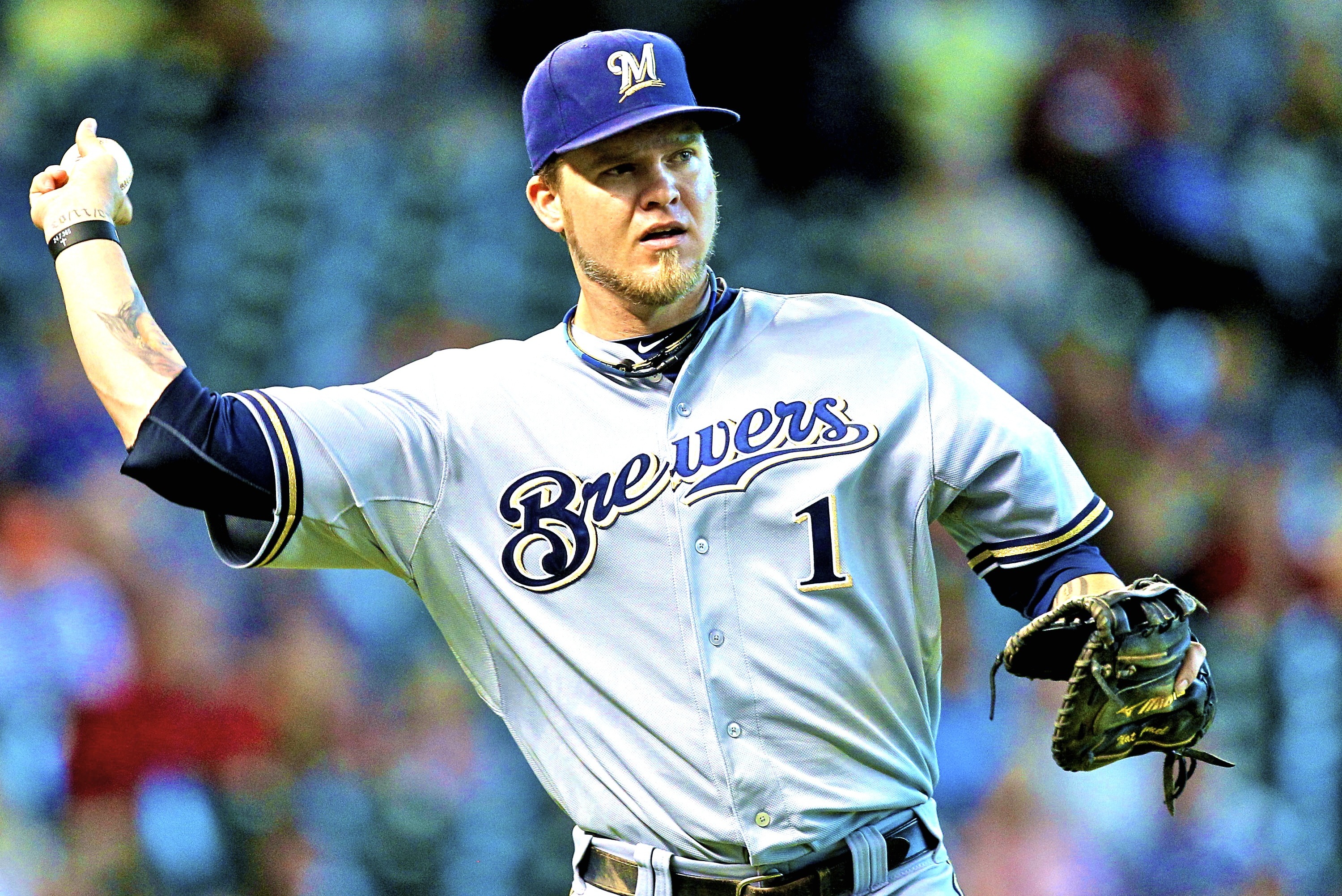 By 2012, Corey Hart had been with the Brewers since 2004.  He had primarily been the team's starting right fielder and had made two All-Star teams.  When Prince Fielder left, the team decided to move him to first base.  It paid off in 2012 as Hart put together one of the best seasons of his career.  That year, he played 156 games (103 at first), and hit .270/.334/.507 with 30 home runs and 83 RBI.  Unfortunately, it was also his last season with the Brewers.  He missed the entire 2013 season with an injury and was not resigned.  He spent 2014 with Seattle and 2015 with Pittsburgh before calling it a career.
2013- Utility Man: Yuniesky Betancourt
With Hart out for the season, the Brewers brought back utility man Yuniesky Betancourt to play some first base for them.  That year, he also played second base, third base, short stop, and left field.  The majority of his starts, though, came at first.  He hit a career-worst .212/.240/.355 with 13 home runs and 46 RBI. Even worse, he finished the year with a WAR of -2.3. It was his last year as a Major League player.
2014- First Baseman: Mark Reynolds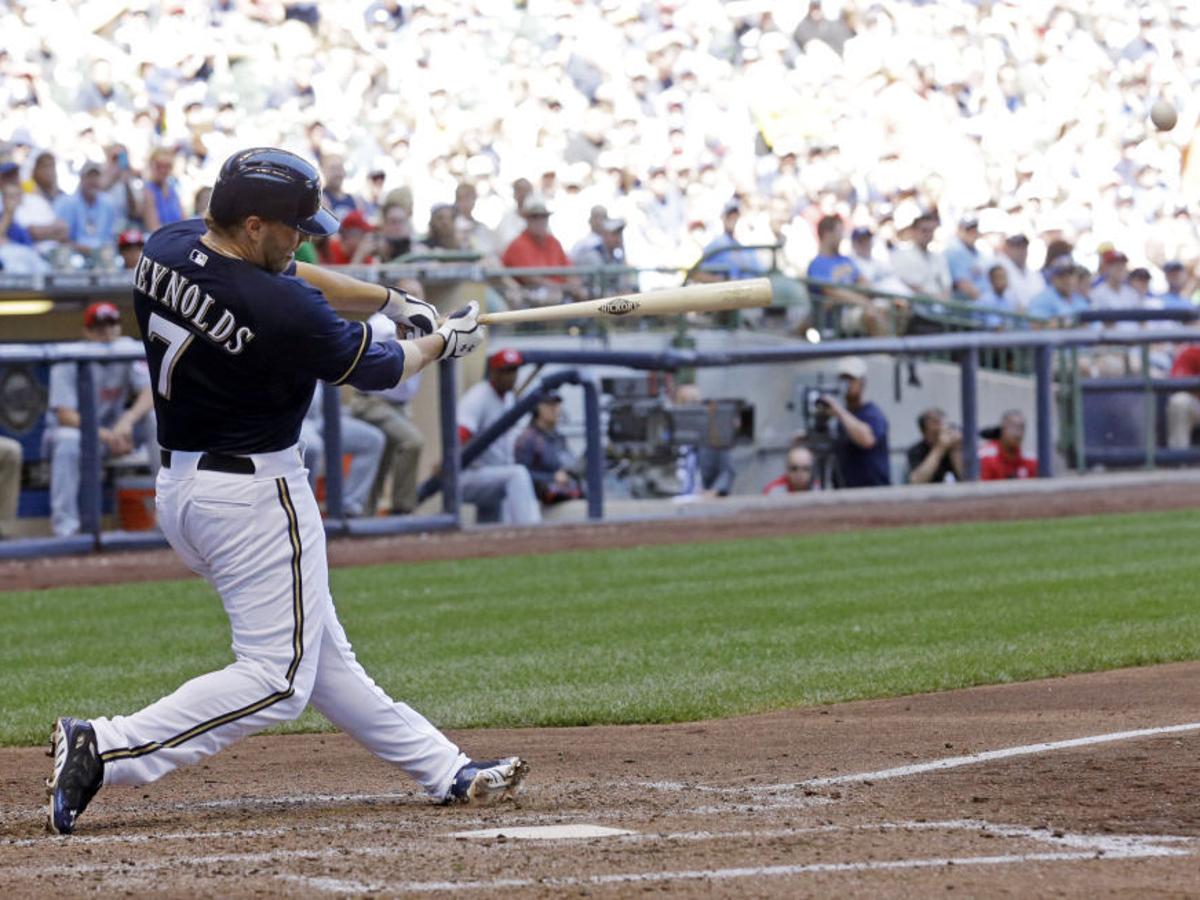 Following the departure of Betancourt, the Brewers signed free agent Mark Reynolds to play first base in 2014.  Reynolds was always known as an "all-or-nothing" guy with tremendous power but high strikeout rates.  This was certainly true in 2014.  He hit 22 home runs, but his .196/.287/.394 slash line was the worst of his career.  He was granted free agency after the season.
2015- First Baseman: Adam Lind
After the abysmal play from the first base position in 2013 and 2014, the Brewers traded pitcher Marco Estrada to the Toronto Blue Jays for Adam Lind.  Lind had hit .321 in 2014, but only played in 96 games.  With the Brewers in 2015, he was a breath of fresh air.  He hit .277/.360/.460 with 20 home runs and 87 RBI in 149 games.  After the season, though, the Brewers traded Lind to Seattle in the deal that brought Freddy Peralta to the organization.
2016- First Baseman: Chris Carter
Following Lind's trade, the Brewers signed free agent first baseman Chris Carter for the 2016 season.  Another "all-or-nothing" guy, Carter at least had a better season than Reynolds had.  Carter hit .222/.321/.499 with a league-leading 41 home runs.  Unfortunately, he also led the league in strikeouts with 206.  He was granted free agency after the season, and the revolving door kept going.
2017 & 2019- First Baseman/Right Fielder: Eric Thames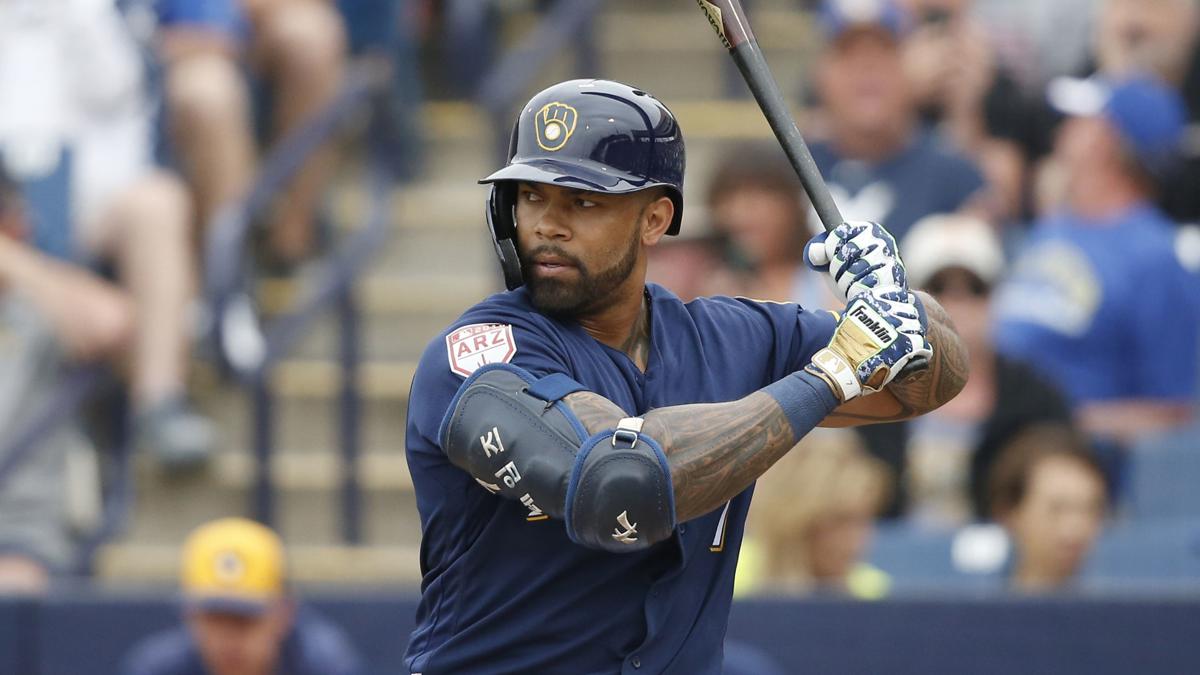 The Brewers signed free agent Eric Thames entering the 2017.  Thames famously had won the KBO's MVP Award in 2016 and started the season in MVP form.  In March and April, Thames smashed 11 home runs, endearing himself to the Brewers' fanbase.  The rest of the season, though, was not as productive.  Entering May, his batting average was well above .300.  By season's end, he had a slash line of .247/.359/.518 with 31 home runs and 63 RBI.
While still on the team in 2018, Thames was not the primary starter at first base due to his offensive woes.  He was replaced by Jesus Aguilar that year while he himself hit .219/.306/.478 with 16 home runs and 37 RBI.  He only played 96 games that year, but struck out 97 times.
When Aguilar struggled and was traded in 2019, Thames resumed getting the majority of starts at first base (except against left-handed pitchers).  In 149 games (a career-high), Thames hit .247/.346/.505 with 25 home runs and 61 RBI.  His contract was up at the end of the season and the Brewers decided not to bring him back.  He spent 2020 with the Washington Nationals and is currently a free agent.
2018- First Baseman: Jesus Aguilar
After primarily coming off the bench in 2017 (he still hit 16 home runs), Jesus Aguilar became the Brewers' main first baseman in 2018.  He got off to a hot start while Thames struggled all season and the Brewers rode his successes.  His production earned him a spot on the ballot for the final NL All-Star spot.  He won the voting in large part due to the Brewers' fan/social media campaign "We Believe in Jesus."  Aguilar finished the season, the best a Brewers' first baseman has had since Fielder, with a line of .274/.352/.539 with 35 home runs and 108 RBI.  Unfortunately, Aguilar had a prolonged slump of his own in 2019 and was traded to the Tampa Bay Rays for Jake Faria.  In 2020, he played with the Miami Marlins and seemed to have come back to form hitting .277/.352/.457 with eight home runs and 34 RBI.
2020- First Baseman: Justin Smoak
The 2020 season really exemplified this revolving door at first base.  There were several players who made appearances at first base last season, but most of the starts were made by Justin Smoak.  Smoak had been signed in free agency from Toronto.  In 33 games, Smoak hit .186/.262/.381 with five home runs and 15 RBI.  He also struck out 40 times.  The Brewers released Smoak in September and replaced him with Daniel Vogelbach.  Vogelbach played extremely well in his 19 games with the Brewers.  His .328/.418/.569 slash line, four home runs, and 12 RBI earned him a spot on the team entering 2021.  Will he stick?  That remains to be seen.  As for Smoak, he was picked up by the Giants for a few games, but was released again two weeks later.  He is currently a free agent.
2021- Keston Hiura
Keston Hiura was moved to first base in the hopes that his big bat from 2019 would return. A defensive liability at second base, the Milwaukee Brewers signed Kolten Wong to play second and shifted Hiura to first. Unfortunately, it did not turn out the way everyone had hoped. Keston Hiura hit a woeful .168/.256/.301 with just four home runs and 19 RBI. Hiura spent much of the season down in Triple-A Nashville due to his struggles at the plate. Daniel Vogelbach and Rowdy Tellez split time at first for a good portion of the season.
Since the end of the 2021 season, Daniel Vogelbach has been non-tendered and is a free agent. Rowdy Tellez was tendered a contract and will be back. As for Keston Hiura? The Brewers are considering shifting him to the outfield. Who knows who will be the starter at first in 2022?
For More Great Wisconsin Sports Content
Follow me on Twitter at @theotherAdams14 and follow us @WiSportsHeroics for more great content. To read more of our articles and keep up to date on the latest in Wisconsin sports, click here!