'Tis the season for free agent hunting and baseball offseason. As we enter into the 2021 season, which seems closer and closer everyday, the challenge of finding a strong starting lineup is what's hindering the Brewers.
It was definitely an interesting season, to say the least. For the Brewers, it was trial and error throughout their roster. The quest for a great first baseman has yet to be answered, even after bringing through Justin Smoak and Logan Morrison. Something just isn't clicking with the team, so maybe it's time to head into the free agent market.
The Brewers seem to have something in the works with Daniel Vogelbach. However, having Vogelbach being our only hope at 1B isn't very promising. Let's take a look at five possible free agents that could very well be a good fit in Milwaukee.
1. Eric Thames
This one really is a no-brainer. After spending a year with the Washington Nationals, the team declined their $4M mutual option with Eric Thames. We tried Justin Smoak as a Thames replacement, but no one can really beat Eric Thames. He had spent three years as a Milwaukee Brewer before his mutual option was declined for the 2020 season. His 2020 season was lackluster, as he dropped from an OPS+ of 106 to a disappointing 65 OPS+ as a National. This was a different side of Thames that fans weren't really used to seeing. If the Brewers were to sign Thames back, it would likely be at a low price. As mentioned, Vogelbach is younger and he's going to be under team control longer than what Thames would be. However, a Thames reunion in Milwaukee would bring a lot of joy to Brewers fans.
2. Carlos Santana
A popular veteran among Cleveland Indians fans, Carlos Santana is a free agent after his $17.5M option was declined. In the shortened 60-game season, Santana hit .199 with eight home-runs and an OBP of .349. The on-base ability is something the Brewers need, especially after this rather disappointing season. While he doesn't seem like a long-term, viable decision for the Brewers, something short term could bring great success to the crew. Santana has played in around 93% of all regular season games, 10 of his 11 seasons being with the Indians. The budget cuts that all teams are making in the offseason probably won't bring a huge payday to Santana wherever he goes, but, he would be a great option at Miller Park; it's hitter friendly, and there's a huge chance that he would be our everyday first baseman.
3. Jedd Gyorko
It came as a surprise when his option was declined for the 2021 season after Jedd Gyorko helped carry the team with his success. At first, he was brought in as a platoon at third base with Eric Sogard. He made his way over to 1B and made a name for himself. Gyorko's offensive efforts were nothing short of amazing: he had a career best slugging percentage at .504, led the team with a 0.7 fWAR, and led the team with his OPS at .838. His nine home-runs ranked third on the team. After his 2019 numbers, this acquisition was definitely a good choice. He finished as one of our top defensive players, which came as a surprise to Brewers fans given his rough previous season. It would make sense for the Brewers to sign Gyorko back if they want to have a strong defensive backup and a good 2021 season.
4. Ryan Braun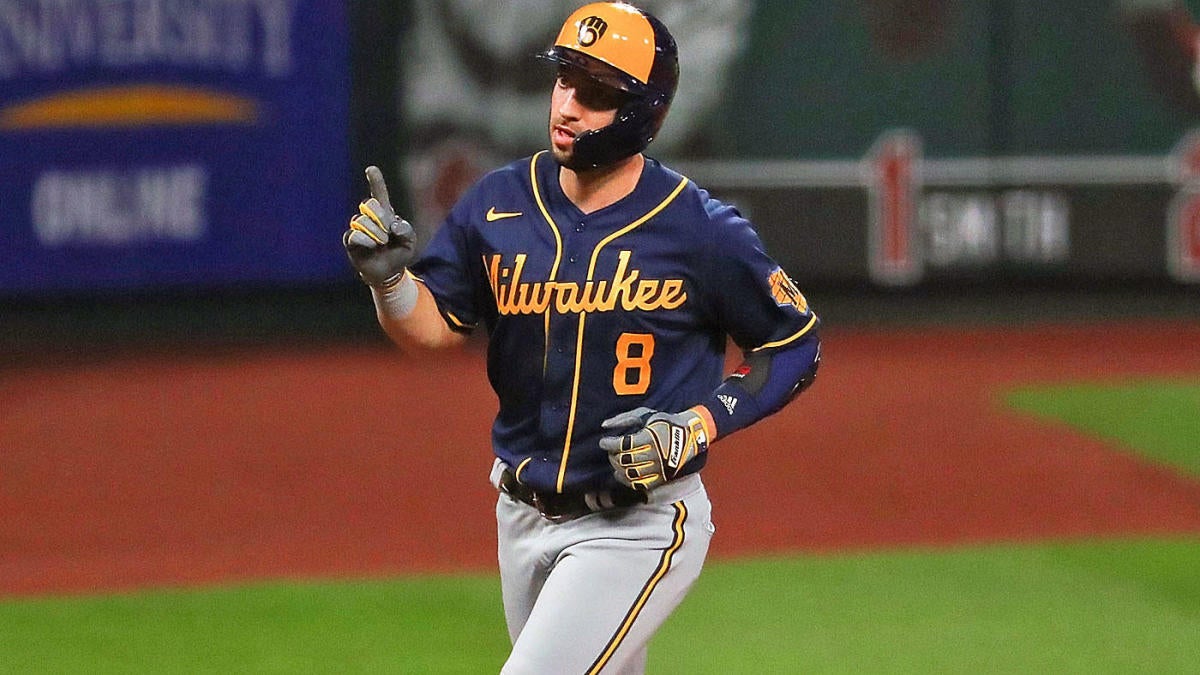 His mutual option for the 2021 season has been declined, making him a free agent. Ryan Braun is another no-brainer to have in Milwaukee to be a first baseman. As the Brewers went into the 2020 season, the adoption of the DH really benefited for the veteran athlete. With time as the DH, manager Craig Counsell mentioned they would be experimenting with Braun at 1B. He spent a little time in Spring Training working at that position, but over time, it didn't really play out in the season. However, Braun did play 109 innings at first base before Jesus Aguilar came along. Trying to bring Braun back on a less expensive contract at first base wouldn't be a bad idea for Stearns to pursue, especially if they want Braun to retire as a Brewer. It is still unclear if Ryan Braun will return next season, but, Brewers fans remain hopeful.
5. C.J. Cron
Suffering a season-ending knee injury back in August of this year, C.J. Cron didn't see much playing time as a Detroit Tiger. This was his fourth team in the last four years, and luck wasn't with him. In his 42 plate appearances, however, he hit a .190 AVG, four homers, eight RBI's and had an OPS of .894, which isn't bad given the time he played.
Follow for more!
Follow me on Twitter @sarahspooon and follow us at @WiscoHeroics1! To read more of our articles and keep up to date on the latest on all things Wisconsin sports, click here.