Aaron Jones by the Numbers
Aaron Jones had a monster 2019 season by scoring 19 total touchdowns, and 16 of those touchdowns coming from running the ball. Jones tied Derrick Henry for the most rushing touchdowns last year despite having 67 fewer carries. After adding three more touchdowns through the air, Jones finished tied with Christian McCaffery at 19 total touchdowns. McCaffery had only one more receiving score but had 142 targets; Jones has not even totaled 142 targets in his career yet. Jones also rushed for over 1,000 yards last season for the first time in his young career and averaged 4.6 yards per attempt. Why does everyone believe McCaffery will repeat last year's performance but not Jones? Aaron Jones has all the tools to repeat last year's performance.
Aaron Jones's College Years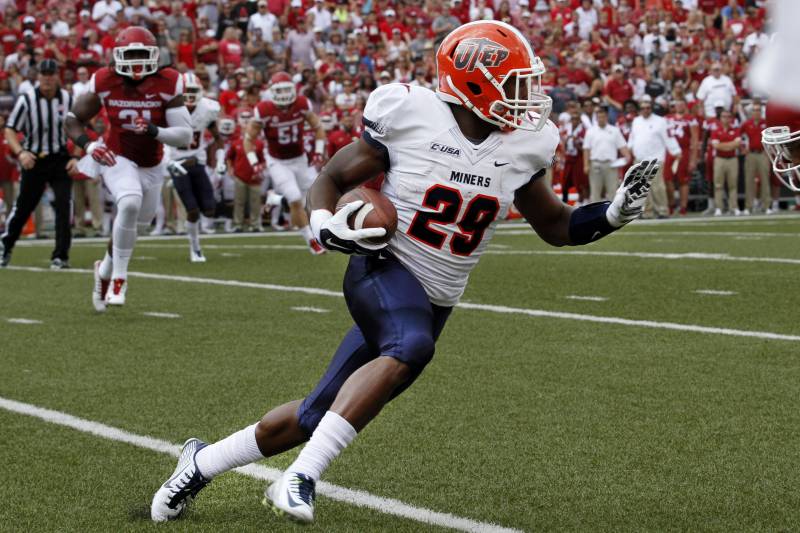 Jones stayed in the city of El Paso after high school to play football for the University of Texas at El Paso (UTEP). Jones played in a total of nine games with six games as a true freshman starter. Despite missing the last three games due to injury, Jones set a UTEP freshman rushing record.
Aaron Jones played in 12 games as a sophomore and totaled over 1,300 yards and 14 total touchdowns. He finished the season averaging 5.5 yards per carry on 242 attempts, and finished 24th among all FBS players that year in yards per game.
During the first two games of his junior year, Aaron Jones suffered a foot injury resulting in him missed the rest of the season, but he returned the following year even stronger. He once again completed 12 games, averaged 7.7 yards per carry, scored 20 total touchdowns, and rushed for 1,773 yards that season. The 7.7 yards per carry placed Jones in the top 96th percentile of college yards per carry.
Aaron Jones finished his college career with 47 percent of UTEP's total team yards and touchdowns; this percentage is the college dominator score and any score above 40 percent is considered excellent for a running back. Jones' dominator score ranked him in the top 96th percentile. Aaron Jones was able to improve upon his production every year in college.
Jones Joins the Pack
The Green Bay Packers drafted Aaron Jones in the 5th round of the 2017 NFL rookie draft. Before being selected at pick 182, 18 other running backs went before Jones. Of the 18 running backs selected before Jones, six of them have been selected to the Pro Bowl. Who was drafted before Aaron Jones, you ask? The list of notable names, in order, includes Leonard Fournette, Christian McCaffrey, Dalvin Cook, Joe Mixon, Alvin Kamara, Kareem Hunt, James Conner, and even Jamaal Williams. Tarik Cohen is among the remaining ten running backs selected before Jones and is one of the six selected to the Pro Bowl. The remaining running backs can easily be considered worse running backs and are buried down the depth charts or out of the league altogether.
Comparing Jones
Aaron Jones has arguably done better than at least ten of the running backs selected before him in the draft. What about the other nine?
Tarik Cohen
Cohen made a splash in the 2018 season, mainly through the air, but then regressed 2019. Aaron Jones showed no signs of regression. Cohen had 39 more targets than Jones but still had 18 fewer receiving yards. The total number of targets and receptions are the only meaningful areas in which Cohen is even remotely better. Jones moves ahead of Cohen.
Jamal Williams
As much as we may love Jamaal Williams, he is already one spot behind Jones on the team's depth chart. In 2019, Jones doubled the production of Jamaal Williams in almost all statistical categories. These players have different roles in the offense, but Jones moves ahead of Williams.
James Conner
James Conner has unfortunately missed plenty of football in his career. Pundits may like to argue that Jones is vulnerable to injury, and thus he can't be trusted. Conner has missed nine games in the past two years versus Jones only missing four, two of which were due to suspension. Due to injury, it is not entirely fair to compare the two running backs. Conner out produced Jones in 2018, but Conner got 79.5 percent of his team's snap share versus Jones splitting the workload 50/50. Player Profile puts James Conner as the number one injury-prone running back, Aaron Jones comes in at number 38. Aaron Jones is more likely to stay on the field and moves ahead of Conner.
Kareem Hunt
Injury risk is something that can be manageable; off-the-field issues are something that a team like the Packers will not accept. Jones received a two-game suspension from the NFL for violating the substance abuse policy. While every infraction is serious, some are worse than others. Kareem Hunt was suspended after the now-infamous video surfaced in 2018, just one year after winning the rushing title as a rookie. Hunt missed five games in 2018, was cut by Kansas City, and was suspended for eight games in 2019. Missing time for off the field issues is something that no team can afford. Moving Jones ahead of Hunt just makes sense.
Leonard Fournette
It is reasonably clear that Jacksonville has no intention of giving Fournette a long-term deal; the same may be true for Jones. As the top rookie running back in 2017, Fournette immediately out-touched Jones and had a very productive year. In 2017, Fournette had 187 more carries than Aaron Jones, and it is unfair to compare production. Over the last two seasons, Jones and Fournette's carries are almost similar, but the output is not. Both Leonard Fournette and Aaron Jones carried the ball 133 times in 2018. Jones beat out Fournette on yards per attempt, yards per game, and attempts per game. Fournette played four fewer games than Jones in 2018, equaled the same amount of carriers, and still did not beat Jones's average production. The two players 2019 stats are similar, with each player winning one category or another. Aaron Jones is a rising superstar.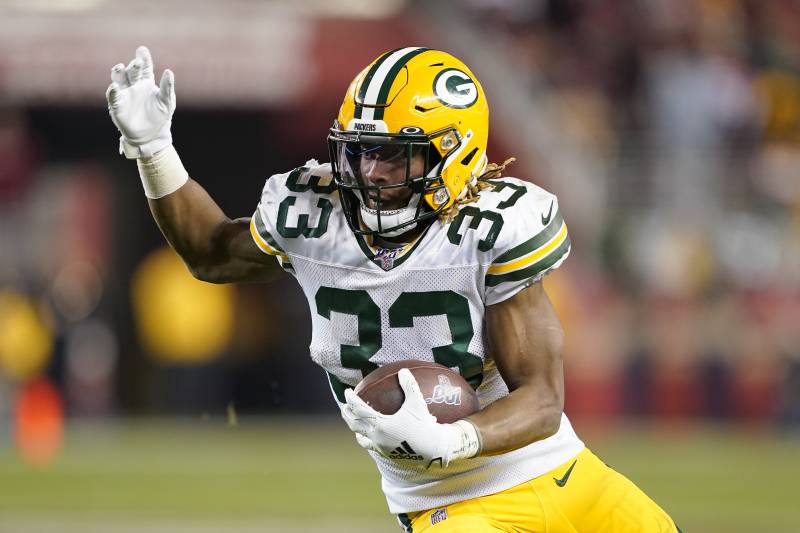 Joe Mixon
Once again, when Jones is given a similar opportunity to these other running backs, he excels. Aaron Jones has had 243 fewer career carries. Jones has only had one year in which his yards per attempt fell below five. Joe Mixon has never been over five yards per attempt. Both Jones and Mixon accounted for at least 62 percent of their respective team snaps in 2019. Joe Mixon received 77 percent of the Bengals running back carriers and targets. Jones only received 62 percent.
An advanced stat to look at between the two players is their production premium. The production premium is a plus or minus rating based on how well a player performs above or below the league average. Among running backs, Joe Mixon finished 48th in 2018 and 63rd in 2019. Aaron Jones finished the 2018 season 6th and the 2019 season 7th. For two years in a row, only a handful of running backs have outperformed Aaron Jones; Joe Mixon is not one of them.
Dalvin Cook
Evaluating the differences between Dalvin Cook and Aaron Jones is difficult. The two players have relatively similar production. Dalvin Cook's rookie campaign was cut short by an ACL injury. Even though Aaron Jones played in eight more games, he only had seven more carries. The two players had the same number of carriers in 2018, which resulted in similar production. From a stats point of view, nothing separates these two players in a significant manner.
Due to the new CBA, holding out is not advantageous to Cook, but he has threatened to hold out. On the other hand, Aaron Jones has said all the right things regarding contract talks. Aaron Jones said that he wants to be a lifelong Packer. Saying and doing the right things is an essential trait for any person. All things being even, Aaron Jones moves ahead of Cook because of his commitment to excellence and the Packers.
Alvin Kamara
Establishing a difference between Alvin Kamara and Aaron Jones is difficult. Kamara has been very consistent over the years in terms of usage and production. Amazingly, Alvin Kamara has 81 receptions every year; Aaron Jones has 84 career receptions. The disparity between the two players is due to usage, not talent. Kamara has 218 more targets, almost 100 every year. Aaron Jones was more efficient in 2019.
Instead of evaluating every single efficiency stat individually, we can average out all 14 rankings. Alvin Kamara's average efficiency rating in 2019 was 19. Aaron Jones's average efficiency was 14. When given the opportunity, Jones was more efficient. The difference between the two players comes down to who is behind center. Drew Brees is retiring after this year. Aaron Jones should have Aaron Rodgers for at least three more years. For that reason, Aaron Jones is a better long term option.
Christian McCaffery
PlayerProfiler.com aggregates a variety of metrics and identifies an NFL peer with similar attributes. Which two players are peers? Aaron Jones and Christian McCaffery. The Carolina offense is Christian McCaffery. The opportunity between the two players significantly favors McCaffery. In 2019, McCaffery got 91 percent of the Panthers running backs' rushing attempts and targets, number one in the NFL. Jones is ranked 18th. Christian McCaffery has outproduced Aaron Jones, but Jones has never been a focal point in the offense to the same degree.
Redrafting the 2017 Running Backs
Aaron Jones has outperformed six of the nine running backs selected before him. Of the three remaining running backs, Aaron Jones has performed similar to or better than Alvin Kamara and Dalvin Cook, given the same opportunity. Christian McCaffrey's usage is too dissimilar to accurately compare the two running backs without considering all the variables. With the information we have, where should of Aaron Jones been drafted? Aaron Jones should have been selected as a top-four running back and deserves a contract extension commensurate of that rank and production.
Follow me on Twitter at @IWishIWasBeer and follow us @WiscoHeroics1 for more great content! To read more of our articles and keep up to date on the latest in Wisconsin sports, click here.