The Green Bay Packers will travel to Minneapolis to face the Minnesota Vikings this Sunday at 12:00 pm on FOX. The Packers will be looking to improve upon their 8-2 record, as the Vikings hope to stay in the division race at 4-5. Green Bay enters this week with a franchise record seven game winning streak in road division games, and have won the last two games in U.S. Bank Stadium. As Green Bay looks to improve to 3-0 in the division, here are a few things to keep an eye on.
Number One Receivers
"I see a six-year vet when I watch him play," Davante Adams said of Minnesota Viking wide receiver Justin Jefferson this week. The Packers wideout continued his praise of the Minnesota star by saying "He really strikes me as somebody that has it figured out, whatever that means. 'Cause I wasn't playing that fast in my first and second year." It'll be another test for rookie cornerback Eric Stokes to try and contain Jefferson who already has 55 catches for 775 yards this season, which ranks sixth in the league. Of course, Minnesota will have their own challenge in Davante Adams. Adams has nine touchdown catches in his last eight games against Minnesota and is third in the league with 864 receiving yards. Not to mention, his last game at US Bank Stadium he had 14 catches for 156 yards and two touchdowns.


Quarterbacks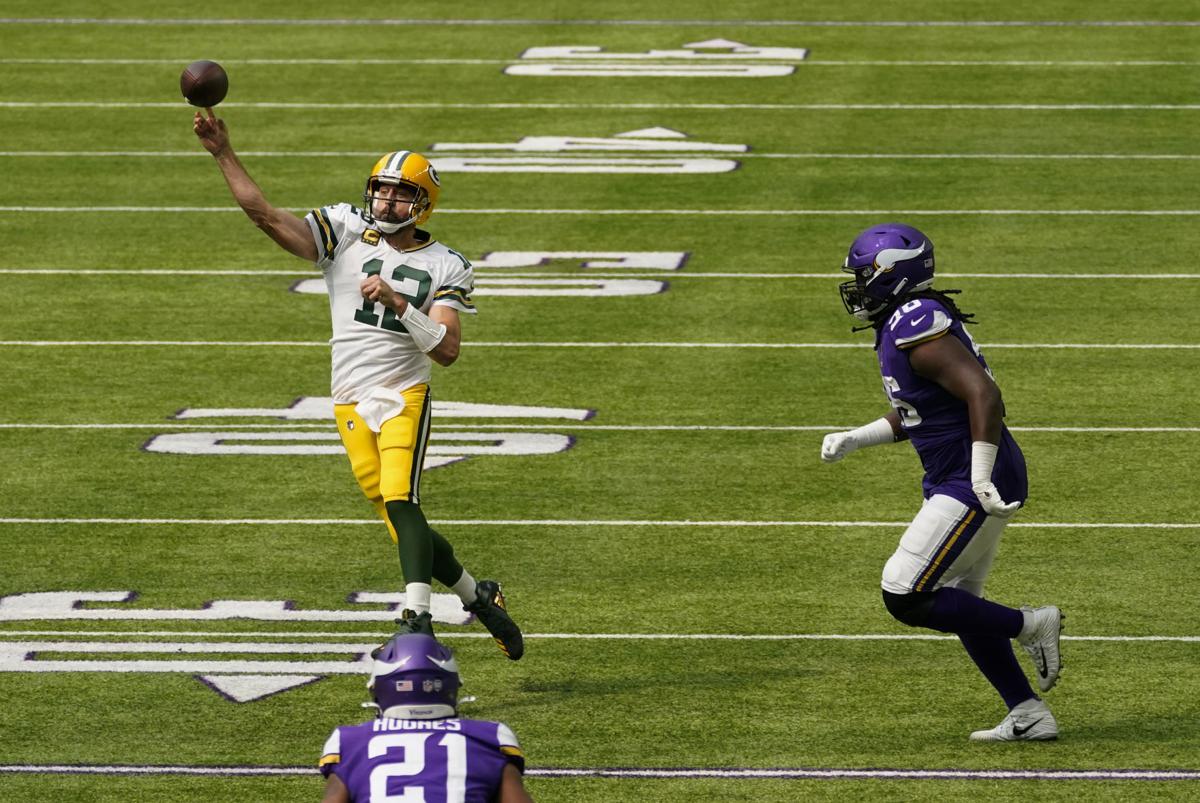 Practice can make quite a difference. Following a rough performance against Seattle, everyone wants to see the Packers offense get a little more consistent. However, Aaron Rodgers hasn't fully practiced since October 22nd. With the short turnaround into their Thursday night game, and then his absence with COVID, it'll be important he gets some reps this week, which might be tough considering he didn't practice on Wednesday and Thursday with a toe issue. On the flip side, Vikings quarterback Kirk Cousins is quietly putting together a great season. He has 18 touchdowns to only 2 interceptions, so expect this to be a close game. Rodgers is 15-9-1 against the Vikings all time, and considering this will be his 200th start in the NFL, you know he'll want to put on a good performance.
Injuries
In a bit of good news, after what appeared to be a devastating injury, Rashan Gary is actually attempting to play on Sunday. Currently, Gary leads NFC edge rushers in total pressures, so having him available is incredibly important to this Packers defense. Also in positive news, Aaron Jones didn't do any major damage, and the team expects him to be back in a few weeks. On the downside, it doesn't seem we'll be seeing all pro left tackle David Bahktiari any time soon. He's missed practice this week, so it seems his return is still a ways away. Also in unfortunate news, edge rusher Whitney Mercilus tore his biceps and is now out for the year. This defense keeps piling up injuries, and yet, they have allowed their fewest amount of points through 10 games since 2010. Was that an important year?
AJ Dillon
With Aaron Jones out for a few weeks, it is AJ Dillon's time to shine. So much of the Packers' success running the ball has been Dillon's ability to break tackles. The human bulldozer will just carry defenders with him, like he did against Seattle's Bobby Wagner for an impressive touchdown last Sunday. That will be more important than ever against Minnesota. Dillon has continued to impress all year though. He has 617 total yards on the season, and is the 7th highest graded Running Back per PFF. Last time these two teams met, Minnesota running backDalvin Cook totaled 226 yards and 4 touchdowns. We don't expect those kinds of numbers, but be prepared for a heavy dose of AJ Dillon.
Matt LaFluer
At some point, we just need to acknowledge how important of a hire this was for the Packers. Head coach Matt LaFluer (la-flew-er) has gone 13-1 against the NFC North, and has a 34-8 record all time. That's tied for third in NFL history for most wins by a coach in his first three seasons, and the year isn't over. With the massive amount of injuries they've dealt with, to be first in the conference is a remarkable achievement. Not to mention walking into Arizona on a short week with no receivers and beating the previously unbeaten Cardinals was a statement. Russell Wilson had also never been shutout in a game before, and LaFluer and the Packers just delivered that too. If the Packers win this Sunday, they will essentially clinch the division before Thanksgiving.
Coach of the year. Book it. Put him in Canton already.



For More Wisconsin Sports Content:
Follow me on Twitter at @tylerrehm and follow us @WiSportsHeroics for more great content.
To read more of our articles and keep up to date on the latest in Wisconsin sports, click here!