Regardless of what the future in Green Bay holds, general manager Brian Gutekunst will probably be known more for his 2020 drafting of Jordan Love than anything else he ever does. This is unfortunate because the 2021 Packers' Draft Class is turning out to be one of the best they have had in recent years. As camp has gone on, more and more of the players the Packers drafted appear to be ready to take starting roles, or at least take on large roles within the system. Here, we present predictions for each pick in the Packers' 2021 Draft.
First Round Pick- CB Eric Stokes
Eric Stokes impressed scouts with his speed and potential. The Packers have had Stokes taking reps with the starters for most of training camp. Kevin King, who is back on a one-year prove-it deal, has missed time with injury. However, even when King returned, Stokes remained with the starters.
It certainly sounds like the second starting cornerback job is his to lose. In the Packers' first preseason game, Stokes allowed just one reception for four yards. So impressive has he been thus far that Davante Adams made it a point to praise him in his latest press conference. There will certainly be learning moments throughout the season, but Stokes is set up for a very successful 2021 season.
Prediction: 17 game starter; four interceptions.
[pickup_prop id="6793″]
Second Round Pick- C Josh Meyers
The Green Bay Packers made the difficult decision not to re-sign All-Pro center Corey Linsley. To replace him, the Packers took another center from Ohio State: Josh Meyers. As far as centers go, Meyers is massive. He is six foot five and 310 pounds. Early on, many worried that his size would keep him from moving well laterally, a skill that is necessary to be successful in the NFL.
Meyers, however, has impressed in camp with his ability to move defenders and get in sync with Aaron Rodgers. According to the reigning MVP, it feels like they have not missed a beat on the line with Meyers taking over. His ability to open opportunities was on full display against the Texans. In this 22-yard screen pass that resulted in a touchdown, it was Meyers moving downfield and blocking that allowed Kylin Hill to score:
Jordan Love 🤝 Kylin Hill

TOUCHDOWN PACKERS!

(via @NFL) pic.twitter.com/s48mEUlBT7

— FOX Sports: NFL (@NFLonFOX) August 15, 2021
Prediction: 17 game starter; All Rookie Team
[pickup_prop id="5633″]
Third Round Pick- WR Amari Rodgers
Amari Rodgers may not be the first round wide receivers Packers' fans have wanted for so long, but he is the perfect fit for this Packers' team. Rodgers projects to be the ideal slot receiver/jet motion player in Matt LaFleur's offense. Additionally, Rodgers has been taking snaps as the Packers' punt returner. In the Packers' first preseason game against the Texans, Rodgers showed more promise as a returner than any the Packers have had in years.
That 14 yard punt return from Amari Rodgers was the Packers LONGEST PUNT RETURN SINCE DECEMBER 2019.

— Daire Carragher (@DaireCarragher) August 15, 2021
With the Packers' crowded wide receiver room, there is a high probability that Rodgers will not put up huge numbers in his rookie season. Additionally, the Packers have traded for Randall Cobb, who plays the same position as Rodgers. That being said, Cobb has been Rodgers' mentor for years and the younger player is learning a lot from the veteran.
Prediction: 17 games played, 0 starts; approximately 400 receiving yards, four touchdowns.
[pickup_prop id="6883″]
Fourth Round Pick- OL Royce Newman
Offensive line is not a position group that many people get very excited about. After all, the less an offensive lineman's name is mentioned by commentators, the better. That means they are doing their job and not allowing any sacks or other negative plays. However, due to the injury to David Bakhitari last season and the departure of Linsely and Rick Wagner in free agency, the Packers were in need of talented depth pieces to restock their line.
The selection of Royce Newman did not have the same excitement surrounding it as Eric Stokes or Amari Rodgers. However, it may turn out to be one of the best picks in the entire draft. After the NFL's first preseason weekend games, Newman graded as the BEST rookie offensive lineman.
Highest-graded Preseason Rookie Offensive Linemen

1. Royce Newman, Packers – 83.6
2. Dan Moore, Steelers – 82.1
3. Sam Cosmi, WFT – 81.8
4. Cole Banwart, Titans – 80.6
5. Wyatt Davis, Vikings – 78.9 pic.twitter.com/BHZ115lIrv

— PFF College (@PFF_College) August 16, 2021
After the Texans' game, Matt LaFleur moved Newman up on the depth chart. Over this past week, he has been practicing with the starters. By the time camp is over, he may earn himself a starting spot on the line.
Prediction: 17 games played; 5 starts
[pickup_prop id="5236″]
Fifth Round Pick- IDL TJ Slaton
One of the Packers' biggest weaknesses going into the draft was depth on the defensive line. Specifically, Green Bay lacked any real effective depth behind Kenny Clark and Kingsley Keke. As a result, the Packers used their first fifth round pick on TJ Slaton. Slaton is a massive human being, standing six foot four and weighing 330 pounds.
Slaton has been impressive thus far in camp as well. His size makes him difficult to throw over, and he has batted a few balls down at the line. One area that he has especially impressed in is his ability to shed blockers and get into the backfield. While he does not always come up with the sack, his disruption causes problems for the offense.
Really good push by TJ Slaton on the first three defensive plays of the game for Green Bay. Didn't result in him making any plays but pushed his blocker and found his way into the backfield.

— Paul Bretl (@Paul_Bretl) August 15, 2021
With Clark and Kingsley ahead of him, it is not likely that Slaton will start many, if any, games this season. However, his size will make him difficult to keep off the field. If he can become a run stopper, the Packers will have no choice but to play him often.
Prediction: 17 games, 0 starts; 38 tackles and five sacks
Fifth Round Pick- CB Shemar Jean-Charles
Of all the drafted rookies in Packers' training camp, Shemar Jean-Charles may be having the toughest time. This is not to say that he is playing poorly all the time. Rather, it just means that he is taking his lumps as a rookie defensive back.
Jets offense has a good 2-minute drive. WR Braxton Berrios gets behind #Packers rookie CB Shemar Jean-Charles, and Zach Wilson hits him for a long touchdown.

— Ryan Wood (@ByRyanWood) August 19, 2021
SJC also had a rough game against the Texans, but many attributed that performance to him getting his first NFL action. The fact of the matter is that he is still young and is a developmental pick. Unlike Stokes, no one is expecting him to be a starting-quality cornerback from day one. Sheman Jean-Charles will likely make the team, but may see most of his playing time on special teams.
Prediction: 14 games; 20 tackles and no interceptions
[pickup_prop id="5647″]
Sixth Round Pick- OL Cole Van Lanen
The University of Wisconsin is known for producing quality offensive linemen. For this reason, the Packers took a shot on the homegrown lineman Cole Van Lanen with their first sixth round pick. With the Packers deep on the offensive line, there were no promises that Van Lanen would make the team. However, he has done well in practice and showed some nice footwork against the Texans.
Lovely work on the backside by Packers rookies Royce Newman and Cole Van Lanen!

26 snaps for each in their preseason debuts! pic.twitter.com/XCxtC4iX8h

— Ben Fennell (@BenFennell_NFL) August 16, 2021
Van Lanen may very well make the team due to poor performances by other offensive linemen as of late. However, he may not see many snaps this season as the Packers will not want too many rookies out there tasked with protecting Aaron Rodgers.
Prediction: Makes the 53-man roster; 8 games played
[pickup_prop id="5652″]
Sixth Round Pick- LB Isaiah McDuffie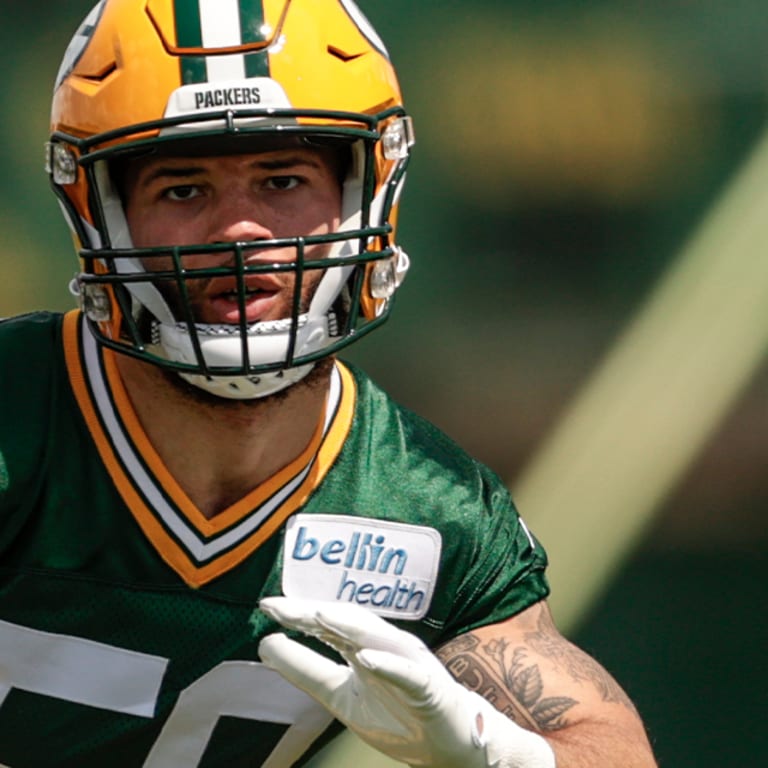 Unfortunately, Isaiah McDuffie was on the non-football injury list until last week. He has not seen much time in camp as a result. Given the Packers' depth at linebacker, he may not make the team. However, there is always a chance if he can play special teams well.
Prediction: Does not make the 53-man roster, but signs onto the practice squad.
[pickup_prop id="5654″]
Seventh Round Pick- Kylin Hill
There has not been this much buzz around a seventh round pick in Green Bay for a very long time. Even so, Kylin Hill has been impressive in camp and many have already anointed him as the Packers' third running back. Additionally, Hill has been taking reps as the team's kick returner. Against the Texans, Hill had a 22-yard touchdown reception, but -2 yards rushing.
Much of Hill's struggles in the running game may have come from the poor play of the offensive line. In practice, when Aaron Jones and AJ Dillon have been doing individual drills, Hill has been practicing with the starters on offense.
RB Kylin Hill gets the start with the No. 1 offense, which gives you an idea what they think of him. Aaron Jones only taking part in individuals.

— Tom Silverstein (@TomSilverstein) August 18, 2021
As Packers' fans learned from seeing AJ Dillon last year, Hill likely will not see many opportunities to start out. However, his catching abilities and skills as a kick returner may help him see the field a little more often.
Prediction: Packers' third running back; three total touchdowns
[pickup_prop id="6231″]
For More Great Wisconsin Sports Content
Follow me on Twitter at @theotherAdams14 and follow us @WiscoHeroics1 for more great content. Check out our merch page here and use promo code Wisco at check out for $1 off! To read more of our articles and keep up to date on the latest in Wisconsin sports, click here!