The NFL offseason is always full of trade speculation and rumors. Typically, from the perspective of Green Bay Packers fans, the majority of these discussions are centered around what players the team can ADD. Rarely, if ever, do conversations arise concerning what players to trade AWAY. If any conversation is had about parting ways with a player, the easy conversation is to simply cut them. In an article listing the top-ten most likely players to be traded, though, Packers linebacker Krys Barnes was included in the tenth spot.
Related: NFL analysts explains why Packers fans should be excited about Quay Walker
Why Would Krys Barnes Be Traded?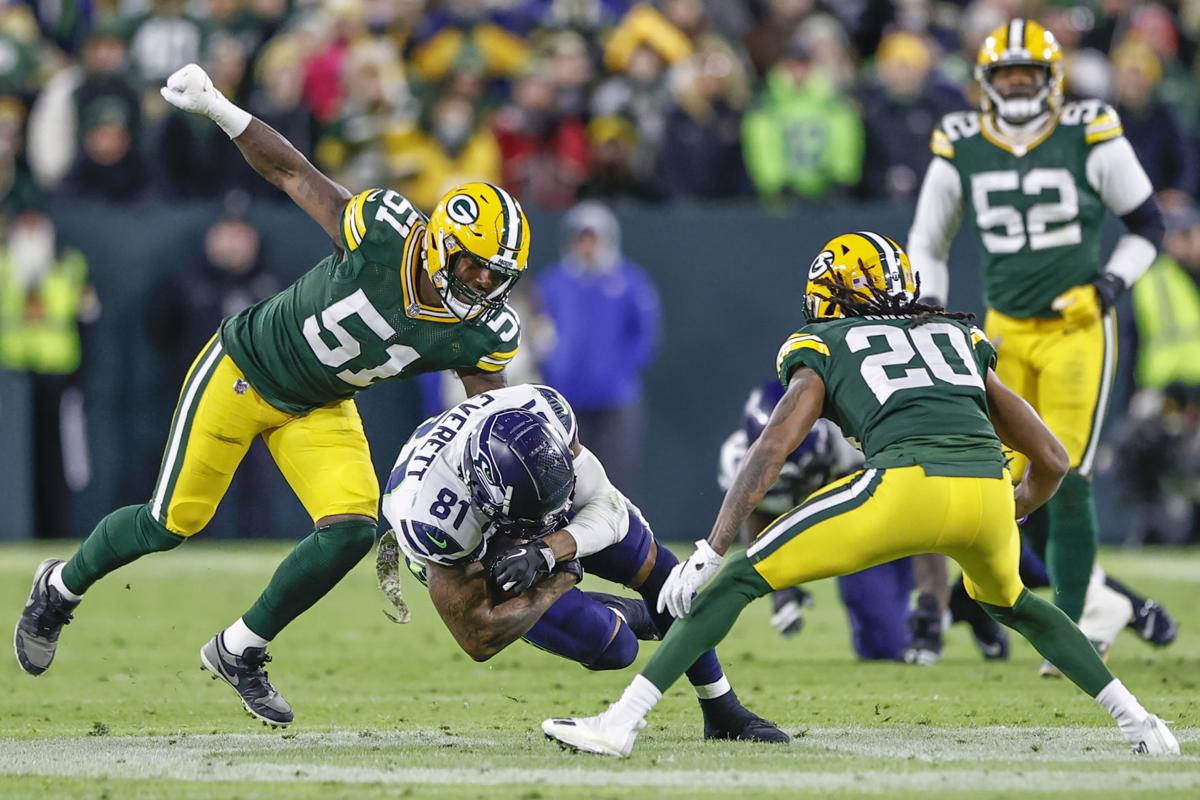 On the surface, the answer as to why Krys Barnes would be traded is due to the drafting of Quay Walker in the first round of this year's NFL Draft. In the article, Andrew Falce wrote:
"While not a complete linebacker by any means, Barnes excels at filling lanes and stopping the run. He is undersized and only a marginal athlete, but he has been a constant part-time starter for the Packers since signing thereafter the 2020 draft.

His role will likely be filled by Walker now though, and Green Bay could move Barnes.

Now, they don't have to by any means. His deal is extremely team-friendly and he can play on special teams. That said, if a team wanted to add Barnes, they could offer up another marginal player or a day-three pick and potentially land him."
Does Moving Krys Barnes Make Sense?
As mentioned, on the surface the drafting on Quay Walker does make it sound like Barnes is expendable. That, however, is not the case.
Krys Barnes has played over 1,000 defensive snaps for the Packers over the last two seasons. Now he's more than likely going to be the third guy at inside linebacker; they've completely overhauled that room. pic.twitter.com/zlbdm6Nmgr

— zach jacobson (@itszacharyj) July 3, 2022
First of all, Krys Barnes is a player that has played 52% of the defense's snaps in each of his two seasons with the Packers. He has also remained relatively healthy, playing in 29 out a possible 33 regular season games. For an undrafted player, that is incredible.
Second of all, there is the Packers' lack of depth at inside linebacker. As the article mentions, Krys Barnes is far from a complete linebacker. However, he is a much better option to back up Walker and De'Vondre Campbell than the likes of Isaiah McDuffie, Ty Summers, Ray Wilborn, Brice Caliph, and Ellis Brooks.
Finally, there is the unknown. As highly touted as Quay Walker is, no draft pick is an absolute guarantee to work out. Walker himself admitted to losing confidence during voluntary team activities. This is not to say that fans should worry about Walker; it just means that the Packers always need to be prepared. Trading Barnes would do nothing but hurt the team's depth at a position that is already not deep enough. It simply would make no sense.
To Read More Coverage of Packers Rumors, Click Here!
For More Great Wisconsin Sports Content
Follow me on Twitter at @theotherRobin19 and follow us @WiSportsHeroics for more great content. To read more of our articles and keep up to date on the latest in Wisconsin sports, click here! Also, check out our merch store for some amazing WSH merchandise!