The Packers fell to the San Francisco 49es as they were defeated 21-28 on Friday game in one of preseason. The Packers did not suit up most of their starters against the 49ers. It was the smart thing to do in order to not risk injury to any of the key players. Packers got out of that game on Friday with no real severe injuries which is the most important thing when it comes to preseason football. There was a lot of good to takeaway from this game despite the loss and some bad as well. Here is a Analysis overall from the preseason game one against the 49ers.
Analysis #1 Jordan Love- Despite What Stats Say They Do Not Tell Whole Story And He Showed A Lot Growth
Jordan Love started and played in the first half on Friday. He threw three interceptions against the San Francisco 49ers. On the stat sheet it looks like he played terrible but that is not the case. Those interceptions were not on Love. The first one bounced of the receivers chest and into the hands of one of the 49er defenders.  On the second interception ball went off the receivers hands and the third one Matt Lafleur said wasn't on him as he stated it was a broken play. Overall Jordan Love showed growth and took a step forward and led the Packers offense on two scoring drives and he looked more confident. Still has some things to work on but he did improve on Friday and has two more preseason games to keep improving as quarterback.
Analysis #2 Johnathan Garvin Has Shown Improvement And Played Well Against The San Francisco 49ers And Seems To Almost Be A Roster Lock
Johnathan Garvin has shown flashes in first two years. He looks to take that next step this year. So far he looks very good and he played well on his limited snaps against the San Francisco 49ers. Did well against the run and was getting pressure on Trey Lance. There was one play in particular where Garvin should've had a sack . Here is the play.
Packers 2nd year DT TJ Slaton looks lighter and quicker off the ball…

If he can provide this type of juice – with the other DL additions… Would be a lovely contribution! This front is stout! pic.twitter.com/FmPrBpSVTH

— Ben Fennell (@BenFennell_NFL) August 13, 2022
Yes when watching this play TJ Slaton is the highlight of the play. However look at Garvin and what he did. He does of a good job winning the rep against the opposing offensive tackle. Yet, because of the lack of containment by the interior defensive line Trey Lance was able to escape and get a first down.  If the interior defensive line kept containment Garvin easily has a sack. Garvin as of right now is the third edge rusher behind Rashan Gary and Preston Smith. Johnathan Garvin seems to be a lock for the 53-man roster and looks to be a huge factor on the Packers defense this year.
Analysis #3 Tyler Davis- Had a Chance To Lock His Spot On The Roster But Failed And Took A Huge Step Backwards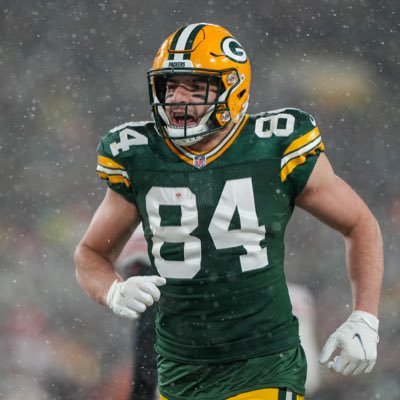 Tyler Davis is a player that the Packers are very high on. He showed flashes last season, got praise from Brian Gutekunst and Matt Lafleur, and has looked good in training camp. However, on Friday he did not have a good game at all. In fact he was one of the main culprits for one of Jordan Love's three interceptions. The ball bounced off his chest and into the hands of the San Francisco 49ers defense. That was a ball he needs to catch. It was a brutal play for him as he had a chance on Friday to secure a roster spot and even a starting role.  He took a huge step back and it now looks like after Robert Tonyan and Mercedes Lewis it is a wide open competition at tightend. Tyler Davis still has a chance to bounce back with two more preseason games but he hurt his stock against the 49ers.
Analysis #4 Romeo Doubs- Has Some Things To Work On But Overall Is Off To A Solid Start So Far
From OTAs and into training camp Romeo Doubs has had a great start as a rookie. It continued on Friday against the San Francisco 49ers. He scored a touchdown as he beat the corner off the line of scrimmage and got immediate separation. He also made tough catches against tight coverage. However, there are things he needs to work on. One is he has to clean up his drops and securing the ball as that caused a interception for Jordan Love. Also his run blocking needs to improve as well. Yet, the Packers have to love what they have seen from him so far. If Romeo Doubs can keep improving he can look to have a very huge role on the Packers offense this season as a rookie.
Analysis #5 Rico Gafford- Did Not Have A Strong Performance And Needs More Consistency As He Is On The Roster Bubble
The Packers defense gave up some big plays on Friday against the San Francisco 49ers. One of them was due to Rico Gafford falling down and allowing his man to get by him. Now Gafford also did make his share of plays but that big play he gave up really hurt his stock. He is trying to make the roster as possibly the sixth corner for the Packers. Him being on special teams will still help him but he needs to show more consistency in order to make the final roster. He did himself no favors on Friday. Rico Gafford still has a chance to bounce back over the next couple of weeks but he needs to have a quick turn around or he may not make the final roster.
Analysis #6 Jake Hanson- He Was Not Good On Friday Despite Having A Solid Training Camp 
'
The Packers offensive line overall were pretty good as no sacks given up. However, Jake Hanson was not good. There many talks from Packers training camp about Jake Hanson having a bounce back from last year. He is even getting first team reps at right guard. Yet, Friday he was getting beat constantly and had some holding penalties as well. Hanson could be expendable as the Packers do have other options to replace him. Has to bounce back in the next coming weeks in order to secure his spot on the final 53-man roster.
Analysis #7 The Defensive Line Is Very Deep This Year For The Packers
The Packers defensive line dominated the line of scrimmage all day against the San Francisco 49ers on Friday. They constantly put pressure on Trey Lance for most of the game. Did well in stopping the run as well as they made the 49ers earn every yard. Now the mobility of Trey Lance did give them problems but still they were in the backfield a lot on Friday. TJ Slaton played a couple of series and dominated. Jack Heflin had a monster night as he had numerous run stops and was getting pressure on the quarterback. Also Chris Slayton was getting after the quarterback constantly and maybe a dark horse to make the final roster if he can keep his level of play up. The Packers do indeed have a good problem on the defensive line and have tough decisions to make at that position this year.
Analysis #8 Shemar Jean-Charles And Kisean Nixon Had A Good Game And That Is Very Encouraging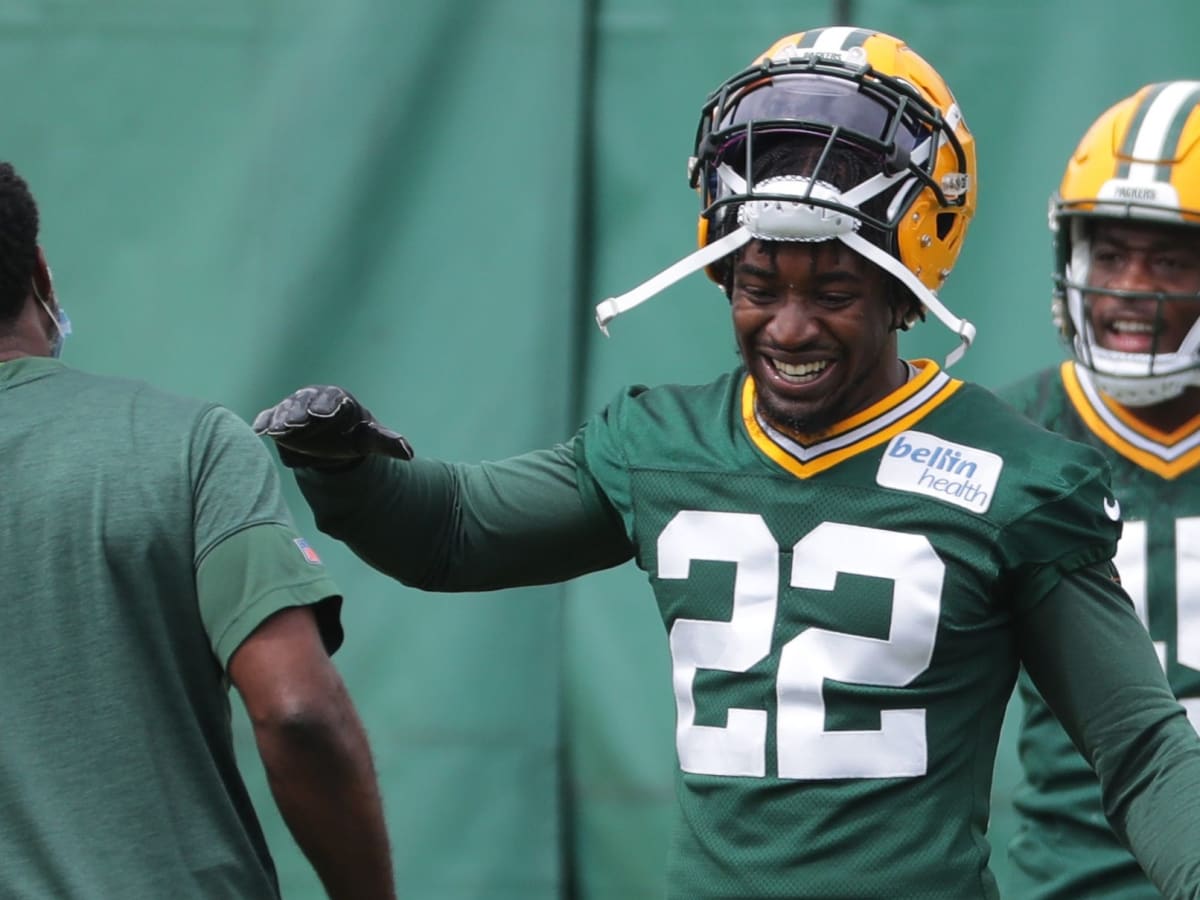 Two players that had a good night on Friday were Shemar Jean-Charles and Kisean Nixon.  Sheamar Jean-Charles had a very strong game including a key pass breakup on a third down play. Kisean Nixon since coming back from the NFI list has had a strong showing and that continued Friday against the San Francisco 49ers. This was very encouraging because as of right now Shemar Jean-Charles and Kisean Nixon are the fourth and fifth corners behind Jaire Alexander, Eric Stokes and Rasul Douglas. They will provide solid depth for the Packers cornerback group this year.
Analysis #9- Kingsley Enagbare Had A Strong Game On Friday
Kingsley Enagbare has had a very quiet training camp but however, against the San Francisco 49ers he showed out. He led the Packers in pressures with three and had a sack to top it all off. Seems like Enagbare shows up more on gameday when it matters which is very good. May not have been a training camp star for the Packers but showed up against the 49ers and made the most of his opportunity. Kingsley Enagbare was already predicted to make the final 53-man roster and now has helped his case even more with his strong performance on Friday.
For More…
Follow me on Twitter at @CarlosS29143608 and follow us at @WiSportsHeroics for more content. To keep up on all of your favorite sports in Wisconsin, click here! Also, check out our merch store for some amazing WSH merchandise!