On Monday, a press conference was held at American Family Field to roll out a proposal that would help keep the Milwaukee Brewers in Wisconsin until 2050, 20 years past their current lease with the state.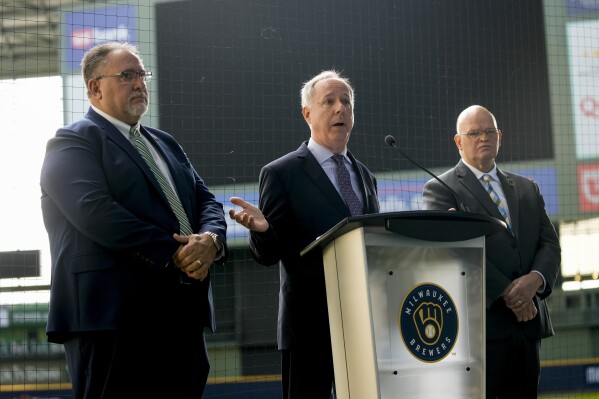 This press conference held atop the dugout explained the proposal that will run taxpayers $600 million, but the state will pick up about two-thirds of that price tag. Rick Schlesinger, President of Business Operations for the Milwaukee Brewers, explained in a statement that said proposals from Gov. Tony Evers and Wisconsin Republicans "show that there is a true consensus across party lines for a solution to extend the life of American Family Field." 
 (Press Conference video thanks to Today's TMJ4)
This proposal says that the state would give the team $60.8M next fiscal year and then up to $20M each year through 2045-46. The city of Milwaukee would have to contribute a total of $202M and Milwaukee county would kick in $135M by the year 2050.
The Brewers also unveiled a new jersey patch in sponsorship with Northwestern Mutual on Friday and how they plan to utilize funds from that sponsorship.
Background on Milwaukee Brewers Funding for the Ballpark
Since 2001, the Milwaukee Brewers have called American Family Field, previously known as Miller Park and have a lease that's set to expire in 2030. Both State Republicans and Democrats have been working for months to develop a stadium renovation funding plan.
The current lease with the Brewers calls for the Southeast Wisconsin Professional Baseball Park District to cover any repairs in the ballpark, but Gov. Tony Evers said that the district simply didn't have enough funds to pay for what was needed and in order to get said funds, a new tax would have to be implemented or more money was to be borrowed.
Back in March, Gov. Tony Evers proposed a plan in which $330 million would be spent by the State of Wisconsin to help repair anything in the ballpark and extend the Brewers' lease for another 12 years, through 2043. However, Republican Assembly Speaker Robin Vos said that the plan wouldn't work out and Vos wanted to come up with a better deal that included a longer-termed commitment for the Brewers to remain in Milwaukee. Evers initial proposal was presented as a way to keep a 'Wisconsin tradition alive', while also creating an influx of jobs and tax revenue for the state and that without it, the Brewers would leave Milwaukee.
What's New About This Proposal/Plan?
Most notably, this proposal plans to keep the Brewers in Milwaukee until the year 2050. The plan doesn't include any new taxes, but "expenses associated with the Brewers will be paid using income taxes from players playing at American Family Field: the players on the Brewers and the players on the team they are playing."
To put it in simple terms, if you don't pay income taxes in the state of Wisconsin and don't play in Major League Baseball, your taxes aren't going towards paying for the Brewers to remain in Milwaukee.
Some representatives suggested that American Family Field be utilized for other things, and changing the stadium board to include "people who are knowledgeable about operating the stadium, not business interests", according to Wisconsin Rep. Robert Brooks on Monday. The proposal also suggested ideas to winterize the ballpark during the off-season.
The Milwaukee Brewers released a statement regarding the proposal:
Following the introduction of new legislation in the state Legislature to ensure the Southeast Wisconsin Professional Baseball Park District has the funds necessary to meet its current lease obligations to maintain the longevity of American Family Field, Rick Schlesinger, President of Business Operations for the Milwaukee Brewers released the following statement:

"The Brewers have said all along that it will take creative, bipartisan solutions to keep Major League Baseball in Wisconsin for the next generation. Today's proposal from Republicans in the legislature, along with an earlier plan by Governor Evers, shows that there is true consensus across party lines for a solution to extend the life of American Family Field.

"With a $2.5 billion statewide economic impact that supports thousands of jobs, maintaining a first-rate ballpark is crucial for the Brewers to compete and Major League Baseball to remain viable in Wisconsin. It is important that we build on this momentum and focus on a plan that keep America's favorite pastime here in Wisconsin.

"We oppose the return of the five-county tax, and we are prepared to commit to a generational lease extension for the Brewers to remain at American Family Field."
The office of Gov. Tony Evers also issued a statement regarding the proposal:
"While it's good to hear Republicans are getting serious about keeping Major League Baseball in Wisconsin, it's unfortunate Republicans rejected Gov. Evers' commonsense proposal that ultimately would've saved taxpayers millions of dollars in the long run.

Gov. Evers looks forward to reviewing Republicans' proposal and continuing conversations on a plan that provides additional flexibility and minimizes harm for local partners while ensuring we keep this important economic drive and thousands of jobs in our state."
If the Brewers were ever to leave the state of Wisconsin, it would be the second time Milwaukee has lost an MLB franchise. 70 years ago, the Braves came from Boston, only to head south to Atlanta 13 years later.