When you're a Finals MVP, everyone wants to know more about you.  Coming off a historic finals appearance, Giannis Antetokounmpo is finally getting some of the attention he deserves.
The Greek Freak sat down with COSMOTE TV for what was his most in depth interview since the championship.   He discussed topics like the death of his father, knee injury, and competitive mentality.  Let me break down the most interesting quotes for you here!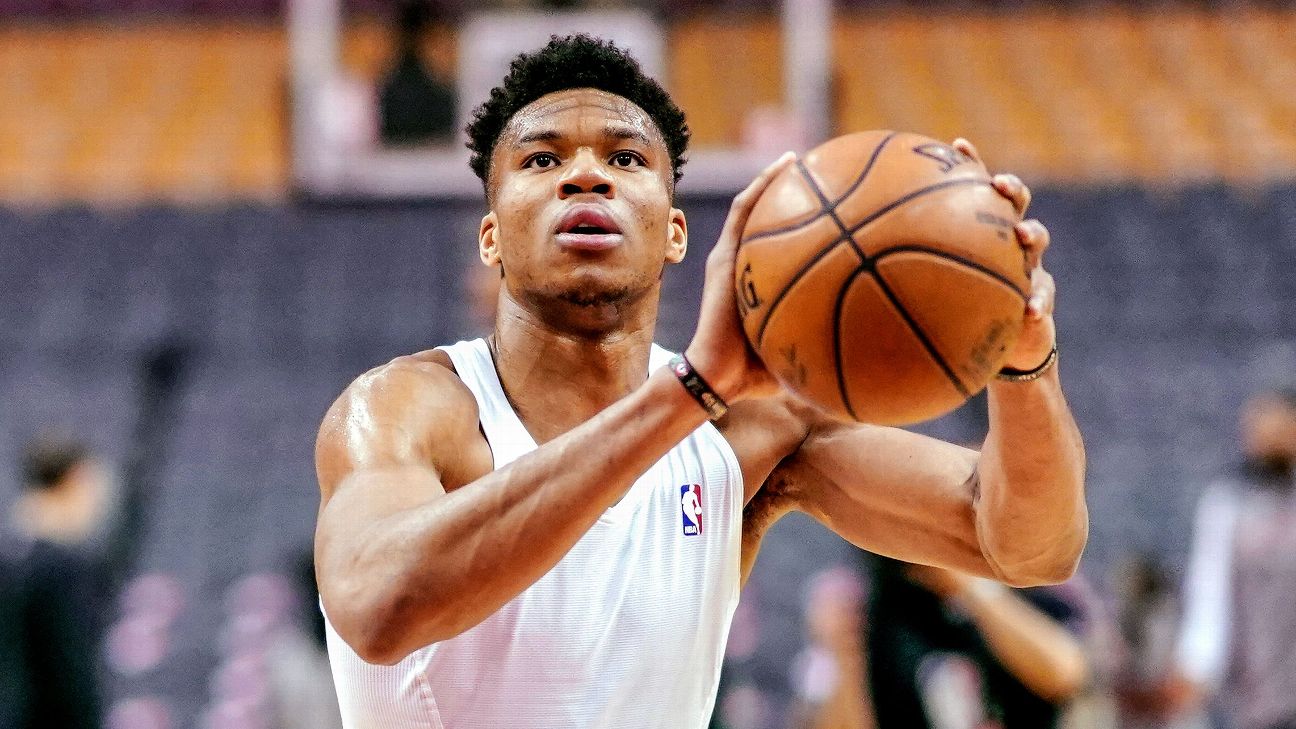 How Giannis Keeps his Competitive Edge
As most of Bucks fans know, Giannis is known for not working out with opposing players in the offseason.  It is very common in today's NBA for players from different teams to be friends and hangout in the offseason.  Some believe this is a reason Antetokounmpo isn't as accepted by as many opposing NBA players as other superstars.  Here is what he had to say about it.
"I can't be fake. I am Giannis. But calling me MVP, calling me champ, calling me the best player in the world, is something that might hold me back. And I don't want anything holding me back. I want to look forward and be better. That's why I don't train with other players. I don't want to be buddy with them. If we do this and then drink a coffee with them, can I go in the court and use my elbow against them? Can I block or dunk on them? I can't cause I am authentic. If I love someone, I love him also on the court. I am fully aware of that and I don't want to put myself in this position".
Most NBA fans love this mentality.  It is so odd to see players be best friends off the court when they're supposed to be enemies on the court.  Sure, some players can still be very competitive against their friends.  But as Giannis said, he doesn't want to have to fake that mentality.  It's so refreshing to see this from a superstar.  Someone who is loyal to his guys only.  Giannis is himself at all times.  On or off the court, you know he's being as authentic as possible.
Does he Think he's the Best?
Most NBA experts have Giannis in their top three players in the league, if not number one.  It is very hard not to considering his performance this post season.  Players like Lebron James and James Harden like to gloat and talk about how good they are.  Lebron has gone as far as to call himself the greatest of all time.  Our hero is built different though.  Even if he is the top player in the league, he'll be the last to admit it publicly.
 "I like being a hunter. I am not the best player in the world. I am telling you, I am not! KD, LeBron, Kawhi, Luka, Curry, AD might be. I am not. I am still hunting the All-Time Greats. LeBron is still the best player in the world"
So according to Giannis, he's not even in the top six.  Some might think this is concerning and view it as a lack of confidence.  I think it's just his way of staying focused on improving.  As he alluded to earlier, he doesn't want to ever settle mentally.  There's a method to his competitive madness.  Everything helps keep him working as hard as possible, never settling.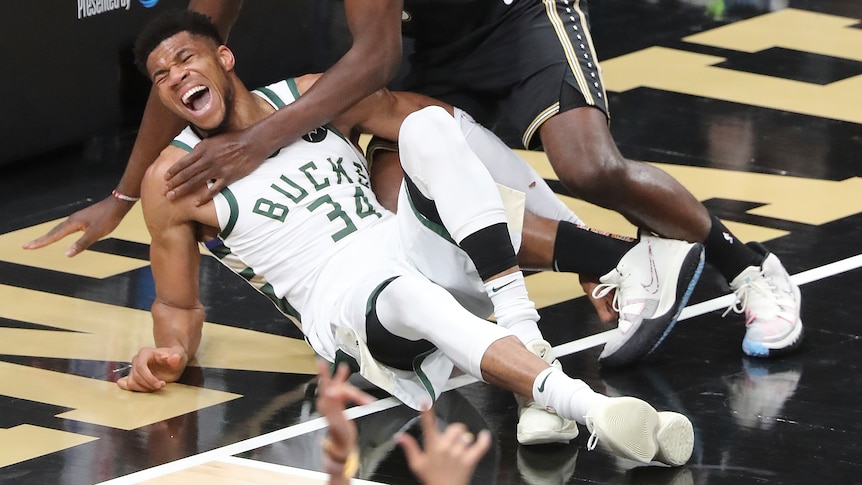 How's the Knee?
The play is still burnt into my memory.  I watched Giannis' knee bend backwards and I couldn't help but feel sick to my stomach.  In my head I just knew there was no way he was coming back for the rest of the post season.  Our chance at a title was ruined and our future might be ruined as well.  Everything was wrong in Bucks Nation that night.  We all went to bed not knowing what the future held for our franchise player.
A couple days later, we got the best news imaginable. A miracle had occurred.  There was no structural damage!  By some combination of luck and super human ligaments, Giannis escaped any major injury.  After Milwaukee beat the Hawks in the ECF there was some speculation that he could be back at some point for the finals.  But almost nobody thought he would be back for the first game.  Throughout the series you would've never known his knee bent backwards just a couple weeks earlier.  Giannis made it appear as if he had fully recovered.  But did he really?
"I shouldn't have played in Game 1 of the NBA Finals. I was in a lot of pain. I'm still hurting. But I'll be okay.. I'm still hurting. Yesterday was the first tough practice I had since Game 6 of the NBA Finals. I'm hurting a lot, but I'll be okay."
This quote clearly shows us that he had to battle through tons of pain during against the Suns.  It's crazy to think about how good he played while injured.  The media and Nets fans all say that the Nets would've won if not for their injuries.  Well Giannis and the Bucks won despite the injury to their superstar.  That's what can happen when you have the heart of a champion.  Not only play through injury, but play so well people forget you ever got hurt.  Let's hope the injury doesn't linger much longer with the 2021-22 season starting soon.
Is there Anything Better than a Championship?
Being an NBA player, there can't be a better feeling than winning a title for your city right?   All of the hours spent grinding, competing, and working to get better have finally paid off.  The long climb has brought you to the top of the world and nothing can top it.. Right?
While yes it is great, Giannis wouldn't let us forget what is truly most important for everyone in life.  What should be held as the above everything else is family.  Growing up poor in Athens, that is all the Antetokounmpos had.  And that is all Giannis needs to be happy.   Giannis was asked if he was offered anything in exchange for the title, what would it be?  This was his answer.
"I want my father back, no second thought on that one. You can take everything back, I could go back to Sepolia and sell CDs I don't care. I want my father back. Next question"
This should be an awakening to fans and players alike.  Sports are fun.  However there is much more to life.  Sports are great entertainment and it's okay to get a little emotional over  games at times.  But they don't matter when compared to family.  We should all strive to have the same mentality as Giannis.
For More Great Content
Follow me on Twitter at @IAmMitchLang, and follow us at @WiSportsHeroics.  As always, to keep up with everything in WI sports, click here!