The Packers' first preseason game is against the Houston Texans this Saturday. This is where the Packers will indeed evaluate who will make the 53-man roster, and see what role each player can have. One thing that is certainly needed to be reminded of is winning or losing does not matter in the preseason. It is about evaluating and seeing what you have on the roster. There are a good amount of Packer players that definitely need the preseason this year. Here is each player that needs it.
Devin Funchess- A Player That is On the Roster Bubble and Did Not Help His Case Saturday Night
Devin Funchess has had a quiet training camp so far and is definitely on the roster bubble. In addition, made some controversial remarks following Family Night. That will indeed put Funchess on thinner ice. He needs to have a strong preseason to have a chance to make the roster. Funchess is the perfect receiver for this system. He has the size to win the 50/50 ball and do some good blocking in the run game. Funchess will need a very strong preseason to make the roster.
Josiah Deguara- Will Be a Special Player, But Needs the Preseason to Get Back Into Football Shape
Josiah Deguara is most likely going to be a lock to make the roster. The Packers drafted him in the third round last year for a reason. They see him as the H-Back in this their offense. He is going to be the Kyle Juszczyk for Matt Lafleur's offense. However, he is recovering from a torn ACL he suffered last season and recovered pretty well. He was taken off the PUP list just in time for the preseason coming up. This is good for Deguara because he can use the preseason to knock the rust off. He missed a good amount of time from football and can use these four preseason games to get back into shape. If Deguara can get a lot of snaps in the preseason he is well in football shape for the Packers this season.
Jace Sternberger- Can Be a Good Player, But Time is Running Out
Jace Sternberger has the ability to be an effective tight end in the NFL. However, time is running out for him on the Packers as this is a crucial year for him. In his first two years, he was either hurt or not performing well when he was on the field. To make matters worse, in 2020 he was inactive in the second half of the season because of Dominque Dafney, an undrafted player, was outperforming him. In addition, he is suspended for the first two games this year as well, which does not help him. Not to mention the Packers tight end room is pretty deep this year, meaning he could be the odd man out. This preseason is indeed big for Jace Sternberger because if he does not perform well, his days as a Packer might come to an end.
Lucas Patrick- Solid Player, However His Starting Job Needs to Be Earned Back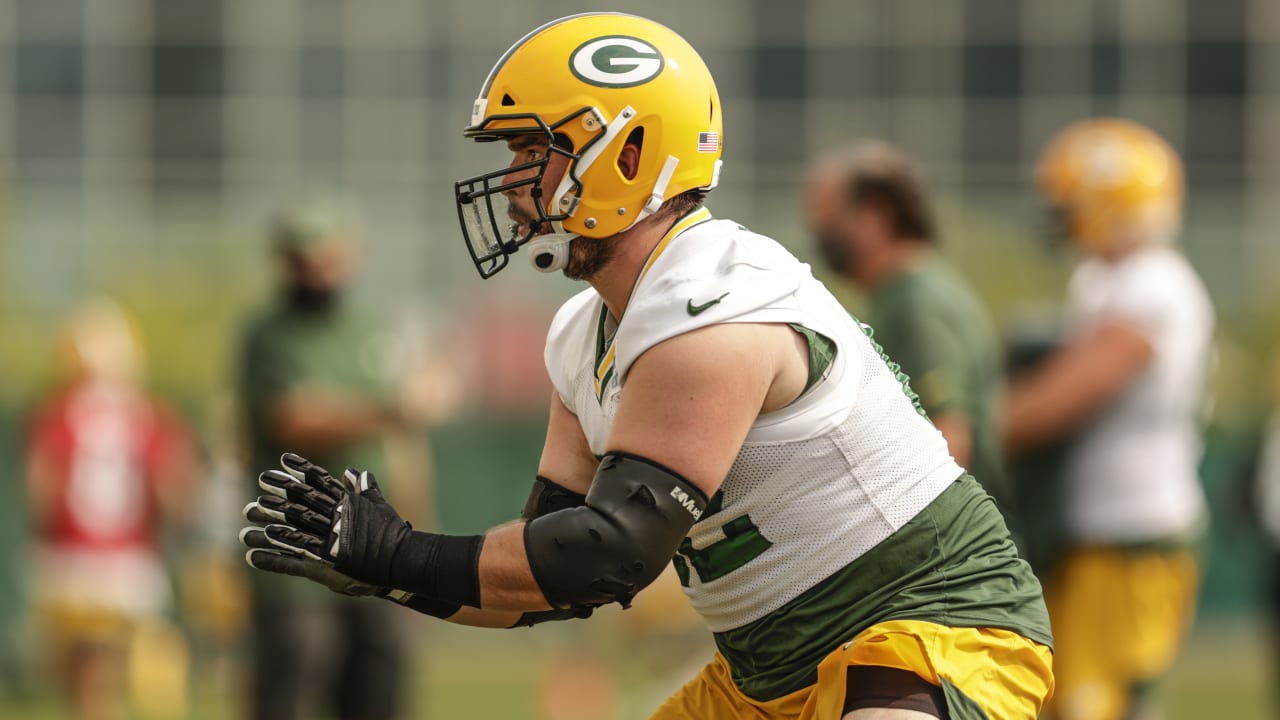 Lucas Patrick knows his starting job is not given, especially with guys like Jon Runyan, Ben Braden, and Royce Freeman. He needs to have a strong preseason to have a good chance to keep his starting job this season. Lucas has to prove that he can be more consistent in which he wasn't late in the 2020 NFL season last year. On Family Night this past Saturday, there was a clip of him getting bull-rushed by Dean Lowry in Aaron Rodger's lap. Was it a big deal? No, however, that is not a good sign for someone trying to win back his starting job. This preseason for Lucas Patrick will decide if he can be the starter at right guard once again. Also, he can be a cap casualty ,so do not be surprised if he is released on cut-down day.
Juwann Winfree- A Player on the Rise and Hopefully Can Make His Case in Preseason to Make the Packers Roster
A player that is certainly making noise in the wide receiver group is Juwann Winfree. He was a sixth-round pick in 2019 from the Denver Broncos. He was brought in to just maybe be a camp body. Yet he has made some noise and has turned some heads in training camp. He is making his case to make the final 53-man roster for the Packers this year. Unfortunately, he has a shoulder injury, something that he cannot afford to sideline him. Winfree is fighting for a roster spot and needs all the preseason reps he can get. Hopefully this shoulder injury is not serious and he can get on the field real soon and prove himself. Preseason will be the chance where Winfree can make a case to make the team this year.
Jordan Love- Needs to Show What He Can Do This Year in the Preseason
Jordan Love so far has been up and down in training camp this year. It is not surprising as he is a raw player, but has the potential to be a great quarterback in the NFL. Matt Lafleur announced that Jordan Love will take almost all the preseason snaps this year. This is a big opportunity for Love to show what he can do as he did not have a preseason last year due to COVID-19. The spotlight will indeed be on Love this year in the preseason this year as everybody is eager to see what he can do. The main goal is to get him better and developed further, so do not expect him to be perfect every game. This preseason will be Love's time to shine and hopefully, he is up to the challenge.
[pickup_prop id="7097″]
Follow for More
Follow me @CarlosS29143608 and follow us @WiSportsHeorics for more content. Check out our merch page. Use the promo code WISCO at the checkout for 1$ off! To keep up on all of your favorite sports Wisconsin click here!