It's no surprise that the Packers' Monday night matchup against the Rams will be a cold one. The kickoff temperature is expected to be around 15 degrees. However, the temps on Monday would be considered balmy compared to some Packers home games in the past. But for the Los Angeles Rams, 15 degrees is frigid. Meanwhile, Packers quarterback Aaron Rodgers seems more than ready to brave the cold conditions.
Aaron Rodgers' Record In Cold Weather Games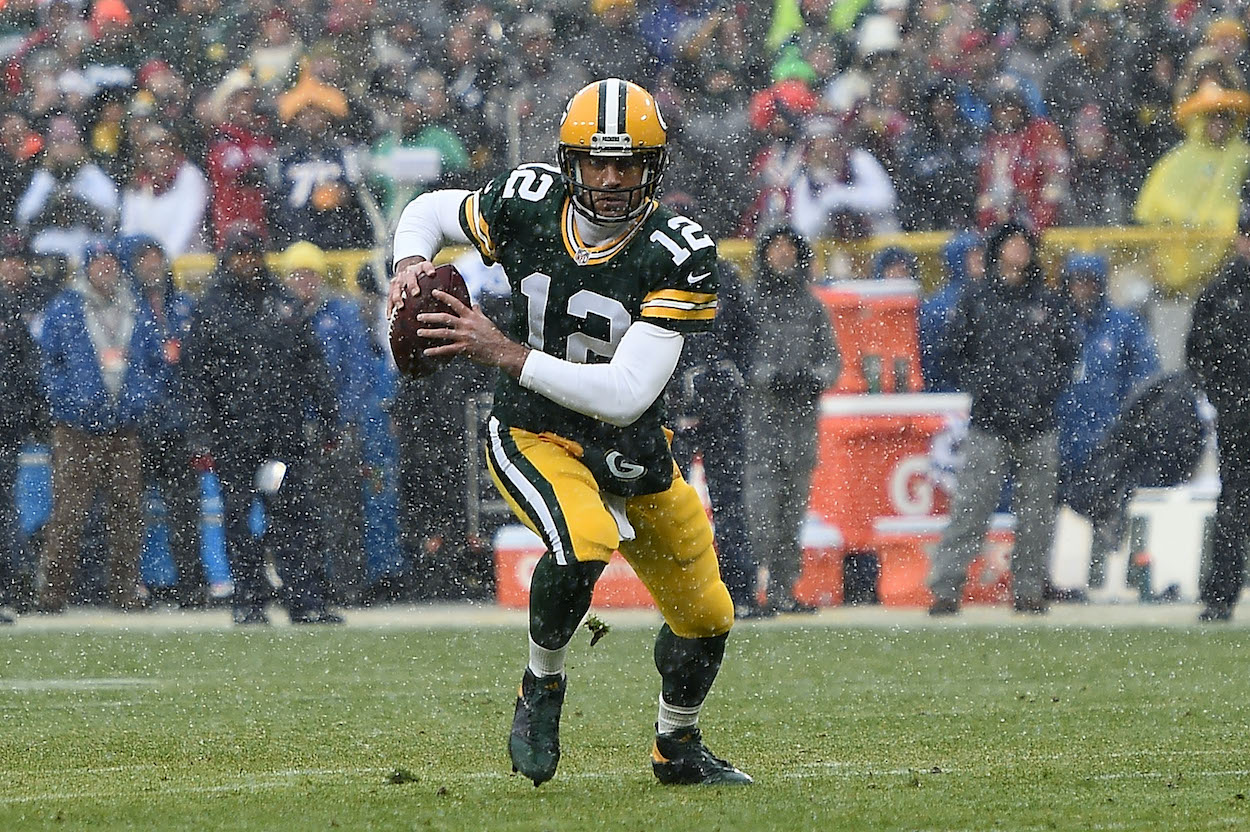 Aaron Rodgers is embracing the weather conditions for Monday's game. "I think anytime the weather gets cold, and the field gets cold, naturally, guys don't move maybe at the same speed," Rodgers said. "I feel like on our field, too, we have the advantage. We know where we're going on a wet, cold field. That's always been an advantage. Throwing the football has been an advantage for us in the weather, as well. I can't put a specific finger on it. Most of us are not from here, but we just get a little bit better used to being in the cold, I think because we practice outside."
But do cold weather games actually swing in favor of the Packers? During the Aaron Rodgers era, the answer is surprisingly no. Green Bay has a record of 5-5 in games that are under 15 degrees or colder at kickoff since Rodgers became the starter in 2008. It's worth noting that Rodgers missed two of these games, so Green Bay's record with A-Rod as the starter is 4-4. 
Now, for the Rams, as a franchise, they have only played five games with a kickoff temperature of 15 or colder. Their most recent game coming all the way back in 1992 at Lambeau Field. 
The Packers will be facing a Baker Mayfield-led Rams team. Green Bay saw Mayfield last year. He threw four interceptions and the Packers won 24-22. Hopefully, the Packers can halt Mayfield once again and make a late season playoff push.
For More Wisconsin Sports News:
Follow me on Twitter at @alex_ratliff and follow us @WiSportsHeroics for more great content. To read more of our articles and keep up to date on the latest in Wisconsin sports, click here!