After the recent splurge of moves to bolster the Nets roster many have moved them to the top of the list for favorites for the NBA finals. But, is the Nets big three better then teams like the Lakers, Clippers, Warriors, or Bucks?
Rank 30-21
The teams here are not up to par with the best teams in the NBA. These teams have to rely on a team game to win. Teams like the Spurs and Hornets are in the playoff right now and thrived on a diverse team approach they likely wont have enough talent to compete in round 1 of the playoffs. The bottom 10 teams are….
30-Bulls
29- Pistons
28-Knicks
27- Thunder
26- Kings
25- Spurs
24- Wizards
23- Grizzlies
22- Timberwolves
21- Hornets – The one team in the bottom 10 teams that I'd be excited for here is the Hornets. This team has a lot of young pieces, and while they aren't there yet, they are sure fun to watch with elite teams.
Rank 20-11
This is the group where you get teams who have really strong 1-2 punch combined with teams who have up and coming Big 3s like the Cleveland Cavaliers. These are all teams who are likely in the playoff hunt when the season ends.
20- Heat – The 2020 Eastern conference champions just don't look the same this season. While Butler and Bam are a great 1-2 punch the loss of Jae Crowder as part of the team has shown the weakness of this team missing a third option.
19- Magic
18- Raptors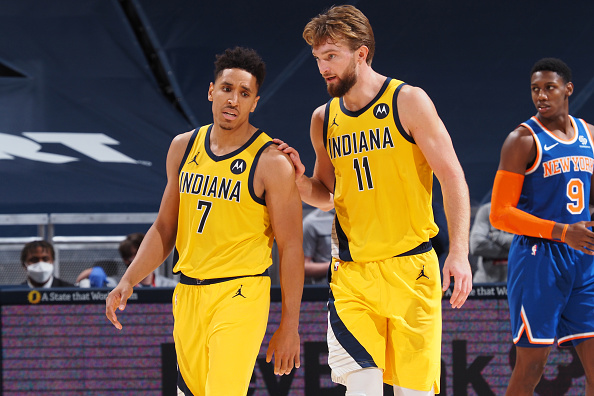 17- Pacers – Former rookie of the year Malcolm Brogdon and the leagues best kept secret Domantas Sabonis have the Pacers as a top team in the East. However, they still lack the go to third option and instead rely on a team approach behind their lead dogs.
16- Suns
15- Cavaliers
14- Trailblazers
13- Rockets – A team that has gotten rid of their two mega stars now has a big three of Christian Wood, Victor Oladipo, and John Wall. Who while having two stars looking to return back to their All-star forms following lengthy rehab stints they were able to pair them with an up and coming star in Wood.
12- Mavericks
11- Hawks
 Rank 10-4

This is where things get exciting. From teams like the Lakers, Nets, and Bucks to the process in Philly, and the upcoming Pelicans. All of these teams have the ability to be true contenders come playoff time. But which teams have the best big threes? And can any of them stand up to the newest super team in the Nets?
10- Pelicans – Unlike many of the teams above them on this list they are an up and coming team with the heralded Zion Williamson. The Pelicans have a lot of pieces to surround the young phenom as well. All-star Brandon Ingram and a revitalized all defensive player in Eric Bledsoe help make this a dangerous team.
9- Celtics
8- Jazz
7- 76ers – Trust the process here, Ben Simmons and Joel Embiid have finally been put in a position to succeed. You ask how? Well Philly finally put shooters around them to open the floor for Ben Simmons to attack and for MVP candidate Joel Embiid to work from all three levels.
6- Warriors – Are the Warriors going to reclaim the thrown of the league most dominate big three in the league soon? Maybe not, but boy does the combination of Curry, Wiggins, and Oubre Jr. scare a lot of teams. That isn't even talking about do it all forward Draymond Green. Nor exciting 2020 second overall pick James Wiseman. Now imagine this team with Klay Thompson?
5- Nuggets
4- Clippers
Rank 3-1 Who's the Best?
3- Lakers – The reigning NBA champions aren't being dissed here as they have two of the leagues best 7 players. The Lakers have Anthony Davis and Lebron James, but who is their third option? More importantly, does it matter the third option for King James to get back to the NBA Finals?
2- Bucks – The Bucks with reigning back to back MVP in Giannis and possibly one of the best three level scores in the league in Khris Middleton got their third guy this off-season in Jrue Holiday. The much needed offensive threat who can take pressure off of the other two in big games, Holiday has started to find his groove with this team.
1- Nets – Nets who were finally able to put a competitive roster together did so in such a quick span. They essentially added Kevin Durant, who didn't play much last season due to injury, and James Harden through trade. With 3 top 15 players are they arguably the best big three of all time, at least on paper? The only questions here, who's going to have the ball in clutch time? Who's going to play defense? And what happens if things start going wrong?
For More Great Wisconsin Sports Content

Follow me on Twitter @Letitflysports and follow us @WiscoHeroics1for more great content. To read more of our articles and keep up to date on the latest in Wisconsin sports, click here!