The designated hitter rule was first adopted by the American League in 1973. As an American League team until the end of 1997, the Milwaukee Brewers had several designated hitters become popular in their history. These include Paul Molitor, Hank Aaron, and Larry Hisle. After moving to the National League, of course, the Brewers ceased to have a designated hitter outside of interleague play and the 2020 season.
Here, we present the top three on our list.
Nelson Cruz
Way back in 2005, Nelson Cruz made his Major League debut with the Milwaukee Brewers. Soon after, though, he was traded to the Texas Rangers, along with Carlos Lee, for Kevin Mench, Lance Nix, and Francisco Cordero. Throughout his time with the Rangers, Cruz hit 157 home runs while slashing .268/.327/.495. He also made two All-Star teams. Unfortunately, he also was caught up in the same PED scandal that Ryan Braun was. Cruz was suspended 50 games for using PED's in 2013, which was his last with the Rangers.
After leaving Texas, Cruz's career took off. In fact, it can be said that Nelson Cruz has been a better hitter without PED's than he was with them. From 2014-2021, Cruz hit .283/.359/.549 with 292 home runs. Outside of the shortened 2020 season, Cruz hit no fewer than 32 home runs in a season and drove in over 100 runs four times. Additionally, Cruz was named an All-Star five times and won four Silver Sluggers.
Of course, Nelson Cruz's age may be somewhat of a concern. After all, he will be 41 this year. However, he also hit .265/.334/.497 with 32 home runs and 86 RBI in his age 40 season. Last season, the Brewers lacked real power from both sides of the plate. Adding Nelson Cruz would add a real punch to the offense that it desperately needs.
Lorenzo Cain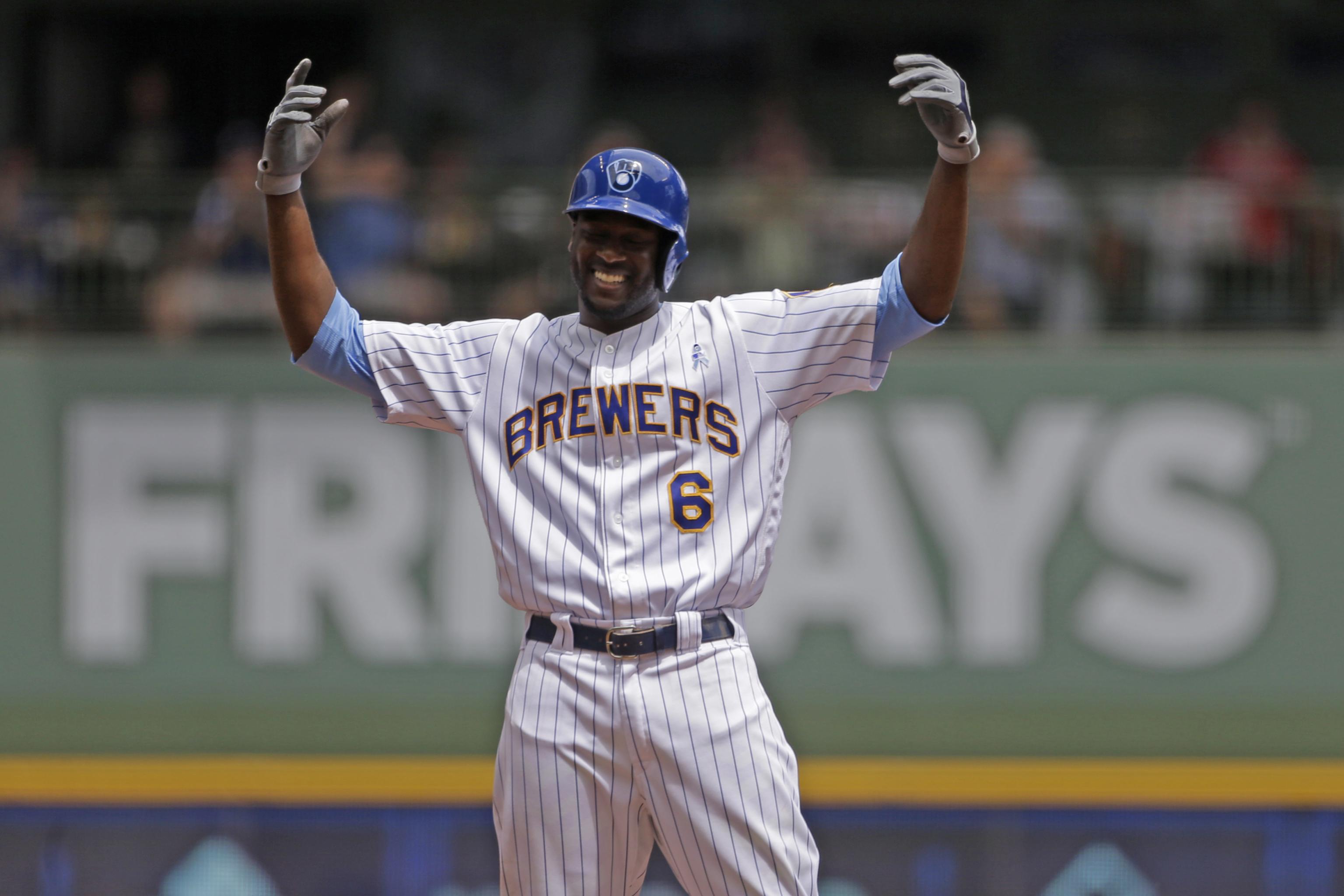 The Milwaukee Brewers could make the decision to focus their free agent dollars on other positions and use current players as their designated hitter. One of the most obvious options is aging center fielder Lorenzo Cain. Interestingly, if Nelson Cruz did sign with Milwaukee, he'd almost be mirroring the career path the Cain took before becoming a fan-favorite with the Brewers.
In his first season back with the Brewers, Lorenzo Cain hit .308/.395/.417 and was named an All-Star. The next season, however, his batting production dropped to a slash line of .260/.325/.370. On the bright side, he won his first and only career Gold Glove award. ,
The problem that has emerged over the past two seasons, though, has been health. In his first two seasons with the Brewers, Cain played 141 and 148 games respectively. After opting out of the 2020 season after five games, ,Cain played in just 78 games last season as he dealt with injury after injury. Cain ended the 2021 season with a line of .257/.329/.401. That being said, when he was healthy, he showed that he could still produce at the plate and on the base paths. He stole 13 bases and drove in 36 runs. Perhaps without the wear and tear of his aggressive outfield play, he can put together on last productive season at the plate as the Brewers' designated hitter.
Christian Yelich
In the same season that Lorenzo Cain returned to Milwaukee, the Brewers traded for outfielder Christian Yelich. Yelich endeared himself to Milwaukee by hitting .326/.402/.598 with 36 home runs and 110 RBI in 2018. That season, he was named the NL MVP. The next season, Yelich picked up where he left off, hitting .329/.429/.671 with 44 home runs and 97 RBI. He almost assuredly would have won the MVP Award again had he not fractured his knee cap on a foul ball.
Since that injury, Christian Yelich has not been the same player. In 2020, he hit just .205/.356/.430 with 12 home runs and 22 RBI. The bright side, though, was that he played 58 out of 60 games. At least physically, the knee injury was not bothering him.
Many people expected Yelich to bounce back in 2021. After all, he had signed a $215 million deal to stay in Milwaukee for seven more seasons. Unfortunately, a back injury and COVID limited Yelich to just 117 games. Furthermore, he failed to regain his MVP form at the plate. Last season, Yelich hit just .248/.362/.363 with nine home runs and 51 RBI. In addition, he did not play very well defensively in 2020 or 2021. Yelich had negative runs saved in both of those seasons.
Given the length of his contract and his back injury, the Brewers might be wise to move Yelich to the designated hitter role on a regular basis. Had the Brewers been able to do this with Ryan Braun, they may have been able to extend his productive seasons as well.
For More Great Wisconsin Sports Content
Follow me on Twitter at @theotherAdams14 and follow us @WiSportsHeroics for more great content. To read more of our articles and keep up to date on the latest in Wisconsin sports, click here! Also, check out our merch store for some amazing WSH merchandise!