In Eric Lauer's second season since coming over in a trade from the Padres, Brewers fans were able to witness the start of what David Stearns and company saw with this 26 year-old southpaw. Lauer was one of the two key pieces send to Milwaukee in the Trent Grisham and Zach Davies trade in late November, 2019. At age 26, Lauer is still young and developing and 2021 showcased just what he has in store for the future.
Lauer came into 2021 after a tough 2020 in which he saw only 11 innings pitched and dealt with a tear in his shoulder for the majority of the season. Lauer struggled finding his footing in a black sheep year thanks to COVID-19. However, 2021 became a different story for Lauer. In a season where Lauer was surrounded by dominant cohorts, Eric carved out his own role in the rotation that proved key for the Brewers down the stretch.
Lauer's Season at a Glance
Waiting until the end of April to get his shot at a rotation spot, Lauer took full advantage by throwing 5 innings of shutout ball against the Los Angeles Dodgers. Lauer followed it up with another quality start allowing just two runs in 6 innings on the road in Philadelphia. From there it was a season of progression for the young Lauer still finding his groove. Lauer saw significant improvement as the season went on throwing a sub-3.00 ERA in the second half his season. Lauer's season was highlighted on September 7th against the Phillies allowing just 4 hits and 0 earned runs through 7 innings.
Lauer's Season by the Numbers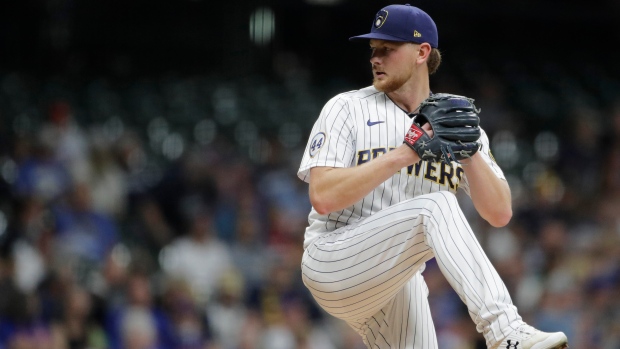 For the full season, Lauer turned out to be a sturdy lefty at the back end of the rotation finishing 7-5 through 20 starts. Lauer turned in a 1.138 WHIP which was good enough for 4th among the Brewers' starters (Woodruff, Burnes, Peralta, Houser, Lauer, and Anderson). Eric had a career low ERA of 3.19 which also ranked 4th among Brewers' starters. Lauer was 44 innings shy of qualifying for the league leaders but, just for fun, this ERA would have put him 15th in the league.
Unlike Freddy Peralta and his other staff-mates, Lauer was not a strike out pitcher. Pitching for contact, Lauer allowed his defense to go to work as evidenced by a .254 batting average against on balls in play. This number was third on the team only behind Peralta and Josh Hader, and well below the league average of .291.
While Lauer may not be a household name for Brewers fans quite yet, he certainly showed he has the makings of being another key piece to this rotation for years to come. Lauer remains under club control until 2025. The south-paw out of Kent State should be in line for the 4th or 5th rotation spot in 2022, and gives the Brewers some added strength going forward.
Eric Lauer's 2021 Season Grade: B
For more Brewers content follow me on Twitter @zachlensmire and follow us @WiSportsHeroics to keep up with everything Wisconsin sports. To read more about Wisconsin sports click here.