On and off the field, Christian Yelich is making an impact. It was announced on Thursday by the MLBPAA that Yelich was the Brewers' recipient of the MLBPAA Heart and Hustle Award.
Last year, the Milwaukee Brewers' recipient was Jace Peterson. This year's recipient is Christian Yelich. He also received the Heart and Hustle Award back in 2014 with the Miami Marlins.
What is it?
Every year, the Major League Baseball Players Alumni Association (MLBPAA) recognize one player from each team that demonstrates their passion for baseball both on and off the field. The voting is conducted only by past players and is decided prior to the All-Star Break. Once the season has concluded, one player will be selected to be the overall winner.
Yelich's Comeback
Christian Yelich has been on a tear this season; Some could argue he's returned to his 2018 NL MVP form. After the 2019 injury put a huge setback on his performance, 2020 didn't really show much promise either. The same can be said about 2021. However, 2023 has showed a lot of promise in the return of MVP Yelich. It's no 40 home-run type of season for him, but Christian Yelich has arguably become one of the top hitters in baseball in just the last two months.
He's slashing .286/.369/.475 with an OPS of .844, 16 homers, 60 driven in, and 22 stolen bags. And yet, we're still scratching our heads as to why and how he didn't get an All-Star roster spot this year…
This resurgence in Yelich has been a positive impact for the Brewers as they look to claim the NL Central as their own once again. Yelich recently hit a huge milestone in his career: 10 years in the business, six of those being with the Milwaukee Brewers.
Off the Field Achievements
Outside of baseball, Christian Yelich is an active member in the Milwaukee community. Yelich joined the American Family Insurance family as a brand ambassador back in 2019. Since then, he's been looking to make an impact on local communities and giving back to those in need.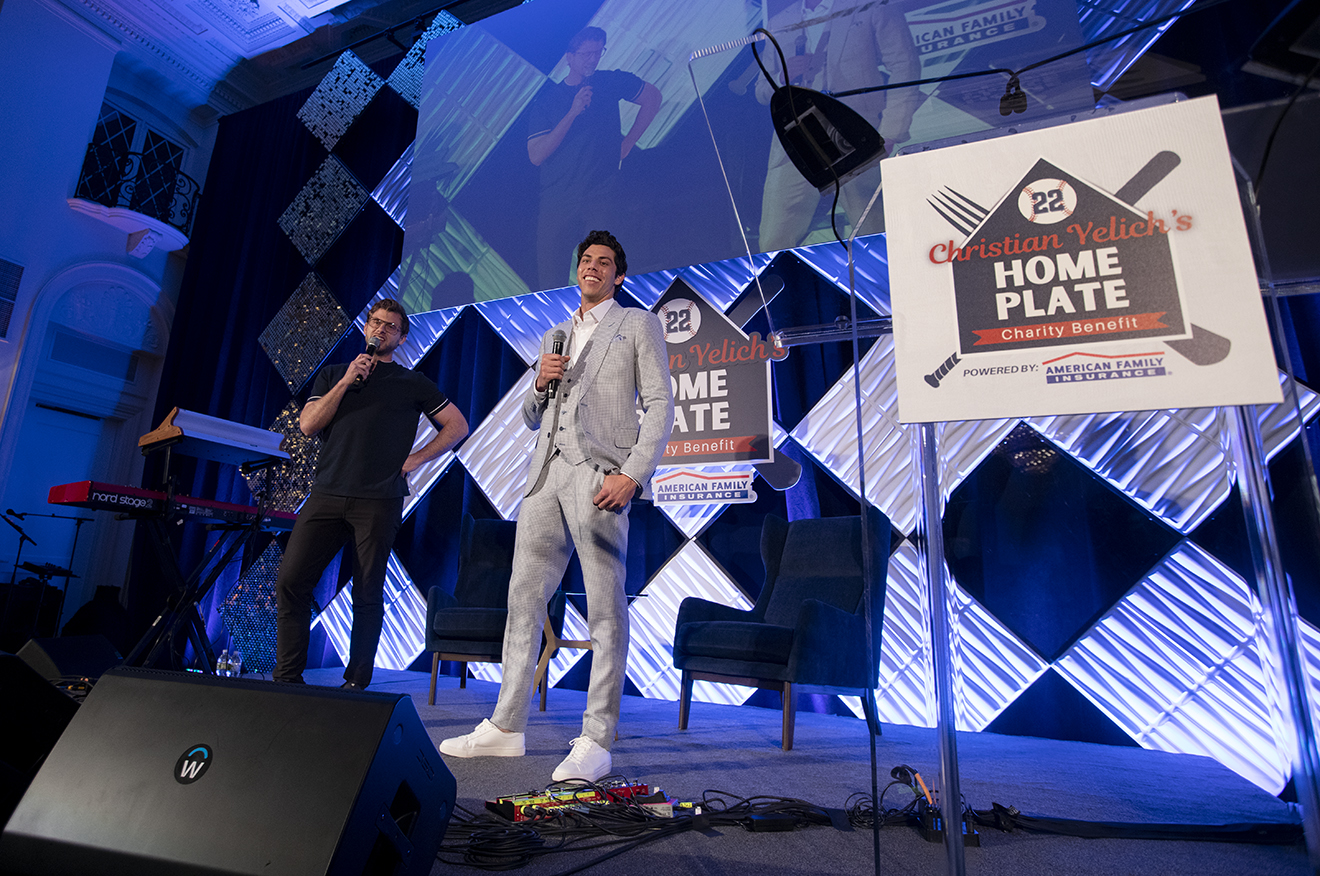 Recently, Yelich and American Family Insurance put together a charity dinner gala, "Christian Yelich's Home Plate Charity Benefit." According to the Yelich Home Plate website, this benefit was a "lively evening raising money for economically disadvantaged little league teams in the Milwaukee Area." This event was able to raise over $300,000 for the little league fields and teams.
THANK YOU… to my Milwaukee family for coming out and helping us raise over $300,000 that will directly help our cities little league fields and teams. I'm lucky to be able play in such a special place. pic.twitter.com/RvfqXAeqc1

— Christian Yelich (@ChristianYelich) May 13, 2023
During the 2020 Covid-19 Pandemic, Yelich and Ryan Braun teamed up with Wisconsin organizations to help provide meals to healthcare workers at Children's Hospital, Aurora Health Care, Ascension Wisconsin, and Froedtert Hospital & Medical College of Wisconsin.
California Strong
Christian Yelich, along with Mike Moustakas, Mike Attanasio, former Brewer Ryan Braun, and Rams' Quarterback Jared Goff, teamed up with the Southeast Ventura County YMCA to create California Strong, an organization that aims to raise money and awareness to support those who were affected by the wildfires in California and the Borderline Shooting in Thousand Oaks.
Taylor Hooten Foundation
Yelich is also apart of the "All Me League" with the Taylor Hooten Foundation. From the website, the Taylor Hooten Foundation (THF) "was formed in 2004 in memory of Taylor E. Hooten, a 17-year old high school student from Plano, TX. Taylor took his own life on July 15, 2003 as a result of using anabolic steroids."
The website also states, "THF is the leader in educating youth and adult influencers on the dangers of anabolic steroids, human growth hormone, dietary supplements, and other Appearance and Performance Enhancing Substances."
The "All Me League" is a way to raise awareness of the growing use of appearance and performance enhancing substances. Professional athletes, such as Christian Yelich, have taken a pledge to compete and live without using these substances.
Congratulations to Christian Yelich on his second Heart and Hustle Award.
Follow me on Twitter at @sarahspooon and follow us at @WiSportsHeroics. We cover all things Wisconsin sports from the Green Bay Packers, Milwaukee Brewers, Milwaukee Bucks, and Wisconsin Badgers. Click here to see our top stories.