The Green Bay Packers' 2022 season ended two weeks ago thanks to their division rival, the Detroit Lions. Fans have had time to digest the high and lows that the year brought. No matter how one looks at it, the season was a failure. Coaches and players have equal blame to how things panned out. However, let's take some time to evaluate how each position on offense faired this season and if there should be sign of concern for 2023:
Quarterbacks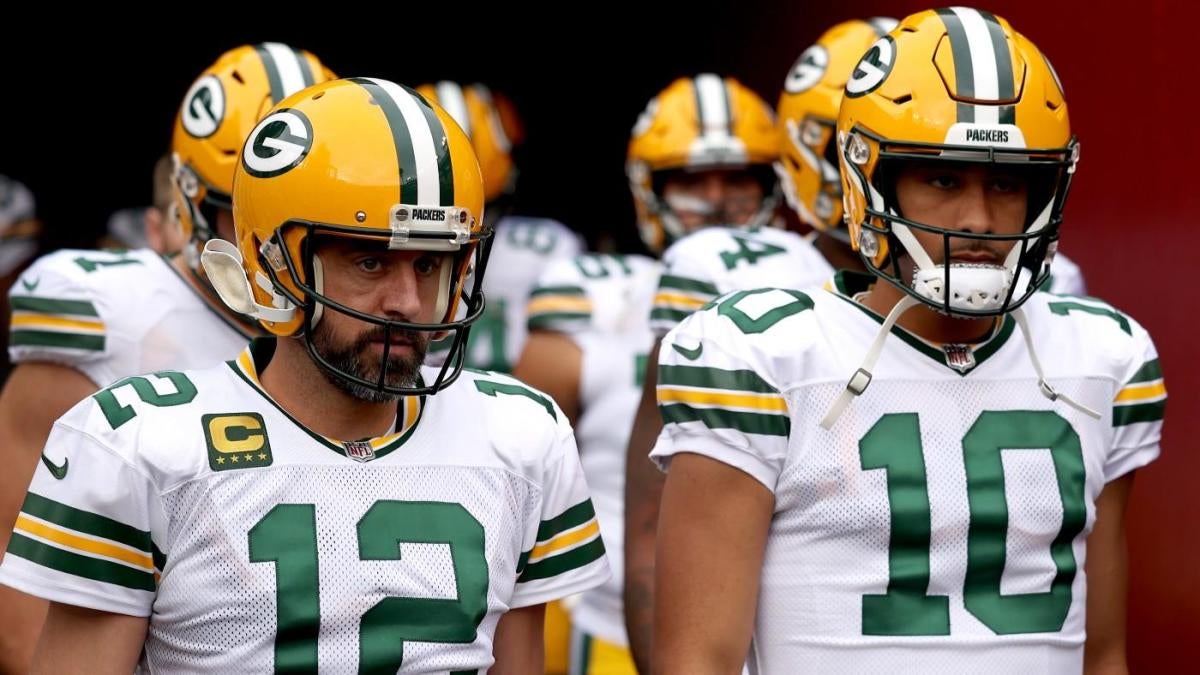 There was a ton of noise coming into the 2022 season on how Aaron Rodgers would respond to losing Davante Adams. The thought of making another run for NFL MVP was virtually impossible. I think it is safe to say that Aaron Rodgers having a declining year was more evident than not. However, no one expected him to have as much of struggling year as he did. There were quite a few factors that played into this. Age? Yes. Decline in play? Yes. But, what a lot of media members and fans tend to forget is that Rodgers was given a new offensive coordinator and a magshift and rebuilt wide receiver room. It is very difficult to play at an MVP level with all those things coming at a quarterback all at once. On top of that, Rogers played well over half the season with a broken thumb and rib injury. I honestly believe Aaron Rodgers played as well as he could for the most part, given the adversities he faced all season. Jordan Love made  several appearances this season, most notably against the Philadelphia Eagles. He looked very poised and ran the offense like a professional. In the end, Green Bay is going to need a much more improved quarterback room next season, regardless of who is under center.
Overall Grade: C+
Running Backs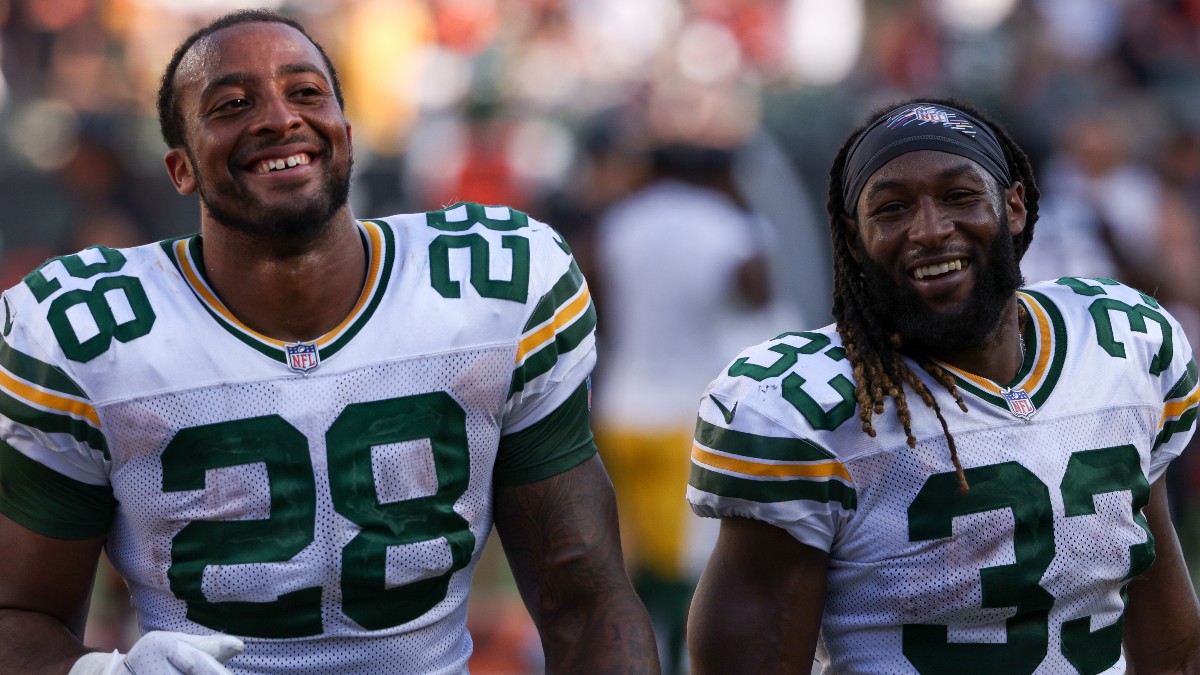 Coming into the 2023 season, people expected Aaron Jones and AJ Dillon to play a significant role in the Packers' offense. The confusing and frustrating part for most the year was Matt LaFluer and Adam Stenavich's extremely questionable methods in utilizing both players. It seemed as though at some point in the year, Green Bay could simply not decide who they wanted on the field. Towards the end of the year, we started to the Packers stick to Aaron Jones for the vast majority, which ended up being the right decision. Jones was arguable Green Bay's best offensive weapon, who also played through multiple injuries throughout the year. AJ Dillon had a down year statistically after leading the Packers in rushing yards the previous season. Things are going to very interesting going into next season as we watch the Packers' wide receiver room make strides going into 2023. Will we see the same type of production from Jones and Dillon in 2023? That will be one of the questions that will need to answered going into next season.
Overall Grade: B
Wide Receivers and Tight Ends
I cannot think of another position group in the NFL with the most eyes watched on and most scrutinized by the media. The Green Bay Packers had to know things were going to a struggle this season with their wide receiver room. Three rookies, two injury riddle veterans out of their prime, and a new number one target with not much experience. Also an extremely under-whelming third round talent. What else could have gone wrong? Needless to say, this group performed exactly how I thought they would. I was not too high on the production of the wide receivers due to injury history and overall experience. One of the brightest spots that I think brings a ton of optimism was Christian Watson's emergence and Romeo Doubs' potential he flashed in the preseason and early in the regular season. The tight end room was essentially a foregone conclusion as there was really was not a bright spot there all season. The only thing I can think of on a positive note was Josiah Deguara's utilization as an H-back. That is definitely a reason why a tight end needs to be an early addressed position in the 2023 NFL Draft.
Overall Grade: C
Offensive Line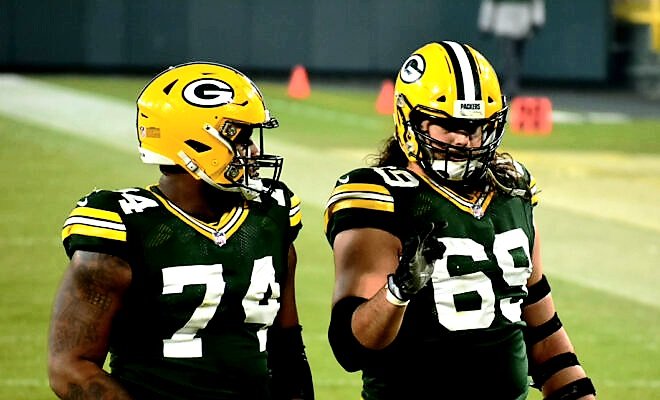 The offensive line was another major concern of mine going into the 2022 season. David Bakhtiari had not played very meaningful snaps in almost a year and a half. Elgton Jenkins was recovering from injury. And, Royce Newman and Jake Hanson were starting on the same side of the line. Things seemed to be a recipe for disaster. But, Jenkins and Bakhtiari both worked their ways back into the starting lineup. Additionally Zach Tom showed his potential and played extremely well as a rookie. It is going to interesting to see how Green Bay addresses this group in the offseason as David Bakhtiari is due almost $20 million and Yosh Njiman struggled badly at right tackle. Josh Myers also has not played very well for a second year starting center. Will the Packers move on from Bakhtiari and Njiman?  Will they groom Tom into the new left tackle and address the center position in the draft? The only player that is really safe from criticism is Jon Runyan, Jr, who is possibly Green Bay's best and most consistent offensive lineman. This position group could be right up there with the secondary room as the positions needing the most improvement in 2023.
Overall Grade: C
Follow me on Twitter @ChrisBuboltz and follow us @WiSportsHeroics for more great content! To read more of our articles and keep up to date on the latest in Wisconsin sports, click here. Also, check out our merch store for some amazing WSH merchandise!