On the same weekend, on January 20th and 22nd, the Wisconsin Badgers wrestling team will face two of their toughest opponents this season. The long-awaited dual meets against Purdue and Iowa are quickly approaching. After extending the losing streak, it is do or die for the Badgers, and it all starts on Friday against Purdue.
Two exciting dual meets the Badgers must win
The first test for the Badgers will come against the Purdue Boilermakers. Purdue is coming off big losses to Iowa and Illinois being outscored 68-15 in the two meets. Purdue's #10 Matt Ramos gave #1 Spencer Lee a serious run for his money at 125 pounds with the score being 8-1 before Lee came back and pinned Ramos. At 157 pounds, #3 Kendall Coleman has been nearly perfect with a 22-2 record thus far.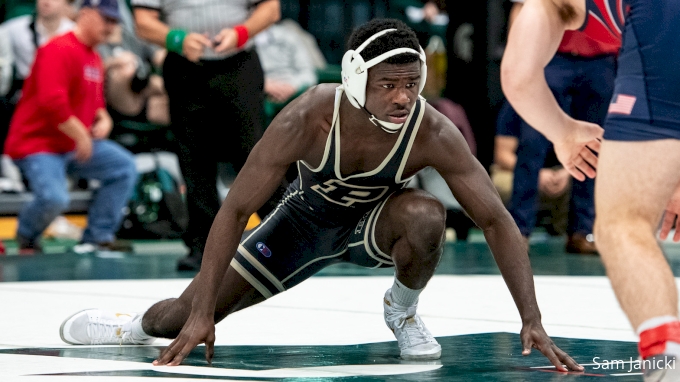 At 141 pounds, #15 Parker Filius has been challenged quite a bit and could face another one against the Badgers. Purdue has struggled to make the most of their matches and salvage points. Outside of Ramos, Coleman, and Filius, their squad does not have as much talent as the Badgers. Expect wrestlers like Dean Hamiti, Eric Barnett, and Trent Hillger to overpower their opponents and come back from their losses last meet.
The Iowa Hawkeyes present a serious challenge
While the Boilermakers are not in the best position currently, a team that certainly has been in Iowa. There is no way to talk about Iowa without mentioning the sensational Spencer Lee. Lee won his third championship at 125 pounds last year outscoring his five opponents 59-8 in the tournament. Lee hasn't lost in nearly 50 straight matches, and with the way he has wrestled this year, the young man is almost a guaranteed six points. He is coming off of a first-period pin against #3 Michael DeAugustino.
That man 𝙙𝙞𝙛𝙛𝙚𝙧𝙚𝙣𝙩. 🥵 @LeeSpencerlee36 demonstrating the gap with a pin on #3 DeAugustino.@Hawks_Wrestling x @B1GWrestling pic.twitter.com/Ei6mT4xifd

— Big Ten Network (@BigTenNetwork) January 14, 2023
Eric Barnett will face off against Lee following his upset loss to Jack Medley of Michigan. Barnett will certainly not have an easy road, but a win against Lee would be monumental for the Wisconsin Badgers' confidence. Spencer Lee might be the main attraction, but the Hawkeyes will bring a serious lineup against the Badgers.
At 141 pounds, #2 Real Woods boasts a career 42-8 record, and the Stanford transfer is on another level this season. Woods is another serious competitor alongside Lee, but the Hawkeyes also have #3 Tony Cassioppi at heavyweight attempting to stay perfect this year. The Badgers are going to face some of the best competition they have seen this year against Iowa, and it will take some magic to get the meet win. The Badgers can win if they control the pace of each match and intelligent shoot for the takedowns given to them.
For more:
Follow us @WiSportsHeroics for more great content. To read more of our articles and keep up to date on the latest in Wisconsin sports, click here! Check out 97.3 The Game on iHeart Radio!