From 2020 to 2021, the Green Bay Packers advanced to consecutive NFC Championships for the first time since 1996-1997. On paper, the argument can be made that they have one of them most talented rosters in the NFL. Despite this, there are still players that did not meet expectations last season. Let's take a look at which are due for a breakout season in 2021:
1. Preston Smith
One of the most disappointing players last season for the Packers was Preston Smith. In 2019, he recorded 56 tackles and 12 sacks. However, in 2020, he only had 42 tackles and four sacks. One reason for the lack of productivity was that at times, former defensive coordinator Mike Pettine had some very questionable defensive schemes that lined up Smith in zone coverage. This essentially took Smith out of plays and took away opportunities to make plays. This was not the sole reason for Smith's lack of production. There were questions during the season about his conditioning and out on the field, he simply just did not look like himself.  There were talks about Smith being a potential trade target. This should serve as motivation for the outside linebacker out of Mississippi State. With that being said, I am expecting a large breakout year for Preston Smith.
2. Billy Turner
Another player who was mentioned in trade talks was Billy Turner. Turner has been questioned during his tenure with the Packers on whether or not he has been living up to his contract he signed in 2019. With the absence of David Bakhtiari temporarily, Turner has a tremendous opportunity to slide into the left tackle position and improve his game. With the signings of Cole Van Lannen and Royce Newman, Billy Turner should not have many worries about being benched during this season. If Turner is looking to stay long-term with the Packers, he is going to have use this season to put all the piece together. I  do personally believe that Billy Turner can have a future in Green Bay.
3. Devin Funchess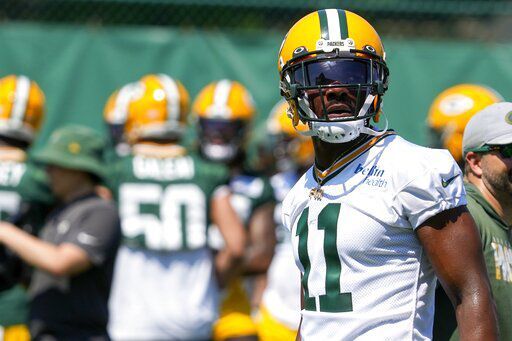 Devin Funchess has had an unorthodox career in Green Bay thus far. The Michigan product sat out last season due to the COVID-19 pandemic. It remained unclear if Green Bay was going to keep Funchess on his one year deal for this coming season. But, given the current wide receiver contracts, the Packers needed him this season. Despite sitting out for a year, Green Bay fans should feel pretty good about Devin Funchess. With the injury concerns of Allen Lazard and Amari Rodgers in his rookie year, Funchess is going to get his targets. Devin Funchess is going to be one of the most exciting Packers to watch this season and is ready for a breakout year.
Follow me on Twitter @ChrisBuboltz and follow us @WiSportsHeroics for more great content! Check out our merch page here. Use Promo Code WISCO at checkout to get $1 off your order. To read more of our articles and keep up to date on the latest in Wisconsin sports, click here