The Green Bay Packers fell last Sunday to the Minnesota Vikings. Everything seemed as though to go right for Vikings, but to their credit, the Packers defense did struggle. Green Bay will have to put this loss behind them as they prepare for the Los Angeles Rams. Los Angeles is one of the top teams in the NFC, who most notably acquired Odell Beckham Jr. a few weeks ago. This is not going to be an easy test for the Packers. Additionally, the Rams by far have one of the most electrifying passing attacks in the NFL. Joe Barry is going to need a solid game plan to slow down the Rams' offense. Let's take a look at three predictions for this game:
Cooper Kupp Has Over 200 Receiving Yards
I hate to say it, but there is no denying that the Rams' Cooper Kupp is a legit NFL MVP candidate. The Rams' receiver already has over 1,000 yards and 10 touchdowns. With Jaire Alexander still out, I really do not think there is another cornerback on this roster who can matchup with Kupp. This is where Joe Barry is going to have to get creative with the talent that he has. Not only does Kupp have to be accounted for, there is also Tyler Higbee and Odell Beckham Jr. Needless to say, the Packers' defense will have their hands full. Do not be surprised if Cooper Kupp ends up having a career day on Sunday.
AJ Dillion Gets Over 20 Carries
The status of Aaron Jones' availability for Sunday remains in question. My gut feeling is that the Packers will play it safe and not activate him. The positive side of this is that Dillon has proven that he can be trusted as a featured back. The one thing that does concern me, however, is how the Packers' young offensive line will hold up against the likes of Aaron Donald and Von Miller. If Dillon cannot produce on the ground, the Packers are going to have a tough time winning. Not having Elgton Jenkins the rest of the season is a major blow to the Packers' offense. Because of this, players such as Billy Tuner and Yosh Nijman are going to need to have their best games of the season. Do not be surprised to see a lot of AJ Dillon again on Sunday.
Green Bay Falls Against The Rams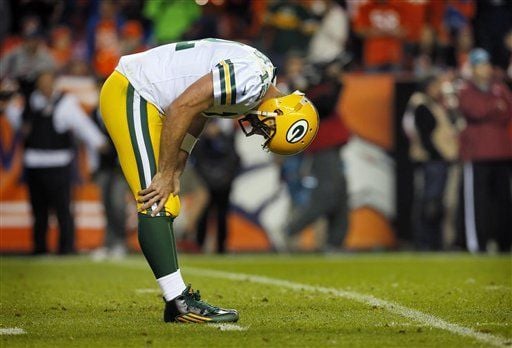 There is no way to sugarcoat that Green Bay has too many star players banged up. One positive is that the Packers' bye week is next week. Green Bay is going to need that time to evaluate where those players are at in their recovery and see who will be ready for the homestretch of the season. At the end of the day, I think the injuries plaguing Green Bay will be too much to overcome. The Rams' passing attack will overwhelm the Packers. I would not be shocked if we see things unfold like they did against Minnesota. My fear is that the defense might be on the field again too long without rest. Taken all of this into consideration, I do not see the Packers coming out on top against the Rams.
Follow me on Twitter @ChrisBuboltz and follow us @WiSportsHeroics for more great content! To read more of our articles and keep up to date on the latest in Wisconsin sports, click here.