Randall Cobb believed he was cursed.
Part of the NFL's 2011 draft class, he arrived in Green Bay the season after they won the Super Bowl. Although Cobb and the Packers had quite a few very promising runs during his eight-year tenure in Wisconsin, they ultimately failed to reach another championship.
To the dismay of Packers fans everywhere, Cobb was released in 2019 and signed by the Dallas Cowboys. As if his exit wasn't painful enough, Cobb was forced to sit at home during the postseason that year and watch his former team play in the NFC title game. 
Green Bay was on the verge of another Super Bowl appearance, and once again, Randall Cobb was missing out.
Cobb: "I must've been the problem."
During Thursday's press conference, Randall Cobb fielded a variety of questions from reporters. Unsurprisingly, many of them centered around his exit from and subsequent return to the Packers.
At one point, the wide receiver was asked what it means to be back in Green Bay this season – only a few wins away from hoisting the Lombardi Trophy – having been "so close, so many times."
Cobb's answer was unexpectedly candid, detailing how difficult the past several years have been for him.
"It was rough. It was hard," he expressed, referring to the Packers' 2019 championship run. "I was definitely in a dark place when they played the 49ers in San Francisco. In my mind, I'm like, 'Man, they won the year before I got there… and they're getting ready to go [to the Super Bowl] the year after I left."
As a result, Cobb began blaming himself. "I must've been the problem. It must've been me," he thought.
"I remember the day of that game," Cobb later added, reminiscing about the NFC title game between Green Bay and San Francisco. He explained honestly, "I couldn't talk, didn't want to be around anybody. I was sitting in a room by myself – I wouldn't even let [my wife] watch the game with me – and I went in a room by myself and watched the game. It was a dark place. I was actually really worried about myself mentally… That was heavy for me to deal with."
Cobb Returns Home
In late July, news broke that Green Bay had reached an agreement with the Houston Texans to re-acquire Randall Cobb. Packers quarterback Aaron Rodgers – who was embroiled in an ugly dispute with the team's front office at the time – reportedly had a lot to do with this deal. As one reporter at Cobb's press conference put it, "Aaron Rodgers basically said, 'I'm not coming back without Randall… I want my guy with me.'"
To Cobb, that meant the world. #12 and #18 have long thought of each other as more than teammates, or even close friends. They consider themselves family. "He trusts me, knows who I am," Cobb said of Rodgers on Thursday. "He knows what I'm capable of, and he believes in me. I try to prove him right every chance I get."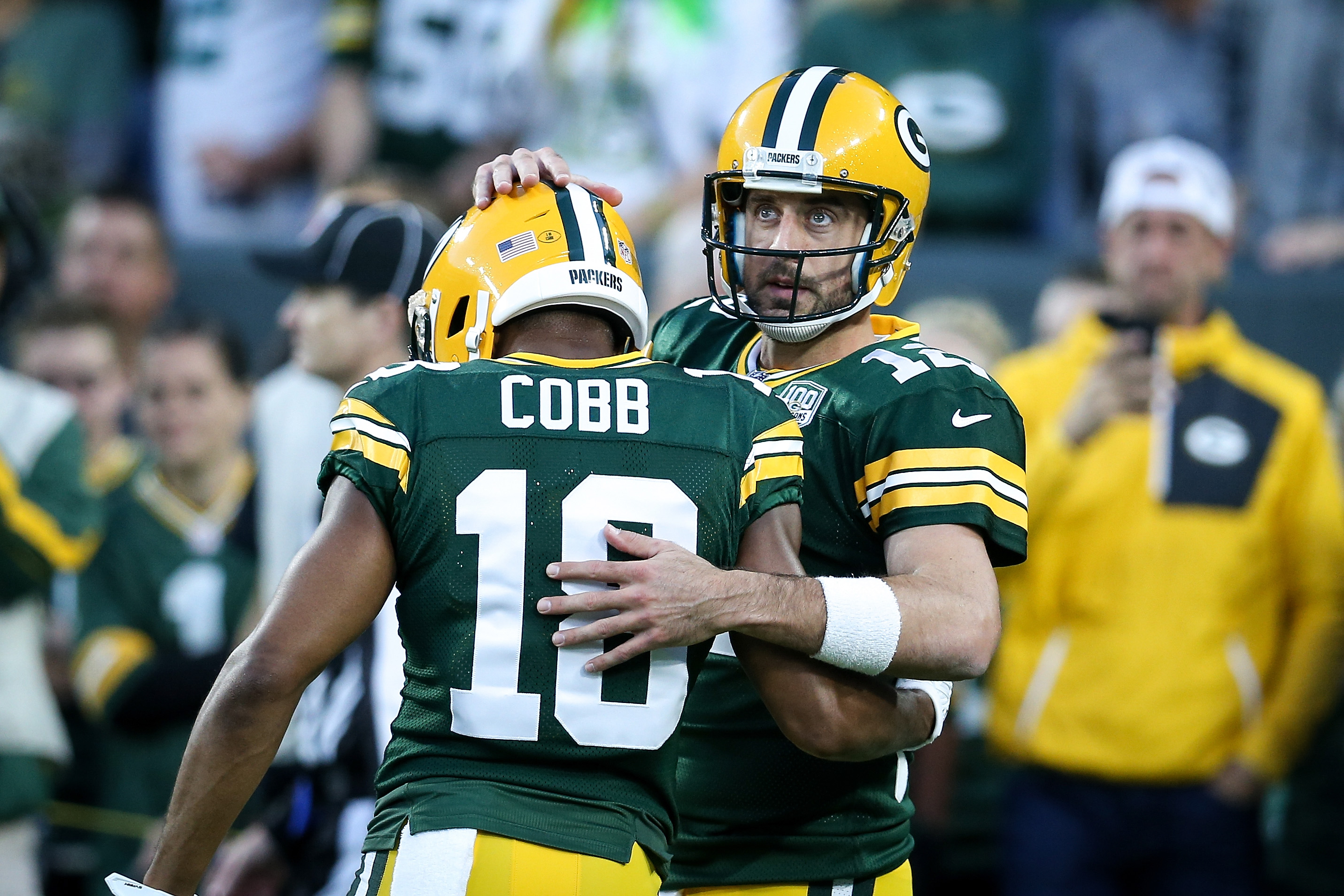 The 11-year veteran was having a riveting season back in the Green-and-Gold, amassing 375 yards and five touchdowns. Unfortunately, his time was cut short after being injured against the Rams, undergoing core surgery and a lengthy IR stint.
Looking Forward
Fans rejoiced on Thursday when the Packers officially cleared Cobb for Saturday's divisional playoff match. The beloved WR will now have the chance to play for the first time since Week 12. But more importantly, Cobb is only two games away from achieving his lifelong dream of going to the Super Bowl.
In other words, from proving to himself he's not cursed. That he's not "the problem."
After two less-than-stellar years away, Randall Cobb's journey has led him back to Green Bay. To the place he loves. The place where it all began. The place he calls "home."
Reaching the pinnacle of NFL success – this year, especially – "would mean everything" to Cobb. "It definitely would be a storybook ending."
For More Wisconsin Sports Content:
Follow me on Twitter at @mal__allen and follow us @WiSportsHeroics! For the latest in Wisconsin sports, click here. Check out our merch store to get some awesome WSH swag!