In the first two parts of this four part series, I currently have the Green Bay Packers sitting at 6-2. The first half of the season does not appear to be overly difficult. The second half, however, looks to be very challenging. Green Bay is going to be in a dogfight starting in November and will be tested from there on out. Let's a look at the Packers' next four opponents and how things may play out:
Week 9- Kansas City Chiefs
In a Sunday night  matchup, Aaron Rodgers squares off against the phenomenal Patrick Mahomes. This will be, without a doubt, one of the top games of the entire NFL season.  When looking at this matchup, I cannot see it being anything else than a see-saw battle. Both offenses are going to score their points. At the end of the day, the deciding factor could be which defense will stand their ground and force a late game turnover. I do think that Green Bay will be able to force that turnover, but, that might not be enough to secure a win. To beat a team of  Kansas City's caliber , it is going to take a clean and near perfect performance on offense and defense. Can Green Bay play to that standard? They have shown they can, but not often. With a field goal coming at the end of regulation, I do have the Chiefs coming out on top in this matchup.
Prediction: Packers: 42, Chiefs: 45
Week 10- Seattle Seahawks
The part that seems frustrating is that the Packers can never catch a break on not having to play the Seahawks in the regular season. Very similar to the 49ers, Seattle can truly be a pain in Green Bay's side. Going into this matchup, though, the Packers have quite a few advantages in their favor. The first is that they are at home, in which Green Bay is 4-0 against the Seahawks since 2008. The second advantage is that the game is in mid-November, so the elements favor a midwest team over a west team. This is not going to be a blow-out game by any stretch of the means. When a team has a player such as Russell Wilson on their side, a comeback is surely not out of the question. I do believe in the end, Green Bay continues their winning streak at home and bounce back after a loss on the road to Kansas City.
Prediction: Packers: 28, Seahawks: 17
Week 11- Minnesota Vikings
For the past several seasons, Green Bay and Minnesota have been the top dogs of the NFC North. Picking the winner of these matchups has been a tossup and could go both ways. Last season, the teams spilt the series 1-1 with the road team winning each game. Dalvin Cook ran over the Packers' defense last season, and I do not see that changing for as long as he is under contract in Minnesota. But, the part I am not convinced of is  that Kirk Cousins can keep the passing attack consistent to secure a win. A huge win for the Packers defense would be to contain Cook and make Cousins beat them with his arm. That scenario, however, I cannot see happening. Dalvin Cook will have himself a game, but the Packers will pressure Kirk Cousins all game and escape U.S. Bank Stadium for a critical division win.
Prediction: Packers: 21, Vikings: 17
Week 12- Los Angeles Rams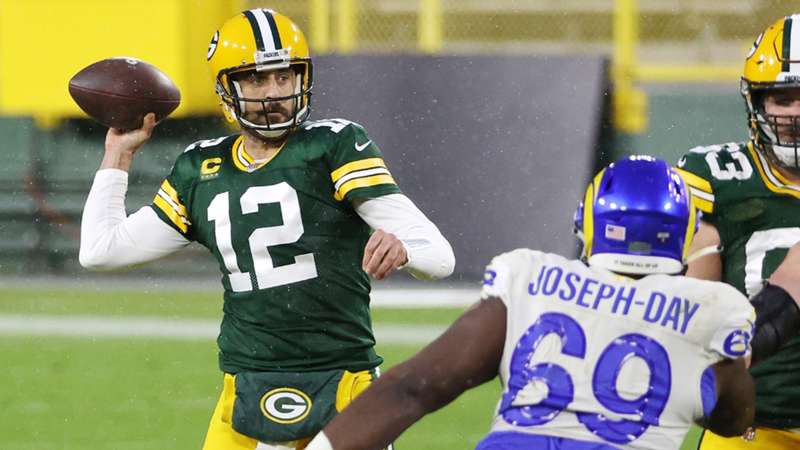 In a late November game at chilly Lambeau Field, the Packers welcome their NFC Divisional opponent from last year, the Los Angeles Rams. This Rams squad is going to look a bit different from last year. One change is a quarterback upgrade in Matthew Stafford. The second change is that the Rams will be without the services of second year running back, Cam Akers. The Packers were able to keep the #1 defense in the NFL mostly in check last season, thanks in part to a solid defensive scheme. I am anticipating though that this will be a much more competitive game. Matthew Stafford finally has a defense that he can rely on and won't have to put the entire team on his shoulders. All of this spells out another back and forth game, with the Packers coming out on top, thanks to a Mason Crosby winning field goal.
Prediction: Packers: 38, Rams: 35
Follow me on Twitter @ChrisBuboltz and follow us @WiSportsHeroics for more great content! Check out our merch page here. Use Promo Code WISCO at checkout to get $1 off your order. To read more of our articles and keep up to date on the latest in Wisconsin sports, click here.