Green Bay Packers rookie linebacker Quay Walker faced fierce backlash for shoving a Detroit Lions trainer during Sunday night's game.  The league is reportedly still reviewing the incident where Walker shoved Lions team physician T. Sean Lynch.  It took place late in the fourth quarter as Lynch attempted to reach an injured D'Andre Swift.  Here is a video of the altercation:
Quay Walker needs to be suspended too, should never shove an Athletic trainer, who does he think he is pic.twitter.com/6dBzCabWiB

— Alex Micheletti (@AlexMicheletti) January 9, 2023
This isn't the first time Quay Walker was ejected from a game in 2022.  The first time came against the Buffalo Bills in week eight.  This is a video on that incident:
Quay Walker got ejected twice this year. BOTH times for shoving staff on the opposing team. This was the first one vs the Bills

— Zach Schwartz (@zachzachzach) January 9, 2023
NFL Reportedly Won't Suspend Packer Linebacker Quay Walker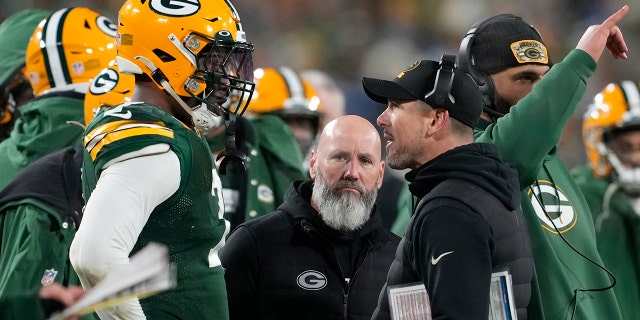 According to Fox News, the NFL is not expected to suspend him for what Quay admitted was "another stupid decision."  Quay Walker apologized for the incident after the game:
"I want to apologize publicly about what happened Sunday night. I reacted off of my emotions again and take full responsibility of making another stupid decision. Since then I've questioned myself on why did I do what I did when the trainer was doing his job!! I was wrong!!" Walker said in a tweet.
Matt LaFleur was asked about both of Quay Walker's ejections after the week 18 loss:
"That is unacceptable," LaFleur said. "I've got a much higher standard for our players than to do silly things like that. We've got a guy ejected twice. I don't think I've ever seen that in my career. We've got to be much more mentally tough. Any time our guys commit personal fouls I take that very personally because I think that's always a reflection of myself and the standards we set for these players. And we've got to be better and we've got to learn from that because that is unacceptable."

"I'll never defend the action, but I'll defend the person. … I don't think Quay is a malicious person. Got to find a way to better channel his emotions in the heat of the battle."
No one is excusing what Quay Walker did on the field.  He apologized for his actions himself.  However, a 22 year old rookie will make mistakes.  Quay Walker finished the season tied for the most tackles by a rookie in a single season in Packers history.  He tied AJ Hawk's record of 121.  Walker's best football is certainly ahead of him, eliminating the mental errors will be his biggest obstacle in his career.
For More Wisconsin Sports:
Follow me on Twitter at @mcquadewarnold, follow us @WiSportsHeroics, and listen to our Podcast, The Cheese Dads NOW with Legendary DT Gilbert Brown! You can also reach out to McQuade Arnold via email at mcquadewarnold@gmail.com. To read more of our articles and keep up to date on the latest in ALL of Wisconsin sports, click here!