There has been lots of talk about the Packers and quarterback Aaron Rodgers. The Packers have taken criticism for not doing enough for Aaron Rodgers. Everybody states the Packers have not given him enough to help him succeed. Yes the Packers could have done some things better. Despite that, they have done a lot for Aaron Rodgers throughout his entire career. Here are the things the Packers have done for Aaron Rodgers.
The Packers Did Not Rush Aaron Rodgers Into the Starting Lineup
Believe it or not, Aaron Rodgers was not ready to be thrown into the starting lineup when he was drafted. He definitely had to work on his mechanics before becoming the quarterback he is today. Brett Favre did not do a lot to help Rodgers at all. Still, the Packers did the right thing letting him sit for his first couple of years. This allowed him to watch and see how to become a franchise quarterback. This certainly helped him as when the Packers moved on from Brett Favre and he was ready to be the face of the franchise. It really worked out and the Packers did the right thing for Rodgers when drafting him.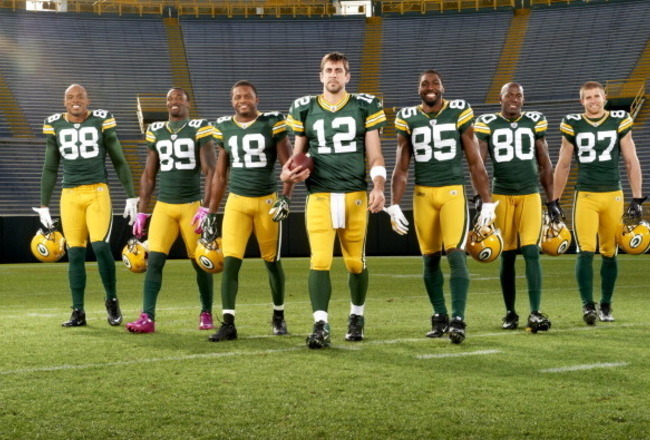 Aaron Rodgers Has Had Six Pro Bowl Wide Receivers in His Career With The Packers
Aaron Rodgers has without a doubt has had lots of guys to throw to. Rodgers had had six pro bowl receivers to he has thrown to in his entire career. Those receivers were Greg Jennings, Donald Driver, James Jones, Jordy Nelson Randall Cobb, and Davante Adams. Yes the guys were not first round wide receivers, but that does not matter. They were all weapons for Aaron Rodgers on the Packers offense. In addition, more then half of those guys have had at least one or more double digit touchdown seasons. The Packers made sure Aaron Rodgers had guys to throw to throughout his entire career.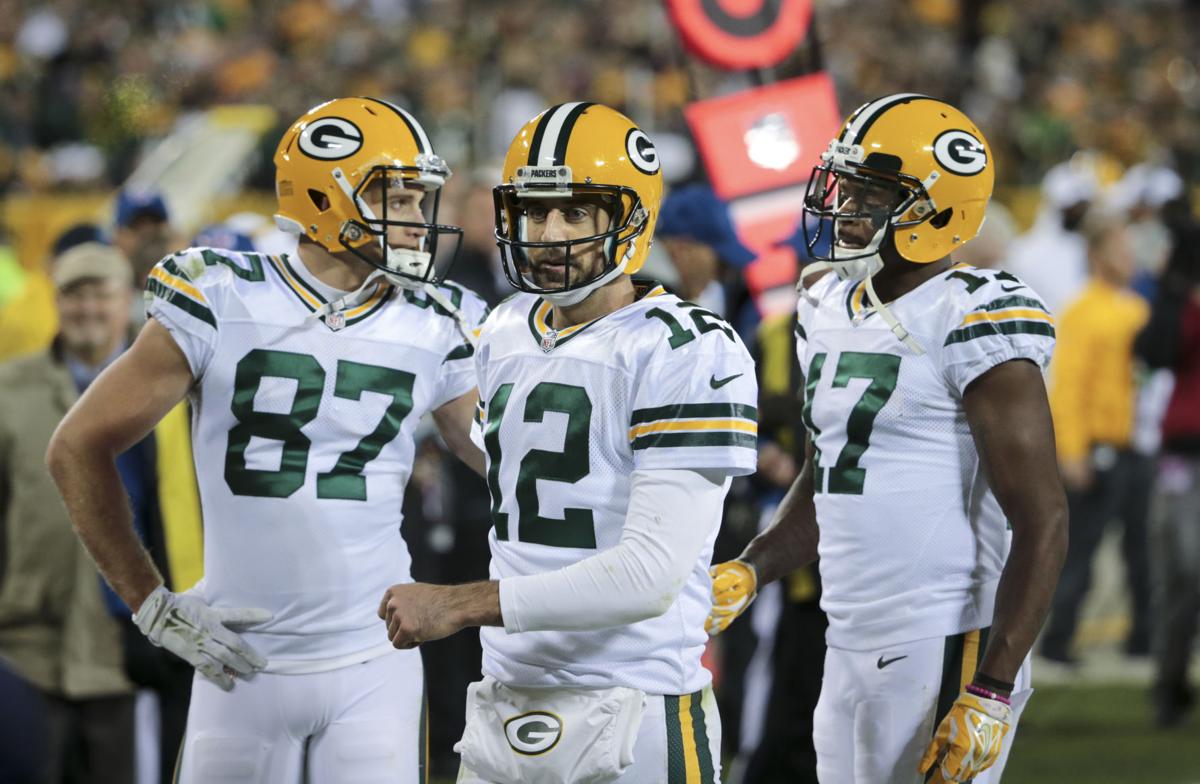 Packers Made Sure He Always Had a Number One Wide Receiver to Throw to
The Packers did a fantastic job making sure Aaron Rodgers has a top guy to throw to. Rodgers has had three number one wide receivers in his career. Those guys were Greg Jennings, Jordy Nelson, and finally Davante Adams. Each of those three players were guys Rodgers he can go to when he needed a clutch play. Not a lot of quarterbacks can say that in their career. In addition, teams are having a hard time to find a number one wide receiver. Look at the Baltimore Ravens, Philadelphia Eagles, Pittsburgh Steelers, and the Cincinnati Bengals as good examples.
Dominant Offensive Lines
Why does Aaron Rodgers state he has good years left in him? Because he is a one of a kind generational quarterback. Also, due to dominant offensive lines, he has had for most of his career. He has not endure tons of beatings in the NFL due to great lines he has had. The Packers offensive line has constantly ranked in the top ten almost every year. On top of that, Aaron Rodgers has played with TEN pro bowl offensive linemen. That is pretty insane. He also has played with four pro bowl centers in that span as well. The Packers clearly know what the definition of protecting the franchise means. I know Aaron Rodgers is grateful for the great offensive lines he has had in career.
Good To Great Coaching
Believe it or not, Aaron Rodgers had some great head coaches around him. Mike McCarthy had his flaws, but he had his part in developing Rodgers. He was there during the Rodgers Favre saga. McCarthy was also was with Ted Thompson in moving on from Brett and gave the keys to the franchise to Rodgers. Mike did good things with the Packers and Aaron Rodgers just got stale, which happens to lots of coaches. Aaron to this day thanks Mike for what he did. It just was time for a fresh start.
Matt LaFleur, who is a great coach, has done great things for Rodgers too. He has helped take the pressure off him with a offense that is quarterback friendly. He gives him a different version of a Kyle Shanahan offense that fits his skillset. Matt has shown Rodgers that he does not need to force anything and to take what the defense gives you. Thanks to Matt, Rodgers is more motivated and is playing better then ever.  Aaron Rodgers is certainly grateful for having some good coaches like Mike McCarthy and Matt Lafleur to help his development.
[pickup_prop id="6165″]
In Conclusion: Follow me @CarlosS29143608 and follow us @WiSportsHeorics for more content. Check out our merch page. Use the promo code WISCO at the checkout for 1$ off! To keep up on all of your favorite sports Wisconsin click here!