Much can be said about the Green Bay Packers' 2021 regular season. First and foremost, it was successful in that the team went 13-4 and clinched the top seed in the NFC. Aaron Rodgers put up MVP numbers while Davante Adams climbed atop the Packers' single season record book for wide receivers. However, ever since the drama of the Aaron Rodgers offseason, a cloud has hung over the Packers. Many fans blame Jordan Love, or the front office's drafting of Love, for the MVP's discontent. Well, this season Jordan Love got his first NFL action. To be specific, he appeared in five games. We have already published an article questioning whether or not Jordan Love's future is in Green Bay. The purpose of this piece, however, is merely to compare Love's and Rodgers' performances through their first five games.
Aaron Rodgers' First Five Games
Aaron Rodgers famously dropped all the way to 24th overall in the 2005 NFL Draft. His pick was a surprise to all, and he was met with hostility from many fans. It did not matter that Brett Favre had teased retirement for years. Nonetheless, fans were not thrilled that their future Hall of Fame quarterback's replacement had been drafted (sound familiar?).
2005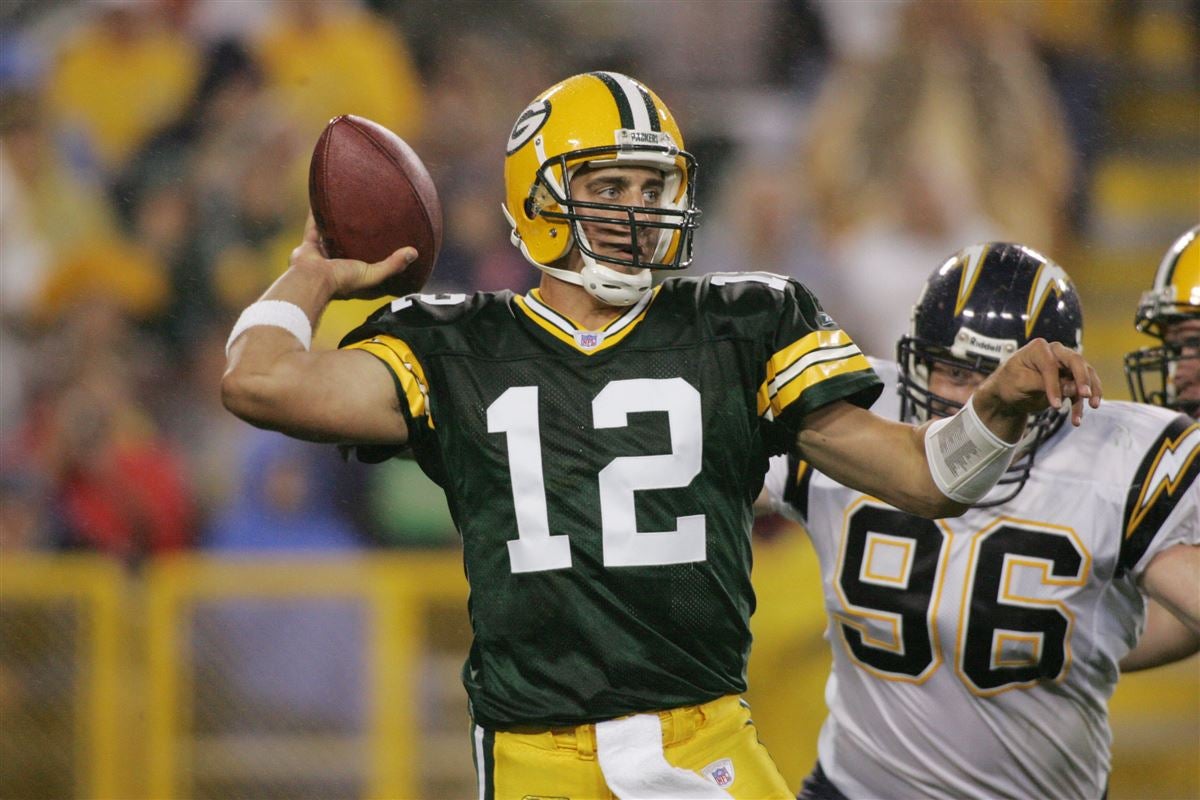 Not many people remember this, but Aaron Rodgers saw his first game action as a rookie. He made his NFL debut on October 9, 2005 against the New Orleans Saints. The Green Bay Packers won the game 52-3. Brett Favre threw three touchdown passes. Najeh Davenport had two rushing scores and the defense returned two interceptions for touchdowns. Rodgers came in during garbage time and complete one pass for 0 yards.
Later that season, the Packers were being destroyed on Monday Night Football against the Baltimore Ravens. Former head coach Mike Sherman replaced Favre, whose two interceptions that night brought his season total to 24, with Rodgers in the third quarter. Rodgers proceeded to commit three turnovers. He threw his first career interception and lost two fumbles. The Packers lost 48-3.
Aaron Rodgers saw his final action of the 2005 season in the season finale against the Seattle Seahawks. Green Bay won 23-17 to improve to 4-12 on the season. Rodgers did not throw a pass, but instead knelt down to run out the clock at the end of the game.
2006
The next season, 2006, Aaron Rodgers appeared in two games. The Packers lost both games. In the first, Rodgers appeared against the Philadelphia Eagles, completing two out three passes for 14 yards. Green Bay lost 31-9. In the second game, Rodgers played extensively against the New England Patriots. He only completed four out of his 12 passes for 32 yards. The Packers lost 35-0.
All told, Rodgers was 15/31 for 111 yards and no touchdowns in his first five games. He had one interception and a quarterback rating of 43.9.
Jordan Love's First Five Games
Technically speaking, Jordan Love appeared in six games this season. However, in two of those games, he was only kneeling down to run out the clock. There were actually four games in which Love attempted at least one pass (more than Rodgers in either of his first two seasons). Despite the immense criticism he has received from fans, Love has actually performed better than Aaron Rodgers did in his first five games.
Jordan Love saw his first action of 2021 as the Green Bay Packers were being blown out by the New Orleans Saints. Appearing in the game with the score out of hand, Love complete five of seven passes for 68 yards.
His next real action was his first NFL start. With Aaron Rodgers out with COVID, Love and the Packers traveled to Kansas City, one of the toughest stadiums to play in for visiting teams. The Packers lost 13-7 in a game they could have pulled out. Jordan Love completed 19 of 34 passes and threw his first NFL touchdown. Unfortunately, he also threw his first interception.
Jordan Love's final action this season came in the season finale, a 37-30 loss against the Detroit Lions. The Packers did not have much to play for, having clinched the NFC's top seed. Playing in the second half, Love completed 10 of 17 passes for 134 yards. He also threw a touchdown and two interceptions.
All told, Jordan Love was 36 of 62 for 411 yards. He had two touchdowns, three interceptions, and a 68.7 quarterback rating. Are these the best numbers? Far from it. However, they are better than Aaron Rodgers' first five games.
For More Great Wisconsin Sports Content
Follow me on Twitter at @theotherAdams14 and follow us @WiSportsHeroics for more great content. To read more of our articles and keep up to date on the latest in Wisconsin sports, click here!