The Green Bay Packers defeated the Chicago Bears 24-14 on Sunday afternoon. There were several great performances by the Packers. Included in this was another standout day from Davante Adams. Adams had four receptions for 89 yards, including a huge 41-yard reception to set up the Packers for a score in the fourth quarter. However, here at Wisconsin Sports Heroics, we believe in spreading the love with our studs. Here are three massive performances on the day that helped Green Bay pull out the win over the Bears.
Three Studs
Kenny Clark
Early in the game, the Packers and their fans had to hold their breaths in regards to Kenny Clark. Clark left for a while with an apparent injury. However, he reentered the game and made his presence felt. The Pro Bowl defensive tackle showed why he was worth the extension the Packers gave him last season. Late in the fourth quarter, with the Bears driving, Clark came up with two massive sacks to stop the rally. Bears' quarterback Justin Fields torched the Packers for 43 yards on the ground and proved difficult to wrap up. Clark, however, would not be duped and secured the sacks for big losses.
Allen Lazard
Allen Lazard may not show up with huge numbers in the stat sheet every week. However, he has made a name for himself as the man who will do the team's dirty work. Coming out of half time, it was revealed that he said as much to Fox's Pam Oliver when she interviewed him prior to the game.
Today Lazard not only did the dirty work asked of him, but also put up some nice stats as well. Lazard finished the day with three receptions for 27 yards and his first touchdown of the season. While he was nowhere close to leading the team in receptions or yards, his catches were nothing more than clutch. His touchdown reception tied the game in the second quarter. His other receptions resulted in first downs that extended drives. While he may not get the attention that Davante Adams gets, there is no denying Lazard is an important member of this team.
Aaron Jones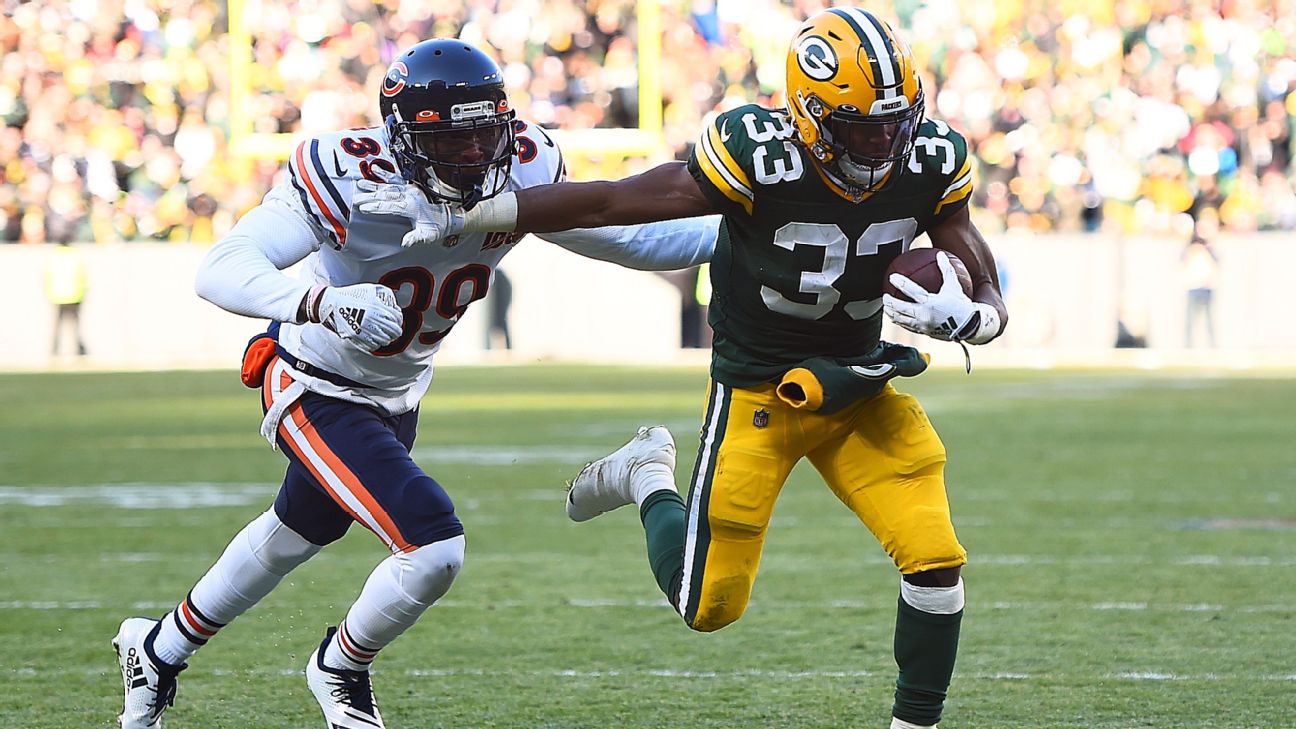 Are there enough good things to say about Aaron Jones? We do not think so. Jones, though relatively limited in his touches, made the most of them. He ended the day with 13 carries for 76 yards. Additionally, he had four receptions for 34 yards and a touchdown. Through six games, Jones already has a career high in receiving touchdowns with four on the season.
Three Duds
Royce Newman
As good as Royce Newman looked in preseason play, he as looked as bad in the regular season. Early in the first quarter, he allowed two sacks, killing Packers' possessions. The Packers' offensive line is decimated by injuries, and depth is becoming an issue. There is no room for bad performances, and Newman has been a definite weak spot on the line. Josh Meyers is hurt again and David Bakhtiari is still rehabbing his ACL. Luckily, Elgton Jenkins was back to add some stability.
Red Zone Defense
The Green Bay Packers' red zone defense has been awful all season. That continued today as the Bears scored two touchdowns in two red zone trips. The Packers have yet to make a stop of any kind in the red zone this season.
Matt LaFleur
The Packers have had a tendency of getting off to slow starts this season. For some reason, Matt LaFleur does not stick with what is working early in the game. For the past two weeks, Aaron Jones has made good plays early in the first drives of the game. However, LaFleur has not stuck with it and instead has tried deep throws downfield. Fortunately, it has not come back to bite him yet, but better teams are coming up on the schedule.
[pickup_prop id="7067″]
For More Great Wisconsin Sports Content
Follow me on Twitter at @theotherAdams14 and follow us @WiSportsHeroics for more great content. To read more of our articles and keep up to date on the latest in Wisconsin sports, click here!