NBA News: The Milwaukee Bucks are headed into an interesting 2023 NBA off-season.  After their early exit from the 2023 NBA Playoffs, the Bucks moved on from their head coach Mike Budenholzer.  In a somewhat surprising move, Milwaukee hired Adrian Griffin as the next head coach.  They also recently hired assistant coach Terry Stotts.  Now the Milwaukee Bucks will likely start retooling their roster before the 2023-24 NBA season in order to push for a second championship in four years.  One reporter thinks the Bucks could target NBA Champion Kevin Love to help with that run.
Milwaukee Bucks Anticipated To Target Kevin Love In Free Agency
An article published by David Akerman of Heat Nation provided the realistic scenario that the Milwaukee Bucks target Kevin Love during the 2023 NBA off-season:
"Shooting guard Terrence Ross and power forward Kevin Love may be among the [Milwaukee] Bucks' free agency targets, sources told Hoops Wire," wrote Sam Amico.

Love played in 21 regular season games for Miami after getting bought out of his previous contract by the Cleveland Cavaliers. In those 21 contests, he averaged 7.7 points, 5.7 rebounds and 1.9 assists per game on 38.8 percent shooting from the field and 29.7 percent shooting from beyond the arc.

He contributed much of the same in the 2023 NBA Playoffs by posting averages of 6.9 points and 5.6 rebounds per contest while knocking down 37.8 percent of his shots from the field and 37.5 percent of his attempts from 3-point range.

The two-time All-NBA selection helped the Heat get past the Bucks in the first round of the playoffs, so it would be pretty interesting to see him switch sides and join Giannis Antetokounmpo in Wisconsin.
Could The Milwaukee Bucks Realistically Target Kevin Love?  (NBA News)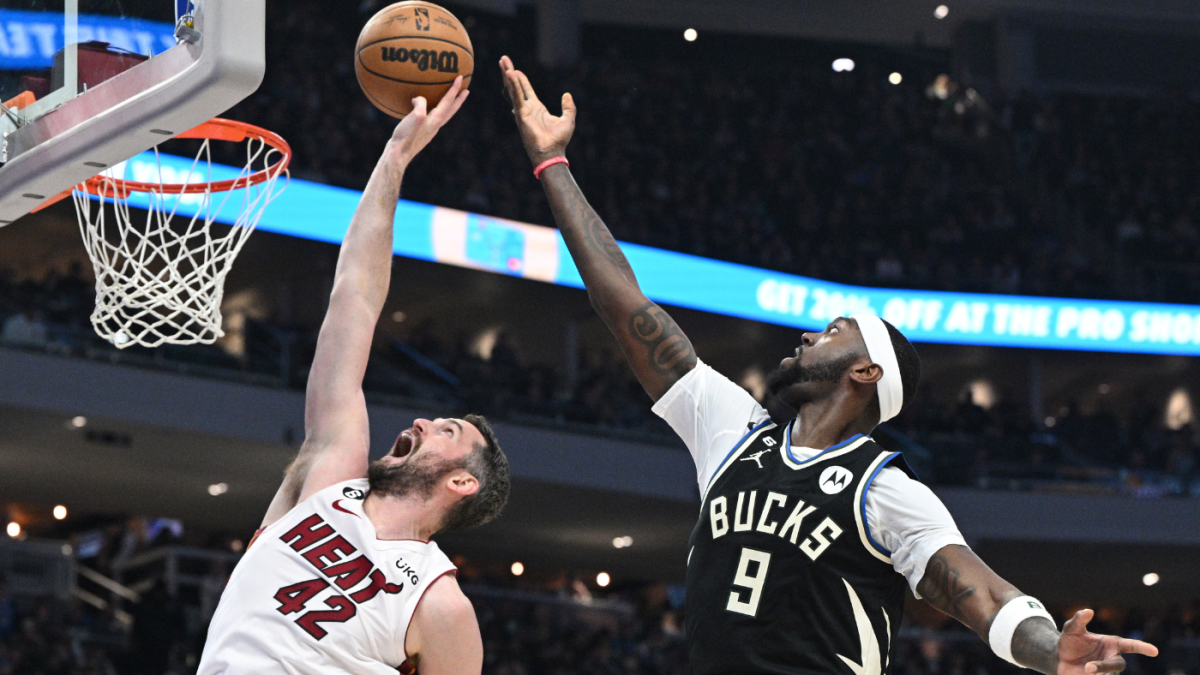 Kevin Love is eligible to sign with the Miami Heat for as much as $3.8 million due to the team's current cap situation. It is unknown if he's willing to sign for that amount.  Milwaukee has six players under contract entering this summer—Giannis Antetokounmpo, Jrue Holiday, Bobby Portis, Pat Connaughton, Grayson Allen, and MarJon Beauchamp—for a whopping $115.2 million.  That puts them about $19 million under the 2023-24 salary cap.
Going into the off-season, both Middleton ($40.4 million) and Jevon Carter ($2.2 million) had player options. Middleton, however, declined his player option.  There is strong belief he will be back on a long-term deal that is more cap friendly to the team (cap friendly being less than the $40M he was on the hook for).  It is likely Carter also declines his player option and looks for a nice pay raise.
If BOTH Carter and Middleton had accepted their player options, the Bucks would have suddenly had $157.8 million on their payroll.  That would have put them just a few million away from the luxury tax line of $162 million.  With Middleton (possibly) returning on a more team friendly deal, the Bucks could certainly match that $3.8M the Heat can offer Kevin Love.  Of course, Jevon Carter's contract will also come into play if he decides to return to Milwaukee.  Either way, the Bucks figure to be able to compete for a Kevin love contract if they are interested.
For More Wisconsin Sports:
Follow me on Twitter at @mcquadewarnold, follow us @WiSportsHeroics.  Also check out our Merchandise Here!  Get 20% off with the code "WSH."  You can also reach out to McQuade Arnold via email at mcquadewarnold@gmail.com. To read more of our articles and keep up to date on the latest in ALL of Wisconsin sports, click here!  Green Bay Packers, Milwaukee Brewers, Milwaukee Bucks.  NBA News.